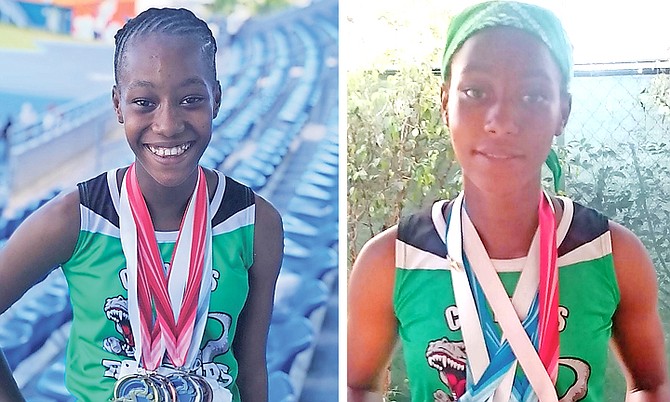 SPRINT sensation Aliyah Brown is preparing for the start of her high school campaign. She was off to a promising start to the 2020 track and field season when the COVID-19 pandemic struck.
#By BRENT STUBBS
#Senior Sports Reporter
#bstubb@tribunemdia.net
#ALIYAH Brown was off to a promising start to the 2020 track and field season for the CH Reeves Raptors and the 4-D Stallions before the coronavirus pandemic interrupted her performance at the National High School Track and Field Championships and possibly her debut at the CARIFTA Games.
#But the sprint sensation is not going to let the disappointment deter her from pushing forward to becoming one of the Bahamas' future star athletes as she prepares for the start of her high school campaign.Brown, now in classes to help make up for the loss she experienced earlier this school year due to the fact that most teachers dealt with an ongoing dispute over working conditions at CH Reeves in October and November, said she's looking forward to competing at the next level.
#Before her season on the track was disrupted as well due to COVID-19, Brown had accumulated a total of six gold medals at the Government Secondary Schools Sports Association's Championships, winning the junior girls' 100, 200 and 400 metres, the long jump and running on the Raptors' victorious 4 x 100 and 4 x 400 metre relay teams.
#"I feel good, even though I had a little injury. It turned out good because I went on to win six gold medals," Brown said. "I did all my training with coach Franklyn Williams. "I wasn't surprised at my performance this year because I really trained hard for it."
#When asked which one of the events she enjoyed the most, Brown admitted that it was the half-lap race in the 200m. She duplicated her winning performance in the event at the GSSSA meet for the Raptors, along with the 400m and as a member of the 4 x 400m relay team.
#"I had more competition in it," she stated. "I really had to go out there and run hard."
#As a 14-year-old having graduated from CH Reeves last week during a virtual ceremony, Brown has produced personal bests of 12.01 seconds in the 100 meters, 26.00 in the 200m and 1:01 in the 400m as she laid her claim to being one of the top young sprinters on the island.
#But Brown said she was looking forward to improving those times at the Nationals where she anticipated having the competition from her peers from the private schools and those coming in from Grand Bahama and the Family Islands.
#At last year's nationals Brown was fourth in the 400m and sixth in the long jump.
#"I want to improve in the 200m the most and to make the Carifta team next year," she proclaimed. "I was really looking forward to doing well at the nationals this year."
#Having been a part of the 4-D Stallions for the past three years, Williams said he's seen some tremendous improvement from the Raptors' star and one of the captains of his 32-member team in the Bahamas Association of Athletic Associations.
#"She would have made the Carifta team this year, especially in the 200m," he pointed out. "The Carifta standard in the under-17 girls' 200m was 25.7 and she did 26-flat and she didn't even peak yet.
#"Of course, they didn't have it because of the coronavirus, so we really can't say how good she would have been. But I expect that she will be an automatic qualifier next year, once she continues to work hard."
#Brown thanked Williams and her mother, Tiffany Galicia, her family and friends and the coaches at CH Reeves, for pushing and encouraging her to get to the level that she is at right now.
#As she looked ahead, proud mom Galicia said there's no telling what will happen for her daughter in the future.
#"Aliyah does well as an athlete. I'm very pleased with her performances," said Galicia, who has gotten the full support of her husband Miguel Galicia in pushing his stepdaughter to her full potential.
#"But I expect that her times will drop as she gets older and her technique will improve. But as an athlete, I'm very proud of what she has accomplished so far."
#When Williams saw the potential in Brown, Galicia said he expressed an interest in coaching her and ever since they have developed quite a bond. In fact, Galicia serves as the vice president of the 4-D Stallions Club, which puts added pressure on Brown to perform.
#"As she gets older, she's getting more experience," Galicia said. "When she competed at the GSSSA meet, I was really shocked to see her get all of those medals.
#"I really wanted to see how well she would have performed at the Nationals and even in making the Carifta team because I know she was competing much better this year than she did last year."
#With Brown now making up her classes at CH Reeves because of what transpired at the beginning of the year with some of the teachers not teaching because of the closure of schools because of Covid-19, Galicia said they have a big decision to make in the next few weeks.
#"We are seriously looking at the government school system to see what will happen," said Galicia, of the uncertainty posed by Covid-19. "We also have a few offers from the private schools, but we will have to see how things work out with that too."
#From the time Brown entered the doors at CH Reeves in grade seven and began competing in track and field, Varel Davis, the head of the physical education department said he knew that track coach Rashad McKenzie had a gem on his team.
#"During her first year, she found her way. As time progressed, she got better," Davis said. "In grade eight, she was one of our top athletes. She won an award for being the top under-13 girl. This year, she won the award again for the under-15 girls division.
#"In the last two years, no one has beaten her in the GSSSA, so she was really our top female athlete in our school. They didn't have the Nationals and the Carifta Games this year, so I know she was disappointed in that."
#But based on her work ethic and the results she has produced, Davis is also confident that Brown will move on and continue to excel wherever she enrolled in high school.
#"She's a very good athlete, very quiet person and very humble," she said. "So I'm looking forward to her continuing to do very well at the next level. She got the athlete award at graduation.
#"She's a very hard worker. She doesn't get into any problems. I am looking for some great things from her in the future. I know she will do very well at the next level."
#With her training and dedication to the sport, Galicia said she is prepared to work along with Williams to help push her to the next level.