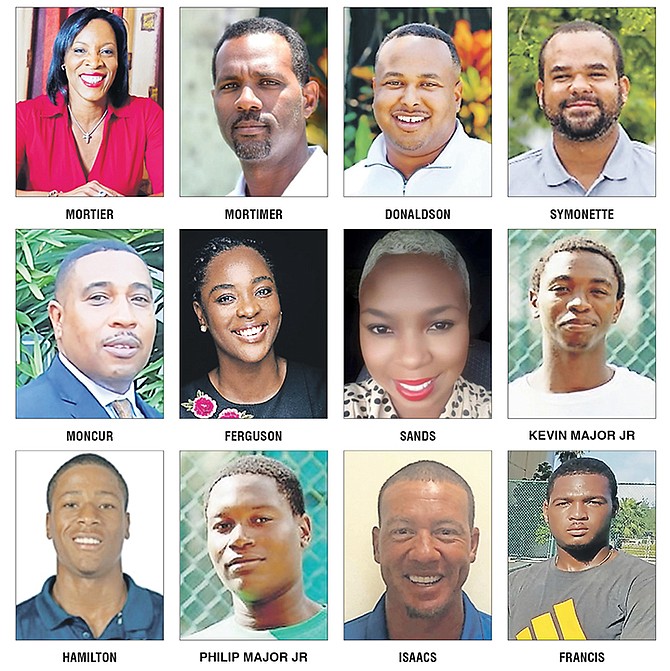 #By BRENT STUBBS
#Senior Sports Reporter
#bstubbs@tribunemedia.net
#As the Bahamas Lawn Tennis Association's election of officers draws near, former female national team player Dyphany Mortier is confident that she and her team will become the newly elected executive officers.
#With outgoing president Darnett Weir not seeking another term in office, Mortier will go up against incumbent council member Perry Newton when the elections take place on Saturday between the hours of 3-6 pm at the National Tennis Centre.
#Mortier, calling her "Team Bahamas Love the Game" candidates the most dynamic and diversified, made up of Dentry Mortimer for first vice president, Kweku Symonette for second vice president, Jeff Moncur for treasurer, former president Derron Donaldson for assistant treasurer, Kendria Ferguson for secretary, Chanelle E Sands for assistant secretary and Robie Isaacs, Brezile Hamilton, Kevin Major Jr, Philip Major Jr and Shannon Francis, all for council members.
#"All of us came from grass root tennis," said Mortier, a product of the South Beach tennis programme. "That's why our team is built that way. The diversity of our team was deliberate because we didn't want to leave anyone out. We want to ensure that all of the voices are heard."
#Mortier, who attended both Arkansas State University where she played NCAA Division One tennis and Barton College where she graduated magna cum laude (with great distinction), heads a group of candidates with the following credentials:
#Dyphany Mortier for president
#Mortier is currently the Chief Financial Officer of Citibank Bahamas, responsible for various Citi Bahamas entities.
#With a bachelor's degree from Barton College, a Master's in Business Administration and International Business from the University of Miami, a Certified Public Accountant and Trust & Estate Practitioner, Mortier is an experienced accountant and banker with over twenty-five years in the Financial Services industry.
#As past Vice President and Treasurer of the Bahamas Lawn Tennis Association, Mortier served the Association for over ten years. During her tenure, she crafted a comprehensive strategic business plan to progress the game of tennis in the Bahamas and was also Head of Junior Development of the Association.
#She coordinated numerous tournaments for the Association, including the International Tennis Federation Junior Tennis tournament, the Nationals and numerous other local junior tennis events. Many of her students have participated in local and international tennis tournaments.
#Her daughters, collegiate athletes, also represented the Bahamas in many international tournaments, including JITIC, Junior Fed, Fed Cup and Florida State Champions.
#Dentry Mortimer for first vice president
#Mortimer, who has vast coaching experience internationally and locally, has coached players on the ATP and WTA Tour as well as top ranked ITF Juniors. He has a multitude of teaching experience allowing him to teach juniors and adults of all levels especially elite players.
#Mortimer is both ITF (International Tennis Federation) and USPTA (United States Professional Tennis Association) certified, he also has been a seven-time Davis Cup member playing in Zone 1 for the Bahamas along with legends Mark Knowles and Roger Smith.
#He has been the Davis Captain for the Bahamas, and Junior Development Officer for the Bahamas Lawn Tennis Association. Along with this Dentry has worked at the major Tennis academy's and Tennis clubs developing young talent in the sport of tennis.
#He is currently employed at Lyford Cay Club as the Head Junior Tennis Professional and is passionate about developing Tennis players of all levels while keeping it fun and exciting with his Charismatic demeanor.
#As a player Mortimer was the top ranked junior and men's open player in the Bahamas for many years, and in the region. He has played professional tennis for five years playing in Satellites, Futures, and Challengers.
#He has been professional hitting partners for Vince Spadea, Andy Roddick, Dmitry Tursunov, Sloane Stephens, Angela Haynes, Nicole Gibbs, and Kevin Kim. One of Mortimer's greatest victories was defeating Andy Roddick to win a Mens Open Title.
#Kweku Symonette for second vice president
#Symonette has been a USPTR certified training professional for over 15 years. He began tennis at the age of 5 and assisted coaching under the tutelage of his aunt, and former Bahamian number 1 tennis player Kim Cartwright, since he was 14 years old.
#Symonette is a college tennis champion having won the SEC Collegiate tennis championship for the Fort Valley State University Wildcats. During his collegiate years he was an All-American, All-Academic and Team Captain. He has represented The Bahamas as a junior in international ITF events and was a top contender locally in singles and in doubles with his partner and brother Tshaka Symonette.
#After graduating from FVSU, Symonette coached at numerous tennis facilities in Georgia. As assistant coach at Fulton County Tennis Academy, John Drew Tennis Academy and was the head coach at Marietta tennis centre for two years before moving back home. He is currently a part time coach at Atlantis, Paradise Island and continues to coach around New Providence at local facilities.
#Symonette is currently the CEO and co-founder of Sign Island, a full service print and custom fabrication sign company that started operation in 2017. An avid artist, he is equally passionate about the development of tennis and art in the Bahamas.
#Jeff Moncur for treasurer
#Moncur is an assistant director, Core Services, Claims & Benefits at the National Insurance Board. The former Jr and Sr tennis player has represented the Bahamas at several Jr and Sr International tennis tournaments.
#He attended University on a Tennis Scholarship at Northern Michigan University and Saint Leo University. He holds a bachelor's degree in accounting and economics and a Master of Business Degree.
#Professionally he is a Certified Public Accountant and has held several senior management level positions in Various industries. He enjoys Fishing, BBQ and Sports.
#Derron Donaldson for assistant treasurer
#started tennis at the age of 4 and progressed to becoming one of the top junior players in the Bahamas, winning local junior tournaments as well as competing at an international level.At the age of 16, whilst coaching his younger sister, Donaldson realized how much he enjoyed teaching and got involved in running summer camps and clinics.
#This led him to being selected to coordinate and coach the Ministry of Youth, Sports and Culture summer camp, direct junior and senior national tournaments as well as being chosen to coach the under 13 development team which represented the Bahamas in Trinidad and Tobago 2009.
#He captained the women's team to their first ever gold medal in doubles and bronze in singles at the Central American and Caribbean Games. Donaldson also served as a live-in pro for a family in Lyford cay and travelled to tournaments with the kids.
#He joined the Lyford Cay tennis professional team in September 2010, originally as junior coordinator, and developed a faithful following in all age groups and levels who enjoy his fervor in helping everyone improve their games in a fun environment. He is a certified USPTA professional, and a Cardio License Instructor. In October of 2013, Donaldson was promoted to Head-Professional.
#In addition, Donaldson served two terms as the youngest elected president of the Bahamas Lawn Tennis Association "Governing body of tennis" or any sporting federation/association in the country, and Chairman of the National Tennis Center.
#One of Donaldson's major achievements whilst serving as president of the BLTA was successful negotiating the pay off of an inherited debt of approximately ($200,000.00) incurred from the Bahamas Women's Open, and avoiding any international embarrassment or suspension from the International tennis Federation.
#In April of 2013 Donaldson became the youngest elected Vice President of the Bahamas Olympic Committee. In July of 2, Donaldson was appointed as 'Chef de mission" of team Bahamas which was the largest team fielded in any international competition.
#Kendria Ferguson for secretary
#Ferguson first picked up a tennis racket at the age of seven, where she joined the Winton Gym Tennis Club. She would continue playing the sport throughout her high school years with Dugall Small and Bradley Bain.
#Her tennis days didn't only consist of being on the court but helping prepare for local tennis tournaments and serving as a ball-girl and lines-woman for numerous Davis Cups tournaments. Leaving the sport to pursue her education full time, Ferguson obtained a Bachelor's in Marine Biology and a Master's in Sustainable Energy.
#During her career, she has been in several key national projects, including managing the ban of select single-use plastics and developing strategies to increase renewable energy into the public sector and residential Government subdivisions.
#Chanelle Sands for assistant secretary
#Sands joined the Public Affairs team in April 2015 after having worked seven years on the Bahamas National Youth Policy Team on the development and implementation of a National Youth Policy for the Bahamas. She is a graduate of Newberry College with a Bachelor's Degree in International Studies and Commerce and minors in Business Administration and Spanish.
#Sands also has a love for sports and in her High School career played tennis and was a member of the Bahamas Lawn Tennis Association having represented the Bahamas on several national teams including CAC Games and Jitic. Following high school, Sands attended Newberry College on an athletic scholarship and represented the institution for four years playing NCAA Division II Tennis.
#Robie Isaacs for Council Member
#A native Bahamian, Isaacs began playing tennis at the age of five years old at the Gym Tennis Club. He has been ranked No.1 and represented the country with the junior travelling team.
#After attending Palmer Tennis Academy in Tampa, Florida, Isaacs played for Fort Valley State University where he was named MVP and athlete of the Year. PTR and Padel certified, Robie continues to gain experience from teaching abroad working in Macon and Atlanta, Ga at John Drew Tennis Center and Dunwoody Country Club.
#Isaacs currently works at Albany where he has been for the last 10 years. On a final note tennis is in the family Robie's father assisted in helping design the National Tennis Center.
#Brezile Hamilton for Council Member
#Hamilton began playing tennis at the age of seven at the National Tennis Center and was coached by the late Giorgio Baldacci. He was ranked No. 3 in the country during his junior career and represented the Bahamas in various team tournaments such as Junior Davis Cup and JITIC.
#After his junior career, Hamilton went on to play for Graceland University, in Lamoni, Iowa where he received an athletic and academic scholarship. He was an integral part of winning their conference championship all 4 years, where they went on to play the national championship. He graduated with a Bachelor of Science Degree in Biology.
#Hamilton worked at QVS Pharmacy as a Pharmacy Technician for two years, while also coaching at the Gym Tennis Club. He is currently continuing studies in the medical field and works at Albany as an assistant coach.
#Kevin Major Jr for Council Member
#KJ is a professional tennis player who has competed in ITF Futures, Davis Cup, CAC Games, and USTA Men's Open circuit. He has aided in planning events for children, hitting partners for elite tennis players, and corrected technique and footwork.
#He is a leader and mentor to numerous tennis players in the community. He has been among the top ranked players in the Bahamas for over ten years. He is a motivated tennis player with college and professional tennis experience.
#Currently, KJ is a hitting partner for a number of elite tennis players as well as a travelling tennis professional.
#Philip Major Jr for Council Member
#PJ began playing tennis at the age of 6. My passion for the sport and working tirelessly at perfecting my skill afforded me the opportunity to be one the youngest players to represent the country amongst the best players in our region in the Davis Cup.
#PJ currently serves as one of the founders of the MK-TB (Mark Knowles – Tennis Bahamas) Academy, our goal seeks to provide rigorous physical and mental training for all ages and skill types. The academy also specializes in training promising juniors to advance their tennis careers.
#Shannon Francis for Council Member
#Francis started playing tennis at the age of 9. He was chosen to represent The Bahamas in World Juniors, JITIC, and Jr Davis Cup, all through the ages of 13-16. He played many ITF and USTA Tournaments during his junior years to gain exposure from players from all over the world.
#Francis graduated from Queens College High School and went to Prairie State College in Chicago. Prairie was a part of the National Junior Athletic Association Region IV as well as the Illinois Skyway Collegiate Conference.