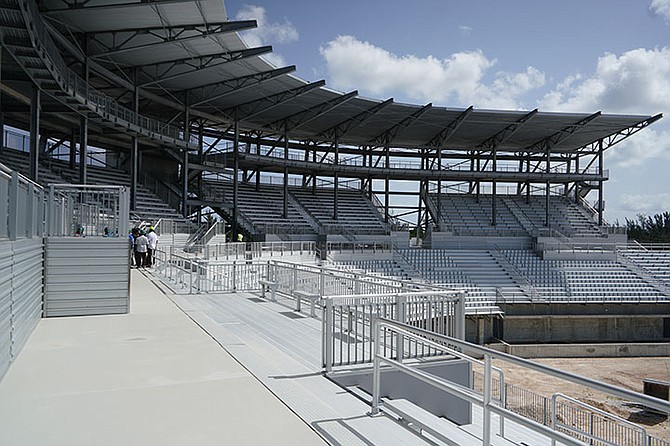 Photos: Terrel W Carey Sr/Tribune staff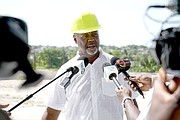 Project architect Michael Foster.
#By RENALDO DORSETT
#Tribune Sports Reporter
#rdorsett@tribunemedia.net
#The proposed plan for the development of the new Andre Rodgers National Baseball Complex will feature a stadium that includes opportunities for local baseball to take advantage of the stadium's amenities.
#Project architect Michael Foster touted the stadium's multi-purpose capability that can benefit local baseball and generate revenue through event hosting. "The line I have been using 'more than a stadium' insinuates this structure can make money in different ways from the sport of baseball just from the amount of local kids playing the game. For instance, we have about 2,000 youth baseball players, but no batting cages in this country.
#"Add softball and others who need batting facilities. You can come here and your club can rent the cages for an hour. The going rate is about $35-$40 in the US, I don't know what we will charge here but the bottom line is we will have equipment in place that makes money. These help pay for the maintenance for the structure," Foster said.
#"We also help keep the maintenance cost down by the technology we are putting in. You keep those things down and start to create revenue, you create a better balance on expenditure. In my opinion, you will have more interest in concerts and event opportunities for people who want to be outdoors, the money will come from there. It was a good idea to build a structure that helps to make money for itself."
#The stadium also includes 17,000 square feet of office space for the Ministry of Youth, Sports, and Culture. It seats 4,500 for baseball games but can hold 8,000-9,000 for concerts or other events.
#"In my initial planning, I spoke to the then government and told them, all of the stadiums I visited, they put in the seats and everything else was a waste of space. I said to them to consider that if they were going to build office space for the Ministry of Youth and Sports, that they may consider having it designed in such a way that we can utilise the space and angles beneath the seats for 17,000 square feet of office space," Foster said.
#"Again, it's more than a stadium. The Ministry of Youth and Sports, they control the whole facility but that will be their specific office area. We have baseball facilities, locker rooms and management for any event.
#"When we talk about it being more than a stadium we have a setup where you can have major concerts in an amphitheatre type of style. We can do a number of things here. We have corporate boxes for any event as well as eight batting cages that we imagine will be in use by local baseball. Those batting cages will probably be the largest revenue generator with everything we see happening with the BBA and the local leagues."
#Sam Rodgers, president of the Bahamas Baseball Association, said his organisation still hopes to see the investment of additional fields to make the Bahamas a feasible destination for baseball events at every level from Major League Baseball to youth tournaments and showcases.
#"Everything is looking good, everything seems to be in place, I just would hope that during the course of moving forward that they will continue to look at us having two or three more ballparks on to this complex because if we hold international tournaments, this one park wouldn't be enough. Even if the MLB or WBC comes here to play, we should have other fields for them to practice on individually, so I would hope that the powers that be decide to implement the other three or four fields that were scheduled to be built," Rodgers said.
#"The BBA has had a lot of engagement from people in South America and the Caribbean that want to come here and play baseball. For us to do that, we will need additional parks to host any size tournament."
#He also added that he plans to reach out to the National Sports Authority to lobby for Bahamian collegiate and professional baseball players to train at home at proper facilities in the offseason.
#Under the first phase, the baseball stadium is built to Major League Baseball and World Baseball Softball Confederation standards for players, fans, and media amenities. Phase two is set to include additional fields in the immediate area adjacent to the stadium.
#"We are about 70-80 completed. On the building, probably more than that. When I say those percentages, the last 20-30, most will cover our external works, the field, parking, landscaping, and so forth," Foster said, "There has been much interest around the world to play here. The Bahamas sits in a unique location where we are blessed. They are baseball heavy in the south of us, in the Caribbean as well as in the north of us. We have had interest from Major League ball clubs, we have had interest from college ball clubs, youth tournaments, showcases, so we anticipate this facility will be very live with events."
#Foster also addressed issues that have been the subject of public discourse in regard to the construction of the stadium.
#"Let's address the orientation of the stadium – there is no location on that field where the sun will be in your face. We heard a rumor about the stadium being the wrong way but let me make this very clear, it has nothing to do with the orientation of the stadium. The first and primary thing we addressed is safety, and the first thing in player safety is that no sun glare will be in the ballplayers' face. I would be happy to be here at 1 pm or 4 pm and walk to every position on the field, look at the direction the ball will come free and see if the sun is obstructing your view," he said, "The outfield wall is 400 feet dead center and 320 feet in the corners. The closest house is 250 beyond that. We will have full screens and the trajectory of a ball will have difficulty clearing the roof and getting into the street. The concerns about the stadium orientation and being close to the road we would like to clear all of that up."
#Originally, construction on the stadium began in August 2016 and was to be completed by November 2017. After several work stoppages and delays in the process, construction resumed in 2018. During her contribution to the 2020-2021 national budget debate in the House of Assembly last month, Minister of Youth, Sports and Culture Lanisha Rolle said she was advised the stadium will be completed by December of this year.
#That timeline appears to be in jeopardy as the COVID-19 pandemic has slowed the shipping and construction process.
#"The entire team is trying to evaluate what the damages are. We know there are damages, it has happened worldwide and in every business, so the contractor has now lost 17-18 weeks and we have to imagine there is some cost to that. It has slowed us down a lot and setback the schedule quite a bit. We are still trying to restructure a schedule that will somehow say to us that at the end of the year or early in the next year we will be relatively completed, but right now we are in the process of organizing. Anytime a contractor leaves the site and has to come back, he has to remobilize, and remobilization means money. Everything has a cost," Foster said, "There are still parts that are still overseas to be shipped. A lot of that is still in the process of being ordered or shipped. You can imagine now that you would have done business 17-18 weeks ago and you can't seem to clear or matriculate that material or those processes to the site. All of that has to be restructured, reorganized, reordered, or maybe shipping replanned. That costs money, but we are working to understand what those damages are."
#Woslee Construction is the main contractor of the project.
#Foster revealed that the project features a strong Bahamian connection. "The design team is All-Bahamian. The only foreigners we have are the people who fabricated the steels that were designed by our engineers. We have that talent here and I'm very proud of that." he said, "This is a project that is being done primarily by Bahamians and when completed, it will be a state-of-the-art event that will be the envy of the Caribbean. It's taking shape and will be a beauty to behold."