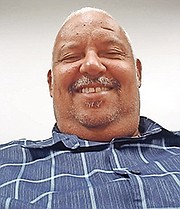 Martin Burrows Sr
#By BRENT STUBBS
#Senior Sports Reporter
#bstubbs@tribunemedia.net
#MARTIN Burrows Sr, who has reached the highest international level for a Bahamian as an International Softball Federation (ISF) umpire and coach, will now get a chance to officiate as an umpire at the collegiate level.
#Burrows Sr, who turns 55 this year, has been invited to participate in the 2020 CBUAO Florida Camp in Palm Beach County March 11-15 where the focus will be on cage work and field mechanics instruction and live-game evaluations.
#"This is a step up for the ladder for me. This is a big achievement," Burrows Sr said. "This is something that you have to be invited to. I couldn't just take it upon myself to go. Someone had to give me an invite.
#"From they did the World Games in Baseball Missouri last year, I got a call because one of the umpires at the tournament recommended me. I had to send my résumé and when they saw my résumé, they saw that I was in the trenches and I was able to live up to the credibility of what they were looking for."
#When Nick Zibelli, who is in charge of the clinic, called Burrows Sr to inform him that he was invited, he said he was shocked, but delighted at the same time that he was considered for what he called the opportunity of a lifetime.
#"He told me that I was highly recommended, so all I have to do is show up," Burrows Sr said. "One of the umpires from the World Games in Missouri told him about me and he did his research and they spoke very highly of me. When he saw that I did the training in the Dominican Republic two years ago, he said I was eligible."
#If he is successful in passing the course, Burrows Sr would be eligible to officiate as an umpire at any college baseball game.
#"That's big time," Burrows Sr said. "It means a whole lot to me to know that I'm on the world stage and to the people that I umpired with saw fit to recommend me for an opportunity like this. I will be 55 years old this year and I'm looking for my retirement. This will be my retirement. My last son, Chad, graduated from college with his degree.
#"He had an excellent season and even though he didn't make it as a professional player, he has an excellent job. He told me that I did it as a coach and now I'm doing it as an umpire. That is a major achievement. Ain't nobody else can say that. I am doing it as a coach and an umpire."
#As his Chad, who graduated from Brian College in Tennessee, advised him to use the tools that he has in his possession, Burrows Sr said he's looking forward to going as high as he can as an umpire.
#"I'm very good at what I do, I'm confident and I'm fair," said a modest Burrows Sr, who feels as if he has been officiating all of his life, but he credits the late Arthur 'Old Art' Thompson as his mentor.
#Burrows Jr has been an umpire, along with Brent Spence, for the Austin Knowles Softball Tournament since its inception in New Providence and he has also worked as an umpire with the Bahamas Baseball Federation, now Bahamas Baseball Association's National Baseball Tournament in Grand Bahama.