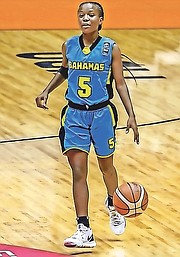 THE BAHAMAS Basketball Federation has entered both boys' and girls' teams to qualify in the FIBA Under-17 Skills Challenge August 10-16.
#By RENALDO DORSETT
#Tribune Sports Reporter
#rdorsett@tribunemedia.net
#A NEW initiative by FIBA will give the Bahamas another opportunity to compete at the international level against top basketball prospects throughout the world amid the COVID-19 pandemic.
#The Bahamas Basketball Federation has entered both boys' and girls' teams to qualify in the FIBA Under-17 Skills Challenge, August 10-16.
#FIBA established the competition as a means for its member federations to bring their youth teams together for a training camp and allow players to enjoy a competitive activity without travelling internationally.
#Marvin Henfield has been named the head coach of both teams and announced that registration is now open at bbfbasketball.com for players interested in securing a spot in the open tryouts.
#"As of July 16, athletes and their parents will be able to go to the BBF website to register and learn more about the event. Registration will close on July 23 and at that point we will notify the athletes of their tryout opportunity the following day on the 24th. They will compete in specific trial blocks based on their last names," he said. "Our first tryout phase will commence July 25 and will be until the 27th. Phase two will be July 29-30 and the final team selection will be July 31. The roster will be submitted August 3."
#Throughout the process, the tryout sessions and team practices will adhere to FIBA, BBF and Government of The Bahamas COVID-19 guidelines.
#"We have created COVID safe guidelines that we have implemented to be in compliance with all necessary rules and regulations. We have determined that the maximum number of athletes that will be in the gym at any points for a tryout will be 20.
#"Each of the athletes will go through a check-in process at the door. Each will be asked a series of five questions – the standard COVID screening questions – and we have a checklist we have prepared and athletes will have to answer no to each question. They will also have the temperature taken. "If an athlete answers yes to any question they will not be allowed to participate. They will go through this process with every scheduled activity, which includes the tryouts as well as when we begin practices," Henfield said.
#"They will not be required to wear masks in the gym but must adhere to social distancing guidelines. They must stand six feet apart when inactive, and 12 feet apart when active. At no time will more than four athletes be using the court at one time. Coaches and support staff will have their temperature taken, will have masks at all times during on schedule training."
#The qualification round will be hosted at the respective federation's chosen location and the final will take place on August 17. The Bahamas is vying for one of five spots open in the final.
#"Fifteen countries have already been identified in the final. Five additional countries will be added to that list and I am very hopeful and intent on the Bahamas being added to that list of five for the finals. I think we as the Bahamas will have an unique opportunity to advance farther than we ever have in international basketball."
#Players will display a set of skills through a course of challenges dispersed across the full length of the court.
#The player starts at baseline, dribbles 15 feet and will have three attempts to make a pass through a passing cone.
#If they are successful, they will receive one point. They will then make a layup on the same, dribble around five cones to the opposite end of the floor and take a jumpshot from behind the free throw line. If they are successful on the first attempt they will be awarded two points. If they miss they will have to get their rebound, make a layup and then go full length of the court to the three-point line to attempt a three pointer.
#If they make it on the first attempt they will be awarded three points. If they miss they have to get the rebound and pass it to the next team member in line and the next four will continue the process.
#The maximum number of points scored by an individual on a given round is six points. A team can score a maximum of 30 points. The total score will be subtracted from total time in seconds and the team with the lowest time wins.
#"If you've ever seen the NBA Skills Challenge, it is similar to that. There is a total selection of 24 athletes that can comprise a team. During the skills challenge, any five of those athletes would have to be nominated to participate," Henfield said.
#"Each member federation will compete at the same time in their respective facilities so it's much like having a game where the clock stops at the same time."
#The BBF looks to field the most comprehensive team possible with provisions made for Family Island players to compete virtually.
#"With this COVID experience, we still want to access the best talent we have and we are in this to win this. We have also comprised a format that we will submit to the federation for virtual tryouts for Family Island athletes. In order for us to be entirely inclusive, it requires us to be far more exhaustive than the timeframe that we have allows. It is our hope to access all the best athletes that we can in the timeframe that we have allotted to us."
#FIBA created the Skills Challenge after the Under-17 Basketball World Cup and 2020 Youth World competitions were postponed due to the pandemic.
#"We decided to offer an opportunity to players of this age category to gather with their national team to train and compete without the need for international travel. Several national federations plan to organise a training camp for this age group in the coming months, taking into account local restrictions and in accordance with the FIBA Guide to returning to basketball," FIBA secretary general Andreas Zagklis said.
#"Therefore, we considered that FIBA U-17 Skills Challenge 2020 could provide a motivation and an additional incentive for these young players, but also the possibility to strengthen their ties in the national team."