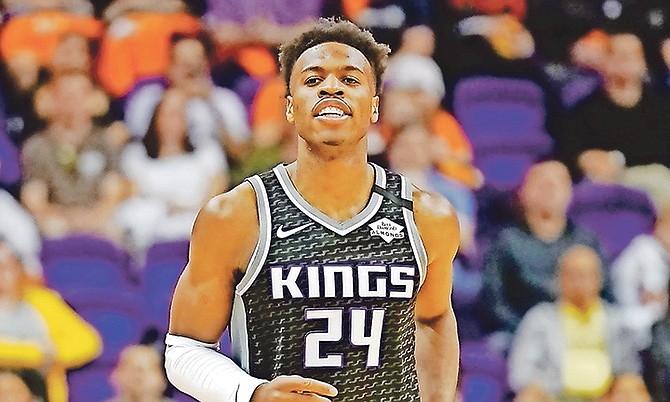 Sacramento Kings guard Buddy Hield.
#By RENALDO DORSETT
#Tribune Sports Reporter
#rdorsett@tribunemedia.net
#Chavano "Buddy" Hield spoke to the media for the first time since his return to practice with his Sacramento Kings and discussed his experience with COVID-19 and life in the NBA bubble.
#Hield completed his first practice sessions with the Kings on Tuesday and spoke to reporters on a video call from the ESPN Wide World of Sports Complex in Orlando, Florida.
#He noted that he experienced just mild symptoms of the disease after he tested positive, but was more concerned with the well-being of his close friends and family members.
#"I wasn't scared or nothing like that," Hield said. I tested positive and I was just concerned for the people around me like my daughter and my girl and my family. I didn't want nobody getting infected by it," Hield said. "I didn't want my carelessness causing someone to lose their life or something like that. So, I was warning people I was around."
#Hield returned to the court on June 11 for competitive play for the first time since March when the pandemic sidelined the NBA. The Kings sharpshooter participated in the Skinz League Tournament at the Hive Sports Complex in Edmond, Oklahoma.
#"I wouldn't do nothing differently, " Hield said. "I've just got to be more careful with where I've been. Know my surroundings better."
#Hield and teammate Jabari Parker, who also returned to practice Tuesday, cleared NBA protocol but were not able to participate in full contact portions of practice. "It was great having those guys back, good energy with them, they're excited to be on the court around the guys again," said Kings head coach Luke Walton.
#The Kings will scrimmage three times, with the first occurring on July 22. They begin the official seeding games and NBA restart on July 31 when they are slated to face the San Antonio Spurs.
#The remainder of the Kings' schedule includes matchups against the Orlando Magic (August 2), Dallas Mavericks (August 4), New Orleans Pelicans (August 6), Brooklyn Nets (August 7), Houston Rockets (August 9), Pelicans (August 11), and Los Angeles Lakers (August 13).