As of Thursday, December 29, 2022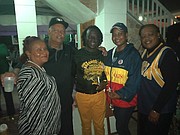 BAHAMAS Softball Federation president Jenny Isaacs-Dotson, umpire-in-chief Martin Burrows, sponsor Deanza 'Sunny' Cox and pitchers Mary 'Cruise' Sweeting and Ernestine.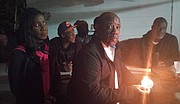 PITCHER Greg Mortimer holding his candle as husband Ken Symonette is in the background with his cap on at the candle light vigil last night.
#By BRENT STUBBS
#Senior Sports Reporter
#bstubbs@tribunemedia.net
#TRIBUTES poured in from softball players, the media and family and friends last night as a candle light vigil was held in memory of the late Zella Brown-Symonette, the veteran national team softball player who was considered one of the best female shortstops that ever played the game.
#Brown-Symonette, 59, died on Tuesday, December 13, leaving behind her husband Kenneth Symonette Sr, daughter Kenise (Jerad) Darville, son Kenneth (Qutel) Symonette Jr, grandchildren Anthony Deane, Colman and Chozen Darville and Hannah and Kai Symonette, sisters Ruthmae Williams, Maxine Newton and Patricia Brown and brothers Ralph, Ullis and Dexter Brown.
#Yasmin Newbold serenaded the crowd with a number of selections, Bishop Denczil Rolle delivered a short exaltation and prayer and Pastor Stephanie Chisholm closed out the candle light vigil at the Symonette's home on Avocado Street in Pinewood Gardens.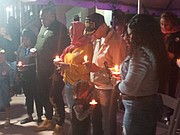 Kenice Darville and Ken Symonette participate in the candle light vigil for their mother, Zella Symonette.
#But throughout the night, tributes poured in about the life on and off the softball field of Symonette and a special video presentation documented some of the funloving experiences shared by family members.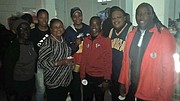 Some of the softball players who showed up to remember Zella Symonette.
#Ernestine Butler-Stubbs, a veteran pitcher, said she and Symonette were inseparable and would always room together whenever they travelled on the national team. She noted that on one trip, the management team attempted to split them up, but she insisted that if they did, they were both going to head home.
#They stayed together.
#Even after playing on several teams apart from each other in the New Providence Softball Association, Butler-Stubbs recalled how they came together and played for the Spotless, the Brackettes and the Johnson Lady Truckers, the last team that Symonette played on.
#"With me and Zella on the same team, nothing could go wrong on the pitcher's mound or in shortstop or anywhere on the field because if Zella saw someone make a mistake, Zella would say 'Nay, get that ball,'" Butler said.
#Hyacinth Farrington, representing the Invaders Softball Team in the Bahamas Government Departmental Softball Association, said her days with Symonette extended to the Wildcats where they provided the best shortstop-second sacker combo.
#"We had so many double plays together," said Farrington, who called Symonette a beautiful person. "Thanks for the memories you left behind. You will be missed."
#Alvin Knowles, the senior deacon at Mt Tabor, talked about their connection from the Five-Pound Yard in Kemp and their relationship that blossomed when they became members of Mt Tabor Full Gospel Church and eventually serving on the Deaconate Board.
#"Zella had an infectious smile," he said. "Even when Zella was mad, she would do a little pout with her mouth, but all of a sudden you saw a smile break off."
#Greg 'Motts' Mortimer, another softball pitcher, said his days with Symonette also extended back to Kemp Road where they grew up. He noted that while they played in the NPSA, their paths were interrupted until he visited Mt Tabor with his daughter, who was a member and he got to rekindle his relationship with Symonette.
#"I know one thing for sure, she's a child of the kind and she's resting in the arms of the Lord," Mortimer said.
#For umpire-in-chief Martin 'Pork' Burrows, he first got to know Symonette back in 1991 when he played with her husband Ken in the Hotel League. He said he always wondered why Symonette would take her lunch hour to sit in the back in right field, but he realised that it was because of the position Ken played.
#"Zella was a champion, but Ken was a champion from that time as we won a number of championships in the hotel league before it became the Atlantis League," Burrows said. "We won about eight or nine championships and I remember Symonette coming out to watch us play in all of them."
#When he ventured into umpiring, Martin said he noticed how Symonette would always take the time to encourage him during or after the game about the manner in which he officiated the game.
#Deanza 'Sonny' Cox, the new sponsor of the Sunshine Auto Wildcats, said when he came on board, Symonette had already left for the Truckers.
#"The Wildcats that I joined, never forgot Zella, so when you talked about greatness, Zella's name always came up. So hats off to Zella," Cox said. "That's why I am here tonight. I'm here to represent Zella, who was one of the original Wildcats, who made a difference in fastpitch softball."
#Jenny Isaacs-Dotson, the first female to serve as president of the BSF, expressed her condolences on behalf of the entire softball community.
#"It touches home for me particularly as the president of the BSF because I not only played against Zella in slowpitch and fastpitch, but we travelled on the national team as well," Isaacs-Dotson said. "She was a remarkable person, who I never saw angry, I never saw upset. She was always smiling and always encouraging.
#"When I saw the notice coming around about her death, I had to call Mary (Edgecombe-Sweeting) to confirm. But she will be sorely missed. Hopefully we will be able to do something for her on the park at a later date."
#In conclusion, Brent Stubbs, senior reporter at The Tribune, noted that Symonette was a "gem," who played like "poetry in motion," similar to the late Kith Butler. He also called for Symonette to be memorialised posthumously in the National Hall of Fame. May her soul rest in peace.
http://www.tribune242.com/news/2022/dec/29/candle-light-vigil-held-memory-shortstop-zella-bro/?news