http://www.tribune242.com/news/2022/oct/04/charlton-wilson-inducted-howard-hall-fame/?news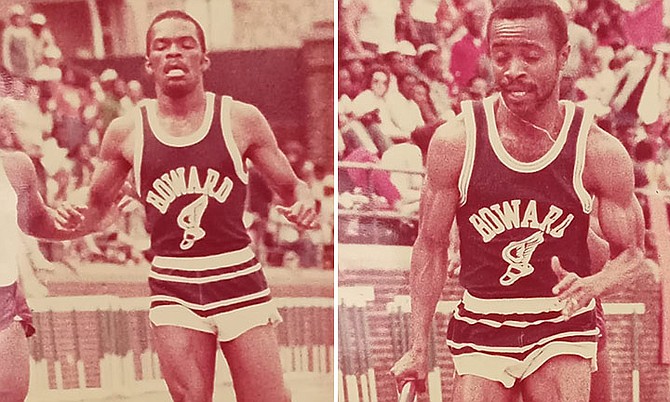 DAVID Charlton and Kenneth Wilson in action for Howard University.
As of Tuesday, October 4, 2022
DAVID CHARLTON, standing third from left, with some of the other inductees into Howard University's Athletic Hall of Fame.
#By BRENT STUBBS
#Senior Sports Reporter
#bstubbs@tribunemeddia.net
#It's very rare that you hear or see two Bahamians competing in the same sport and excelling at the same time in college.
#For Grand Bahamian arch-rivals and close friends, David Charlton and Kenneth Wilson shared that bond together again as they were inducted in Howard University's 2022 Athletic Hall of Fame class with other members of the Bison men's 4 x 400 metre teams that won NCAA All-American honours in 1982 and captured the Penn Relays in 1983.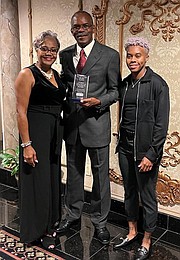 David Charlton with his award flanked by his wife and his daughter, Laura and Devynne Charlton.
#Their team also joined the list of Bison inductees that included the 1961 CIAA Men's Golf championship team as well as the 1995 wrestling team in a ceremony on Friday at Howard University in Greenbelt, Maryland.
#A total of 24 athletes, an administrator and two coaches, along with nine other persons receiving the Buffalo Soldier award, were also inducted during the ceremony at the Martin's Crosswinds.
#While Charlton was the pop off man for the relay team, Wilson came out on the first exchange on the second leg.
#Together, they helped to push the Bison team out front and during their tenure at Howard University, they only lost one relay.
#For Charlton, who returned to Howard University for the ceremony, he said it's always good when one could be recognised for their accomplishments while they are still alive.
#"I appreciate Howard Athletic Department for recognising us," Charlton said.
#"I believe going to Howard was the correct choice. I got a degree in engineering and coach Moultrie made sure that all of the athletes he coached graduated.
#"He went beyond the call of duty to ensure that we stayed in school and was eligible both academically and athletically because of the small setting of the university's track and field team."
#Although he didn't get to attend the ceremony, Wilson said he was very humble to receive the award. "All we as Bahamians want to do is set the stage for other Bahamians who follow in our footsteps," Wilson said. "We want to be good examples for the schools that we attended."
#Calling it a "fantastic" tenure at Howard, Wilson said he enjoyed competing with Charlton.
#"David was my homeboy from Freeport. We both came up through coach Errol Bodie, so I would like to give thanks to him. He chose this school for us," said Wilson.
#"At the time, we had so many schools that came to Grand Bahama to recruit us, but coach Bodie wanted us to go to Howard University. We were very grateful for that. Having David there as my homeboy was an honour. We were friends from childhood and we are still friends up to this day."
#Charlton is now a coach of the Star Trackers Club, which has produced a number of star athletes, including his own daughter, Olympic 100m hurdler Devynne Charlton, who is coming off a sensational season winning the silver medal at both the World Indoor Championships and the Commonwealth Games as well as a bronze at the NACAC Championships.
#Charlton, who is in partnership with his wife Laura at Prescription Parlour, said he's honoured to have been inducted with Wilson, a public servant employee who also assists T-Bird Flyers Track Club's coach Foster Dorsett in coaching his sons, Ken Wilson III, a 10-year-old at St Cecilia's and Joshua Wilson, who attends Galilee Academy.
#"With him being there was a great asset," said Charlton of teaming up with Wilson.
http://www.tribune242.com/news/2022/oct/04/charlton-wilson-inducted-howard-hall-fame/?news