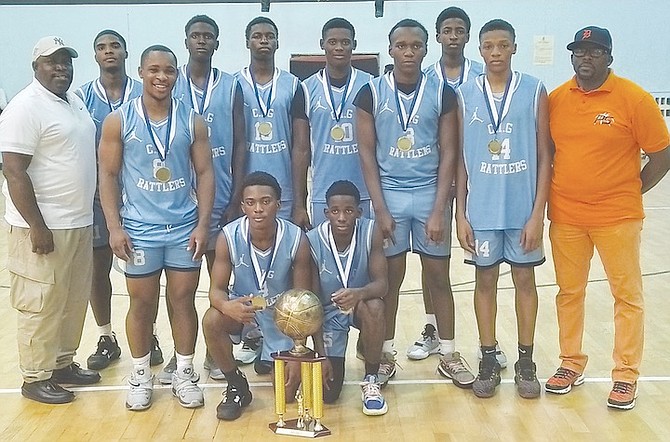 WINNING WAYS: The CI Gibson Rattlers senior boys' basketball team show off their awards won in the Providence Storm Basketball Club's 2022 Holiday Classic at the CI Gibson Gymnasium. At far right is coach Kevin 'KJ' Johnson.
As of Tuesday, February 14, 2023
#By BRENT STUBBS
#Senior Sports Reporter
#bstubbs@tribunemedia.net
#While his CI Gibson Rattlers senior girls had to dig down deep to hold onto a three-point win over the RM Bailey Pacers, coach Kevin 'KJ' Johnson had his Rattlers' senior boys clinching on all cylinders from start to finish in their 30-point rout over the CR Walker Knights.
#The Rattlers nipped the Pacers in the senior girls 43-40 and the Rattlers boys blew out the Knights 92-62 to complete the first day of the Government Secondary Schools Sports Association's sudden death playoffs at the Kendal Isaacs Gymnasium.
#Earlier in the day, the DW Davis Royals emerged with a 39-33 decision over the AF Adderley Fighting Tigers in the junior boys division and the CH Reeves Raptors prevailed with a 43-10 tramping of the SC McPherson Sharks as all four pennant winners advanced in their match-ups against the fourth place teams.
#Today, the second and third place teams in all four divisions will clash to determine who their opponents will be in the best-of-three championships that start on Wednesday and continue on Thursday. If necessary, the third and deciding games will be played on Friday.
#Senior boys
#Rattlers 92, Knights 62: CI Gibson made this one look so easy as they had three players in double figures led by Brian Cezalien with 19 points, James Delia had 18 and Tashan Butler added 14. They also got eight from Jude Vil and Stevens Joseph, Dieunel Joseph had seven, Gerrad Rolle five and both Prince Wheatley and Charles Maynard added four.
#"We could have played a little better than we did. We just needed to take better care of the ball in the first half," said coach Johnson.
#"The second half we made the adjustment and we were able to play like we are capable of playing and we got the win."
#The Rattlers led from start to finish as they opened a 24-17 first quarter lead that they extended to 54-36 at the half. They took a 78-51 advantage at the end of the third and they never looked back as Johnson was about to substitute as much as five players at various intervals.
#Jumeo Miller had 20, Carlton Johnson 17 and Omar Pierre had 11.
#Senior girls
#Rattlers 43, Pacers 40: Jada Francis scored 21 and Phillipa Ferguson and Traineia Greene both had eight as the pennant winning CI Gibson survived a scare from RM Bailey.
#When it counted the most down the stretch in the fourth, Francis came through with five straight baskets and Tamisha Reckley converted one of two free throws for her only points to preserve tbe win.
#"It was a dog fight. In the regular season, we beat RM Bailey handily, but they came ready with a game plan," coach Johnson said.
#"My girls just didn't battle the way I expected. But it's a win and I will take a win any day whether it's one point or three points. "We have to give RM Bailey credit. Their star player stepped up to the plate. My star players left their game in CI Gibson yard. But we were able to fight down at the end and we got the win so I'm happy with that."
#Vincinique Dames had a game high 30 points, including 10 in the fourth to keep the Pacers in the game. Jamea Ariste added six, but it wasn't enough as they got eliminated.
#RM Bailey led 10-6 after the first quarter and they held onto a 21-19 margin at the half. The game was tied at 30-30 after the third quarter.
#Junior boys
#Raptors 39, Fighting Tigers 3-5: Darius Hanna scored the first five points and Kamal Miller got the final four as DW Davis out-scored AF Adderley 9-2 in the fourth quarter.
#Hanna finished with a game high 21 points and both Miller and Windishy Paul ended up with eight apiece as the pennant winning Royals surged to victory.
#In a closely contested game, tied at 9-9 at the end of the first quarter, DW Davis went up 19-18 at the half and took a 30-26 advantage at the end of the third. D'Alfer Gibson came up with 14 to lead AF Adderley.
#Deanza Nichalas had eight and both Dylan Deveaux and Jameko Hart helped with four. Jaythyn Jones had three as they got eliminated.
#Junior girls
#Raptors 48, Sharks 10: Behind the triple scoring threat from Riccara Beadle, Tajhanique Morley and Durya Poitier, CH Reeves blew away SC McPherson to remain undefeated as they earned a return trip to the finals.
#Beadle had a game high 19, including six in the first quarter as the Raptors opened a 10-2 advantage. Morley had 13 and Poitier finished with 11.
#"It was a rough season. The pandemic flattened my programme because some of my guys were with us from grade seven and now they are in grade nine, but they are just getting a chance to play as a team," said DW Davis' coach Mark Hanna.
#"We didn't have a court to work on because they are repairing the gym and they took down the court outside, so I will take the win any day. A win is a win."
#The Raptors extended their lead to 21-5 at the half as Beadle got another seven in the quarter
#Tyler Miller scored six to lead SC McPherson.
#"My girls still have a lot to improve on, but we are now into the championship, so we have to prepared now for whoever we face," said CH Reeves' coach Varel Davis. "We will be ready come Wednesday."
#With Poitier coming up with five in the third quarter, CH Reeves extended their margin to 33-8. Morley had nine in the fourth as they cruised the rest of the way.
#Tyler Miller scored six, Cynsera Mason added three and Jasmine Key got the other point before they got eliminated.
#Today's Schedule
#4pm – Junior girls – HO Nash (2) vs DW Davis (3)
#Junior boys – SC McPherson (2) vs CH Reeves (3)
#Senior girls – CR Walker (2) vs CV Bethel (3)
#Senior boys – Doris Johnson (2) vs Anatol Rodgers (3)
http://www.tribune242.com/news/2023/feb/14/ci-gibson-rattlers-win-column/?news