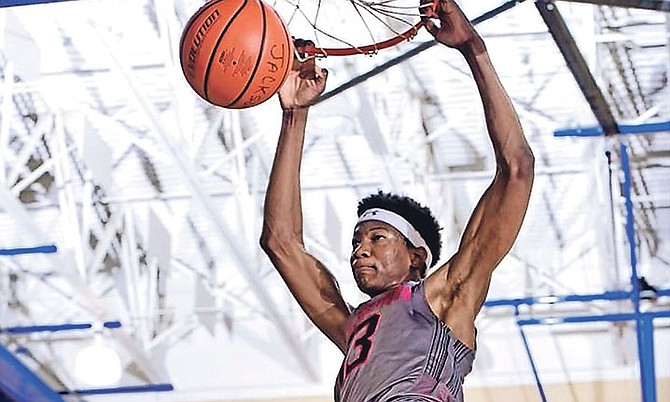 Decision day looms large for Bahamian prep basketball star Kai Jones as he narrowed his final list of schools this week.
Jones announced via social media that he will decide between the Florida State Seminoles, Texas Longhorns and Baylor Bears to determine which programme he will join for the Fall 2018 campaign.
Jones, a consensus four-star recruit, recently completed several official visits prior to his announcement.
He was one of 11 new prospects on the list for ESPN's updated rankings for the class of 2019.
The 6'10", 195-pound forward/centre has been listed at No.45 overall with a grade of 88.
His ESPN analysis reads: "An extremely athletic post player who is just scratching the surface of his ability. A hard working and active big man who shows touch facing the basket all the way to the three point line. Offensively he is more comfortable and effective playing a face up game in space."
In addition to the aforementioned schools, Jones has received offers from some of the most elite Division I programmes in the NCAA, including Arizona, Arkansas, Georgia, Iowa State, Oregon, Stanford, Syracuse, Vanderbilt and others.
A 4.0 student in the classroom, Jones transferred to Brewster Academy in Lake Winnipesaukee, New Hampshire, this academic year after spending the last season at Orlando Christian Prep in Orlando, Florida.
In his lone season with the Warriors in Orlando, Florida, the team finished the season at 21-9 and claimed the Class 3A boys basketball state championship.
Jones continues his meteoric rise up the recruiting charts for the class of 2019.
Earlier this summer, he was invited to the NBA's Global Camp in Treviso, Italy, and made an impression on some of the most notable names in the industry.
Bahamians will have an opportunity to see Jones in action at home this fall when Brewster Academy participates in the Caribbean Tip Off Classic.