PLAY ACTION ON DIAMOND CONTINUES THROUGH TO APRIL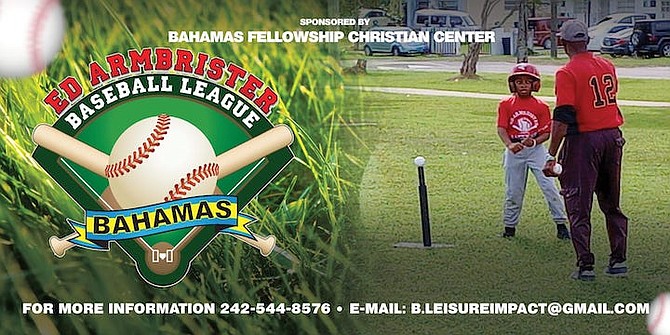 THE ED Armbrister Baseball League was officially opened on Saturday and will continue through April.
As of Thursday, February 2, 2023
#By BRENT STUBBS
#Senior Sports Reporter
#bstubbs@tribunemedia.net
#AFTER hosting their developmental training programme at Flamingo Park in Carmichael Road, organiser Michael Butler said it was time for them to expose the players to a full-fledged league with games being played at the Baillou Hills Sporting Complex.
#The Ed Armbrister Baseball League was officially opened on Saturday and will continue through April. Among those present were Bahamas Baseball Association's secretary general Teddy Sweeting, Gomez, marketing manager at CBS Bahamas, Garth Moncur of Urban Renewal, Rose Armbrister, widow of the late Ed Armbrister and several of his relatives.
#After Rose Armbrister threw out the first pitch, Martin Burrows, president of the Local Umpires Association, officiated the opening game.
#"I'm quite pleased because I see the enthusiasm in the kids, which means that they are ready to play," Butler said. "That's the first step in trying to help these kids in their development. "It's a developmental league.
#"But at the same time, we are hoping that we can place as many of these kids into high school and college programmes in the United States wherever it is possible and eventually help in getting them to the pro ranks."
#Butler, who was assisted by a number of coaches including his brother Nat Butler and Wellie Stubbs, said he liked what he's seen from the first day of competition and, if that is any indication, they should have some exciting action over the next few weeks.
#Stubbs said he really wanted to get involved with flag football into the school system, but after there was some resistance, he decided to join up with his good friend Mike Butler in his Community Baseball League.
#"It's a good way to keep them from being idle," said Stubbs, who serves as one of the coaches.
#"I just hope that this can go far and we can see some of these players getting the opportunity like Ed Armbrister to play professional baseball."
#Orlando Knowles, who just joined the programme, has been playing baseball in Grand Bahama for the past 15 years. Having just recently moved to New Providence, he said he's glad that the league gives him an opportunity to get his groove back on.
#"I want to stay focused and get back into playing competitive baseball again," he said.
#"It was fun playing with my team-mates, even though we lost the game. Mistakes are made, but you have to learn from this one and come back bigger and better the next time you play."
#The 17-year-old former St George's High student, now in the 12th grade at CC Sweeting, is encouraging all of the players in the league to come out and put their best foot forward and help to make it a vibrant one.
#Among the sponsors for the league are:
#Brands Auto Parts, Soldier Road; Bahamas Christian Fellowship Center; CBS Bahamas; Bahamas Waste Management; Bahamas Leisure Impact Company and Ivan 'Showtime' Francis.
http://www.tribune242.com/news/2023/feb/02/ed-armbrister-baseball-league-officially-open/?news