Gaither is battling back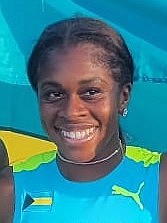 TYNIA GAITHER
#By BRENT STUBBS
#Senior Sports Reporter
#bstubbs@tribunemedia.net
#AN illness she sustained at the end of last season has prevented veteran sprinter Tynia Gaither from competing in any meets so far this year on the international circuit.
#But after getting the all-clearance to train at the end of February, she's working on coming home to make her season debut at the Bahamas Association of Athletic Associations National Championships next month.
#Still not in tip top shape, Gaither said she's looking forward to defending her title in the women's 100m during the championships, scheduled for July 5-7 at the Thomas A Robinson National Stadium.
#"Towards the end of February after I got healthy, I started training right away," Gaither said in an interview over the weekend. "So I haven't been able to do much. I'm not in the best shape, but I will be home for the Nationals."
#After enduring Covid-19 at least three times last season, Gaither said when she took the vaccine, she got worse and since then, she continued to develop the symptoms that kept her away from the track.
#"I was home seeing a lot of doctors, but nobody could tell me what was wrong. They were telling me it was sinus affectation, a bacterial infection, but it was literally the same Covid-19 sickness that I was having before," she pointed out.
#"I went to a new doctor at the end of February and he gave me one shot and it knocked it right out."
#Not being in the type of condition that she want to be in, Gaither said if she can make the women's relay team for the World Championships in Budapest, Hungry, she will be contended with her comeback,
#"After the Nationals, I hope to compete in some more meets and try to end my season strong," he proclaimed. I know I should be able to do something worthwhile."
#Now in her second season with coach Tonja Buford-Bailey in Austin, Texas, the 39-year-old Gaither said without any off-season training, it's harder to get to the level of competition that she needs be coming home for the Nationals.
#"We started off kind of slow, but it's too late to try and build that off season strength," Gaither said. "We just jumped right into training and so it was really hard.
#"I've gained a few pounds since I missed training nd so it was difficult, but it's one of those seasons where you just have to make due with what you have."
#Gaither said she would love to team up with some of the younger athletes, along with veteran Anthonique Strachan, to provide a presence for the Bahamas in the 4x100m relay in Budapest in August.
#But she admitted that she will have to see what happens when she lines up against them.
#"These girls are running so well. Anthonique, Anthaya (Charlton), Charisma (Taylor) and Devynne (Charlton), there are so many of them on their A game and I'm so proud of what they have accomplished.
#"Even if I don't make the trip to Worlds, I will be there cheering on everybody else. I think the time is now for the women to get back out there, even the men, especially the men."
#The Grand Bahamian native, who graduated from the university, is coming off her second appearance at the World Championships in Eugene, Oregon, last where she didn't advance out of the preliminaries of the 200m, but got to the semifinals of the 200m.
#She also went to the North American, Central American and Caribbean (NACAC)) Championships in Grand Bahama where she closed out her season at double silver medalist in the 200m on the women's 4x100m relay team.
#Her 200m lifetime best of 22.41 was done at the World's in Eugene and she clocked her personal best of 11.02 in Miami, Florida, in 2021. She is pegged as the seventh fastest Bahamian female of all-time in both events.