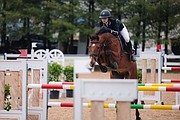 Kacy Lyn Smith and Chicago M. won 1st place in the 1.30m Junior Jumpers at the Lexington Spring Premiere.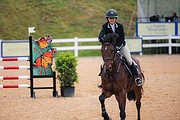 Kacy celebrates as her young mount Costbar 2 finished with a double clear to place 4th in the 1.20m Low Juniors.
#BAHAMIAN rider Kacy Lyn Smith had a stellar showing at the Lexington Spring Premiere last weekend, riding her two horses Chicago M and Costbar 2 to multiple high placings and being named as the overall leading junior jumper of the competition.
#The Lexington Spring Premiere heralds the opening of the Virginia Horse Center's annual Festival of Champions in Lexington, VA, and the beginning of the equestrian show season in the mid-Atlantic area.
#Riding Chicago M., Kacy Lyn won the Medium/High Junior Amateur Jumper class on the first day of competition, and after multiple high placings over the remainder of the weekend, the pair finished as Reserve Champions in the 1.30m Medium/High Junior Jumper Division.
#Kacy Lyn also had successful rounds with her young horse Costbar 2 in the 1.20m Low Juniors Division, including riding a double clear round for 4th place one class and placing 6th in the Speed Class.
#Overall, her performances with both horses earned her the title of leading junior jumper at the competition. Last year Kacy Lyn and Chicago M. made history as the first duo to represent The Bahamas at the FEI North American Youth Jumping Championships in Traverse City, Michigan. This year the pair have qualified to represent The Bahamas in Individual Jumping once again, this time at a higher level, moving up from the Pre-Juniors to the Junior Division.
http://www.tribune242.com/news/2023/may/04/kacy-lyn-smith-leading-juniorjumper-lexington-spri/?news