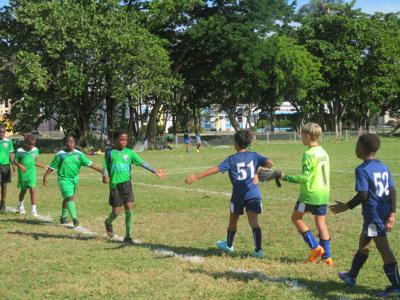 Kix Academy under-9 (U9) and under-11 (U11) teams had strong performances against Renegades FC on the fields adjacent to the original Thomas A. Robinson Track and Field Stadium on Saturday morning, with Kix Academy coming out on top in both divisions.
Both divisions were closely contested. In the U11 division, Kix won 8-4. Isaac Richardson led the way with four goals, Christian King had two goals, and Tyrell Ferguson Jr. and Christian Major chipped in with a goal each.
Richardson has led the way for Kix Academy for the past several games. He had four goals against the Renegades two weeks ago, and he also had a hat trick against the Baha Jrs under-13 (U13) team last month, playing a division up from his age group.