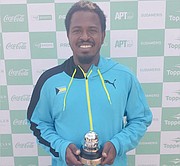 TENNIS ACE MARVIN ROLLE.
#By BRENT STUBBS
#Senior Sports Reporter
#bstubbs@tribunemedia.net
#MARVIN Rolle remembers when he made his debut on the men's Davis Cup team in 2001 at the tender age of 16. Now, as the elder statesman of over 20 years as a player/captain, he's being honoured for his longevity.
#On Wednesday as the Bahamas competed in the American Zone III tie in Paraguay, Rolle was one of six persons recognised for their achievement by their respective countries by the International Tennis Federation.
#"It's definitely an honour getting the award. It's definitely an honour representing the Bahamas," Rolle said. "I remember my first Davis Cup tie against Chile and Marcelo Rios and Fernando Gonzalez.
#"I teamed up with Mark Knowles sand Roger Smith and I think BJ Munroe. I could still remember that tie when I came out with this yellow cotton shirt. It was a funny shirt. They called me the bumble bee. That was pretty exciting."
#During his tenure, Rolle has been nominated for a total of 26 ties. He has played in 62 matches and has amassed a 14-15 win-loss record in singles and 29-22 in doubles for a total of 43-37.
#The Davis Cup recognized Rolle for his 25th nomination to Team Bahamas, having played for 15 consecutive years. He was recognized for his tennis strength, skill and class.
#Rolle said he enjoyed his time as a member of Team Bahamas, either a a player or the captain. Now in his role as the player/captain in Paraguay, Rolle said he intent to play until he's beaten out of the opportunity to make the team.
#As a second generation player, following in the footsteps of his father, legendary Leo Rolle, the 39-year-old Rolle said he never envisioned he would have had the incredible career that he had so far.
#"I've represented the Bahamas for so long that I've been there so many players," Rolle said. "I've been through it all. I've played with so many players."
#The list include Mark Knowles, Roger Smith, Mark Merklein, BJ Munroe, Lavaughn, Munroe, Dentry Mortimer, Devin Mullings, Timothy Neely, Jamaal Adderley, H'Cone Thompson, Jared Turnquest, Ryan Sweeting, Chris Eldon, Matthew Sands, Spencer and Baker Newman, Kevin Major Jr, Philip Major Jr, Rodney Carey, Jodi Turnquest, Justin Lunn, Justin Roberts, Donte Armbrister and Denali Nottage.
#"It's been a pleasure playing with everybody. We had our ups and downs, but more ups than downs," he reflected. "Just being on the team with those guys was a pleasure.
#"We had some fun times. If I had to do it all over again, I definitely would."
#If there were any highlights for him, Rolle said it would have been going to so many different countries.
#"The highlight was having the Bahamas on your back because you're not just representing yourself. You are now representing close to four hundred thousand people," he pointed out. "So it's definitely a lot of honor.
#"People might think it's a heavy load to carry, but when you love your country so much, it's pretty easy. So, definitely the highlight is always playing for the country."
#When he got started, Rolle said he remember only having to worry sbout leaving his parents, Leo and Erica Rolle st home. Now he have his own family, including his wife, Jem, and daughter Sariyah,
#"The low points, there wasn't much, except for losing some close matches. And spending long hours on the plane., Coming here to Paraguay, we had to spend eight hours on the plane and there is a six hour lay over. The traveling is a low point."