As of Monday, November 28, 2022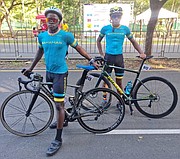 BAHAMAS junior cycling team of Ayden Bain and Livingstone Duncombe with their bicycles.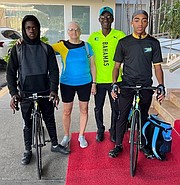 CYCLISTS Ayden Bain and Livingstone Duncombe with coaches Shirley Mireault and Kenton Roker at the Junior Caribbean Cycling Championships in the Dominican Republic.
#By BRENT STUBBS
#Senior Sports Reporter
#bstubbs@tribunemedia.net
#COACH Shirley Mireault liked what she saw from the two cyclists representing the Bahamas this week at the Junior Caribbean Cycling Championships in the Dominican Republic.
#Mireault, who travelled along with Kenton Roker, the federation's first vice president and head of the delegation, said both Livingston 'Launy' Duncombe and Aydan Bain performed to the best of their abilities and that was all they could ask for.
#"The meet was excellent," Mireault said. "Our boys did a super job. They were the youngest competing and even though this was their very first time competing, they did very well. They finished."
#The individual time trial was 10 kilometres (riders left one minute apart) and road race was 70 kilometres.
#The federation was hoping to take a larger team, including a couple of girls, but Mireault said because of their examinations they were taking at school, they could not have travelled.
#Mireault said while there, they made sure Duncombe and Bain completed their homework assignments issued by their respective teachers.
#Mireault said one of the good things is the fact that at age 14, Bain will have another two years to compete in the same age group and Duncombe, 15, will be able to participate another year.
#Hopefully, next year, she said they will be able to carry a larger team.
#In the time trials on Wednesday, Duncombe was ninth in a time of 16 minutes and 29.87 seconds and Bain was 10th in 16:37.24. Alonso Rodrigo of the Dominican Republic won the gold in 13:39.29, followed by Gonzalez Jurvin of Aruba in13:39.29 and David Angel, also of the Dominican Republic, in 14:01.74.
#The road race on Thursday was a lot harder, but Duncombe placed 13th in 1:59.30, while Bain was 19th in 2:10.28.
#Rodrigo moved up to claim the gold in 1:907.26, Dominica's Casimir Ajqniah won the silver in 1:07.26 and Bryan Morrobel of the Dominican Republic picked up the bronze in 1:58.22.
#"They both did very well," said Mireault on the performances of Duncombe and Bain. "They didn't get lapped because once you get lapped, you have to get off the course. We were very proud of the performances from these two young men."
#Next year, because of the performances of Duncombe and Bain, Mireault said the federation will be looking at ensuring that a bigger team gets to travel and gain the international exposure.
#Federation president Roy Colebrooke had nothing but praise for the two cyclists, who hail from Grand Bahama.
#"I think for the two young cyclists, they rode very well," Colebrooke said. "Keep in mind, they were the two youngest in the field and so we expect some really good things from these two young men next year. I believe they will have a very good showing at the Junior Caribbean Cycling Championships. It only speaks volumes for the junior programme that the federation has ongoing. So we're very pleased with their performances."
#With both cyclists coming from Grand Bahama, Colebrooke said it shows the versatility in the federation.
http://www.tribune242.com/news/2022/nov/28/mireault-our-boys-did-super-job/?news