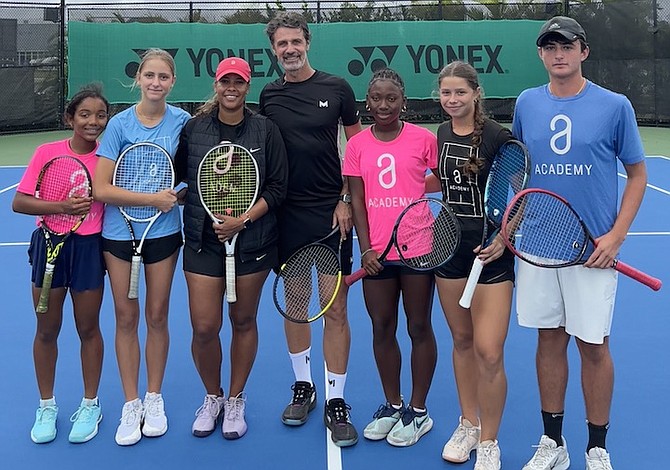 YOUNG, aspiring tennis players are shown with coaches Patrick Mouratoglou and Richele LeSaldo.
As of Friday, November 3, 2023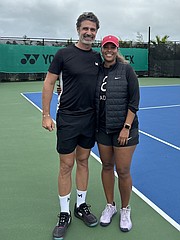 Coach Patrick Mouratoglou with Richele LeSaldo, director of the Albany Tennis Academy.
#Patrick Mouratoglou, the world renowned French tennis coach, was impressed with his return trip to the Bahamas this week.
#Mouratoglou, a former decade long coach of legendary American tennis star Serena Williams, was invited to the Bahamas by Richele LeSaldo, the director of the Albany Tennis Academy.
#Here on a stop after his visit to Miami, Florida, before he heads to Los Angeles, California, Mouratoglou got a chance to work with a number of local rising young tennis players.
#Mouratoglou said he remembered coming here during the years that he coached Williams from 2012-2022 for a brief trip, but he was delighted to be back to actually put in some work with the young players. "I think the players were really receptive to what was being taught, especially the young player from Grand Bahama," Mouratoglou said. "I think they all did a very good job."
#From what he has seen, Mouratoglou said the future looks bright for the Bahamas, considering that the players are following in the footsteps of one of the game's greatest doubles specialists Mark Knowles.
#"I'm happy that Richele invited me to come here. I've known her for a long time, and I think she's doing a very good job with these facilities here. I hope that I can come back and continue to work with the programme in the future."
#LeSaldo, a close associate of Mouratoglou from France as well, said it's great to have one of the world's greatest coaches to be in town to share his expertise with the youngsters.
#"I'm happy to have him here," LeSaldo said. "I think the young players whom he got a chance to work with have learnt quite a bit from him. He's been an inspiration to those in attendance."
#Former player Oneil Mortimer, who assisted Mouratoglou in serving balls to the players, said it was a very insightful experience for him as one of the young coaches in the Bahamas.
#"Learning from him and being on the court with him was a big pleasure of mine," Mortimer stated.
#"I learned how important it is to be on point and deliver the ball to the players so that they can get it right."
#Alessio Battello, who came in from Grand Bahama with his mother Dianna Battello, had a special private training session with Mouratoglou.
#Battello, a 13-year-old ninth grader at Lucaya International School, said he was thrilled to have met Mouratoglou.
#"It was a dream come true. I learned a lot from him," Battello said. "I learned how important it is to use your wrist in just about every shot in this game. I think it was a good experience coming here for the lesson."
#Houlgrave, one of the top junior female players in the country, said she was very happy to get the opportunity, not just to meet Mouratoglou, but to also get some pointers from him as she went through some drills.
#"I never thought I would have been able to hit with him, considering that he's coached some of the best female tennis players in the world," said Houlgrave, a 13-year-old eighth grader at Windsor High School.
#"I learnt a lot of stuff from the short time I worked and watched him because there's a lot of stuff that I can work on to improve my game. There's no specific thing, but I can work on every aspect of my game."