Physical Education Teachers Take Up Crash Course In Golf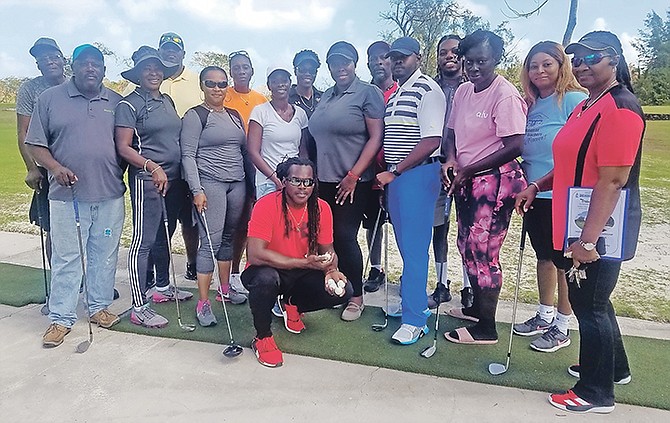 As of Friday, February 21, 2020
#By BRENT STUBBS
#Senior Sports Reporter
#bstubbs@tribunemedia.net
#PHYSICAL education teachers from the government secondary high schools spent a portion of their mid-term break in class over the past two days as they participated in a crash course in golf at the Bahamas Golf Federation's Driving Range.
#Clara Storr, the education officer for high schools physical education in the Ministry of Education, Science sand Technology, said they had 40 teachers from the junior and senior high schools participate in the two-day clinic on Wednesday and Thursday.
#"This was the first time that a lot of them have ever been on the golf course, so we were happy to introduce it to them," she said. "We had a few who played it, but haven't done it in a long time, so to reopen that love for them was good. "I'm really excited to see the passion and even the camaraderie from the teachers as they learn the sport. They were very interested in it and they were keen about it. They learned about the different drives and the various clubs to use.
#"To see that coming out of them, I know when it's time to introduce it to their students, it's going to be phenomenal."
#Storr said the premise of the programme is to get the teachers started so that they can go back to their schools and their students interested in playing the sport as they try to branch the curriculum with the assistance of the BGF and the Fourteen Clubs Golf Academy.
#She said there are sponsors and persons ready and willing to assist to get the programme off the ground.
#Ahmal Henfield, one of the coaches of Fourteen Clubs, said they wanted to demonstrate the basic skills of playing the game to the teachers and to also give them an idea of exactly how the game is played.
#"What we hope to accomplish is to bring more activities to the golf arena through athleticism in the high schools," he pointed out.
#"Also, we hope it will have some scholastic benefits where there are scholarships available locally and abroad.
#"We also work with UB (University of the Bahamas) where they have a local entry and so there are some ways that the student-athletes can benefit from being a part of the sport."
#At the same time, Henfield said they were delighted to have been able to expose the PE teachers to the game. "They started off just learning how to hold their club, how to perfect their swing during the first day of the clinic and today, they did the practical and got to do some putting, which turned out to be a lot of fun."
#Considering the fact that the PE teachers should all be athletic to teach the sport, Henfield said there was no problem with them catching on.
#"They all liked it. They didn't want to stop once they started and it was a very easy transition teaching them and showing them the golf game," Henfield said.
#"We hope to invite them anytime they want to come in and get a refresher course. But we hope that we can invite them to come in at least once a month to sharpen their skills."
#Patrice Curry, a physical education teacher at LW Young Junior High School, said in the two years she's been a part of the sports department, she's been to a number of workouts, but she thoroughly enjoyed her time in the golf course. "The number one reason was the hands on was excellent," she reflected.
#"The golf trainers out here are excellent. They made it so easy for us to take their teaching back to our classrooms because we got the basic techniques and lessons to pass on to our kids.
#"Because I'm excited about it, I think they will be excited about it too. Just the thought of hitting those golf balls was great. This is a sport that I can definitely take back and encourage my students to get involved in because the instructors here were really informative."
#While she also intends to try her hand at it again, the former track and field sprinter said the heat played a factor, but her most challenging task on the course was trying to concentrate for 18 holes.
#"I won 15 out of the 18 holes, but I really had to concentrate and target each hole so that you can get the ball where you need to get it with the minimum amount of tries," she said. "That was the most challenging path for me, but I believe the kids can pick up that challenge too."
#Denycko Bowles, whose Doris Johnson Mystic Marlins senior boys basketball team is in the process of defending their title at the Hugh Campbell Basketball Classic at the AF Adderley Gymnasium, called it a learning experience.
#It's the first time for everything," said Bowles, who has never participated in a golf event.
#"I think everybody learned a whole lot. For me being my first time, it was definitely a different avenue, a different experience, but it's something that I think I can impart to our students.
#"I'm sure a lot of them haven't played golf because it's not a common sport, so I think just as I can learn more about it, I'm sure they can benefit from participating as well. So it's a good avenue, a good outlet to get them introduced to the sport, so it's something I will definitely recommend."
#As a former basketball player, Bowles said he feels he has good eye coordination, but it's not as easy as it looks because of the techniques involved.
#"I definitely think it's something I want to make constant and try to get better," Bowles said.
#"But I had a lot of fun over the past two days and I would definitely recommend it to others. So hats off to the organisers. It was a good clinic to put on."
#However, Bowles said he doesn't see himself turning in his coaching chores to try and become the next Tiger Woods.