As of Monday, February 6, 2023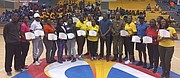 NPPPSSA coaches receive their mini basketball certifications from BBF officials.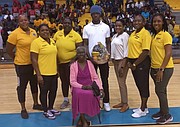 NPPPSSA executives pose with family of the late coach Sherman Smith.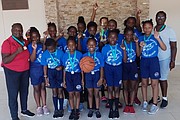 GIRLS champions Carlton E Francis.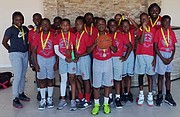 BOYS champions Sadie Curtis.
GIRLS second place finishers CW Sawyer.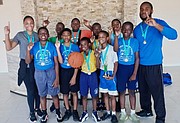 BOYS second place finishers Sandilands Primary.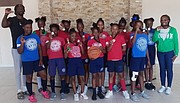 GIRLS third place team Albury Sayles.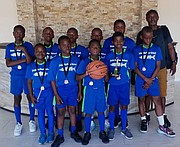 BOYS third place finishers Uriah McPhee.
#By BRENT STUBBS
#Senior Sports Reporter
#bstubbs@tribunemedia.net
#THE members of the Carlton E Francis girls' basketball team knew that there was no better way to keep the memory alive of their beloved deceased coach Sherman Smith than winning the New Providence Public Primary Schools Sports Association mini basketball tournament.
#The week-long tournament, named in honour of Smith, who passed away in January, 2020, wrapped up on Friday at the Kendal Issacs Gymnasium with Carlton E Francis holding off CW Sawyer for a hard fought 8-6 decision.
#Third place went to Albury Sayles, who blanked Palmdale Primary 5-0.
#CW Sawyer's Laila Leonard, an 11-year-old sixth grader, said they did it for coach Smith. "We did good. There was a lot of chaotic around the court, but we tried to stay focused because we wanted to win it for our coach, who died. He used to win a lot of basketball tournaments for our school," said Leonard, who played with Smith.
#She noted that their new coaches really prepared them for the tournament.
#Her teammate Alyssa Bain, a 12-year-old sixth grader, said she was pleased with their performances, but noted that coach Smith would not have liked the way they drilled and shot the ball.
#"I felt honoured to win it for coach Smith because he used to practice a lot with us. He was my favourite coach," Bain said. "So I was glad that we won it. We want to thank the coaches who worked with us. They did good."
#Coach Melanie Gibson, who brought a winning tradition to Carlton E Francis having won just about every other title in sports played in the NPPPSSA, said it was good to finally get her first basketball title under her belt.
#"I told them from yesterday (Thursday). I told them we have to win this one for coach Smith," said Gibson, who came to Carlton E Francis just after Smith's death in 2020.
#"The children were too excited. Everybody, they wanted to come out to practice. We started from January preparing for this tournament."
#Smith's family members were in attendance to watch the tournament and they were not only thrilled that the NPPPSSA decided to honour him, but they were even more delighted with the outpouring of love received from everyone.
#"We are very honoured to have been invited to watch the tournament because this is something that he always liked to see with the kids having fun and being competitive at the same time," said Sherzel Williams, his daughter.
#Stephon Smith, who represented his brothers, Solomon, who is in school in Kentucky and Sherman Jr, who was unable to get off from school, said they are really appreciative of the NPPPSSA naming the tournament in honour of their father.
#And his mother-in-law Teazel Bowe, said she enjoyed everything herself.
#"It reminded me of when I used to come and watch Sherman and Solomon and Stephon play when they used to be running all over the place," Bowe recalled. "These children are so tiny. I really enjoy watching them play."
#NPPPSSA president Latoya Bain-Sturrup thanked all of the schools for bringing their teams out to compete. She noted that it was one of the most competitive basketball tournaments they have hosted, which showed that the coaches are putting in the work with their teams.
#She also thanked the Bahamas Basketball Federation for partnering with them and for the tremendous role that Christian Wilmore played in serving as the tournament director and the referees who assisted him in officiating the games.
#Prior to the start of the tournament, Wilmore, Freddie Brown and Yves Pierre also conducted a mini basketball clinic, which Bain-Sturrup said was a huge success for all of the coaches who participated and passed their certification courses.
#In the girls' divisional playoffs, Carlton E Francis whitewashed Albury Sayles 21-0 to win pool A, while CW Sawyer doubled up Palmdale 10-5.
#In the boys division, Sadie Curtis emerged as the champions after they knocked off Sandilands Primary. In the bronze medal game, Uriah McPhee held off Sybil Strachan 13-11.
#Sadie Curtis advanced to the final with a 20-18 nipping of Uriah McPhee in one of the two semi-final matches. The other saw Sandilands was 10 points better than Sybil Strachan in a 19-9 victory.
#With four divisions contested, the pool championships saw Sybil Strachan def. Carlton E. Francis 11-8 in pool A; Sadie Curtis def. CW Sawyer 8-6 in pool B; Uriah McPhee def. Palmdale 7-1 in pool C and Sandilands def. Albury Sayles 19-3 in pool D.
#The team standings at the end of the boys pool play are as follows:
#Boys division
#Pool A
#Sybil Strachan 4-0
#Carlton Francis 3-1
#Garvin Tynes 2-2
#Gerald Cash 1-3
#Gambier 0-4
#Pool B
#C W Sawyer 4-0
#Sadie Curtis 3-1
#Cleveland Eneas 2-2
#Yellow Elder 1-3
#Ridgeland 0-4
#Pool C
#Uriah McPhee 4-0
#Palmdale 3-2
#Woodcock 3-2
#Claridge 3-2
#Centreville 1-4
#E P Roberts 0-4
#Pool D
#Sandilands 5-0
#Albury Sayles 4-1
#Eva Hilton 3-2
#Thelma Gibson 2-3
#T G Glover 1-4
#Marjorie Davis 0-5
http://www.tribune242.com/news/2023/feb/06/primary-school-basketball-champions-crowned/?news