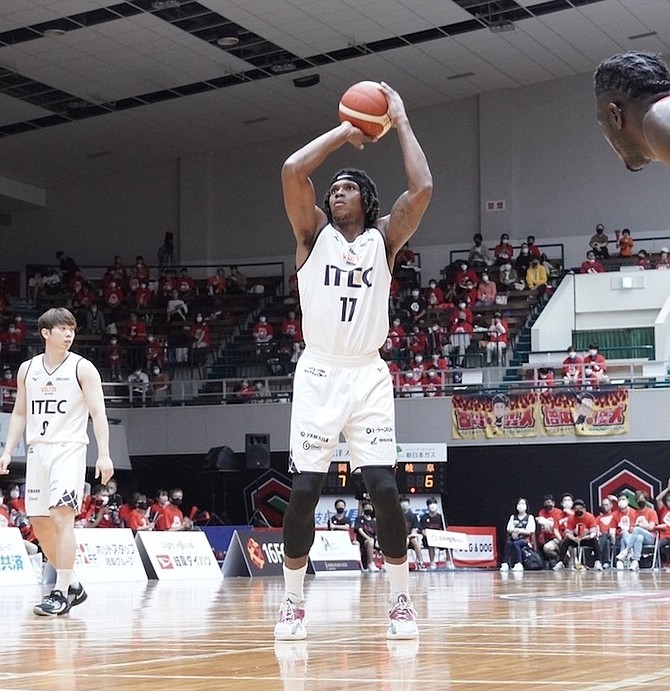 TAVARIO Miller at the free throw line in the Japanese B3 League. Photo: Shizuoka Veltex
As of Wednesday, October 19, 2022
#By RENALDO DORSETT
#Tribune Sports Reporter
#TAVARIO Miller began a new chapter in his pro basketball career in Japan and has emerged as a leader for his title contending club.
#Miller has averaged 13.8 points and 8.5 rebounds per contest and recorded four double doubles through six games en route to a 5-1 record for the Shizuoka Veltex in the Japanese B3 League.
#Miller finished with a double double – 16 points and 10 rebounds in 24 minutes off the bench to cap back-to-back wins over the Gifu Swoops in their latest series. Miller also had 16 points, six rebounds and two blocks in a 98-75 game one win.
#"I am very happy that we were able to win these two games on the weekend.
#Gifu is a very good team. Over the last few days, we struggled against their excellent defence at times throughout the games," he said.
#"[My goal] was to play tenacious defence and to get involved in rebounding, that's my role and job in this team. It's the reason why I'm here. On the court, I think I can contribute to the team's victory by doing exactly what is required of me, such as running well, defending well, and fighting on the boards.
#Shizuoka moves on to host Veertien Mile in the upcoming series. "This will be the first home game in three weeks, but I am looking forward to seeing the fans," Miller said.
#In his debut with the club, he scored 10 points on 5-7 shooting in just 16 minutes off the bench in an 87-75 win over Yokohama Ex. He followed with 19 points and 10 rebounds in the rematch with Yokohama, his team's lone loss of the season, 103-81.
#Miller was moved into the starting lineup for the next series against Kanazawa and finished with 15 points (7-11 field goals) and 11 rebounds in an 81-58 game one win.
#In game two, he had a perfect shooting night from the field (7-7 field) and scored 19 points to go along with a team high 11 rebounds in a 75-61 win.
#Miller spent last season in Brazil's Novo Basquete Brasil (NBB) with Minas Belo Horizonte.
#The team reached as far as the league semifinals before their playoff run came to an end. Minas finished the regular ranked third in the league at 25-7. The team also finished third in the FIBA Basketball Champions League of the Americas with a win over Quisima in the bronze medal game last month. In his first season with the club, Miller averaged 11.5 points and seven rebounds per game on 65 percent shooting from the field.
#Prior to Brazil, the former Texas A and M Aggie played professionally in Argentina, Uruguay, Spain, Norway and Mexico.
http://www.tribune242.com/news/2022/oct/19/professional-basketball-player-tavario-miller-star/?news