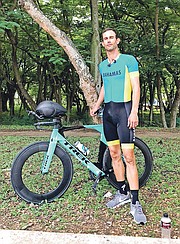 Lorin Sawyer
LORIN Sawyer was the lone representative from the Bahamas Cycling Federation to compete in the Caribbean Cycling Championships in the Dominican Republic last week.
Sawyer, from Abaco, was accompanied by coach Rowshan Jones as he finished 14th overall in the 30 kilometre time trial race on Saturday, which enabled him to place eighth in the elite men's division. A total of 16 Caribbean countries participated. "I'm super excited. It's something that I dreamt about since I was a child. Never knew that I would get the opportunity, so the fact that I got to represent my country is an honour," Sawyer said.
He came back on Sunday and competed in a six-lap road race, but after he completed the fourth lap, he was unable to finish the course as he suffered a cramp going up a hill.
To be honest, I have mixed emotions about the way I performed," Sawyer said. "When I think about how long I have been cycling, as opposed to everybody else who have been doing it a lot longer than me, I feel I did very well.
I can't use it as an excuse, but it's sad that the Bahamas doesn't get the respect that it deserves in the sport of cycling. So I can't be content with what I have done until the Bahamas becomes one of the top competitors in the sport of cycling."
Although he completed his first international event, Sawyer said he would have preferred if his performance was much better. "I have a long way to go, but at the same time I have a lot of improvement," he pointed out. "I think within a year or two, I would get there."
Sawyer, however, said he won't trade in the experience for anything in the world.
"The journey here was great. Cycling is a different sport and it just changes your life to a more positive way of living and a healthier lifestyle," he said. "So it's been great and getting on the national team was just the icing on the cake."
With his first trip under his belt, Sawyer said he will definitely be working a lot harder to make more in the future. He admitted that he won't rest on his laurels because there is a bigger picture ahead of him and that is competing at a level to win a medal.
Jones felt that under the circumstances, Sawyer competed to the best of his ability and, based on what he saw, he feels that there is a bright future ahead of him, once he goes back to Abaco and applies himself to a more vigorous training programme.