Makes a name for himself at Central American & Caribbean Games in El Salvador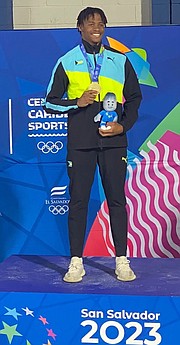 Lamar Taylor on top of the podium with his gold medal at the Central American and Caribbean Games last week in San Salvador, El Salvador.
#By BRENT STUBBS
#Senior Sports Reporter
#bstubbs@tribunemedia.net
#LAMAR Taylor said he was surprised by his double medal winning performance at the Central American and Caribbean Games last week in San Salvador, El Salvador.
#Taylor, one of five swimmers to represent the Bahamas at the games, lowered the Bahamas Aquatics' record with his gold medal performance in the men's 50 metre backstroke and he earned a bronze in the 50m freestyle.
#"It felt pretty good. I really didn't go into the meet expecting too much. I didn't taper or shave for the meet, so I just went there to see where I'm at, but I'm happy with what I came out with," said Taylor, who is going into his senior year at Henderson State University where he is studying health and human performance.
#"I didn't expect any medals or the national record. I was just hoping that I would have been pretty close to my personal best times and hopefully make one or two finals, but I didn't expect a whole lot."
#When the Grand Bahamian touched the wall in 25.08 seconds for his victory in the 50m back, Taylor said he knew he was going to have an impressive showing at his debut at the four-yearly games.
#"I was really surprised and shocked just to see how much time I had dropped because of how long the season has been. To see how I PRed and won really shocked me and surprised me," said Taylor who, in the process, qualified for the World Aquatics Championships, scheduled for July 14-30 in Fukuoka, Japan.
#"This was a really big eye opener for me because it really let me know that once I shave and taper down for Worlds, I could have a shot at winning a medal or at least make the finals."
#On lowering the national record, Taylor said it was good to make it a little harder for the next generation following him.
#"If they see me swimming these times, it gives them a little bit of hope that they too can do these times," Taylor pointed out. "My whole reason for swimming is to really motivate the younger kids."
#Taylor, who turned 20 on June 21, added his bronze in the 50m free in 22.51.
#In addition, he also got seventh in the 100m freestyle and was ninth in both the 100m backstroke and the 50m butterfly.
#"I made a few mistakes in the race, but you live and learn from those mistakes," he stated. "There are some things that you go through, and you want to make those mistakes in a meet like this, rather than do it in a bigger meet like the World Championships or the Olympic Games.
#"So to make those mistakes now, there's no real consequences, except that you get to learn from them and hopefully you can improve on it as you look ahead to the future."
#As for Team Bahamas, Taylor said he enjoyed competing with Emmanuel Gadson, Rhanishka Gibbs and siblings Luke-Kennedy and Zaylie-Elizabeth Thompson.
#"I think the team performed very well," Taylor said. "A lot of people were close to their best times and so I think they all performed very well.
#"I think for all of us to do a back-to-back event, we did our best. We just competed in the (Bahamas Aquatics) Nationals and so it was a little rough with travel and everything. But we got through it."
#Now Taylor is preparing for the trip to the Worlds where he will compete on Team Bahamas with Davante Carey, Rhanishka Gibbs and Zaylie-Elizabeth Thompson.
#"I feel like we have a really strong team, and we have a good chance of lowering the national record in the mixed relays," Taylor said.
#"All of us have the potential to place really high in our individual events, so we should have a good meet."
#Taylor, who stands at 6-feet, one-inch, is currently in Arkansas where he is travelling with his coach Scotty Serio in preparation for the Worlds before he leaves on July 14.
#With the quartet travelling to Japan, they will miss the sixth Bahamas Games that will run from July 6-14.
#However, Taylor wished all of the local competitors all of the best as they push for their best performances at the Games.