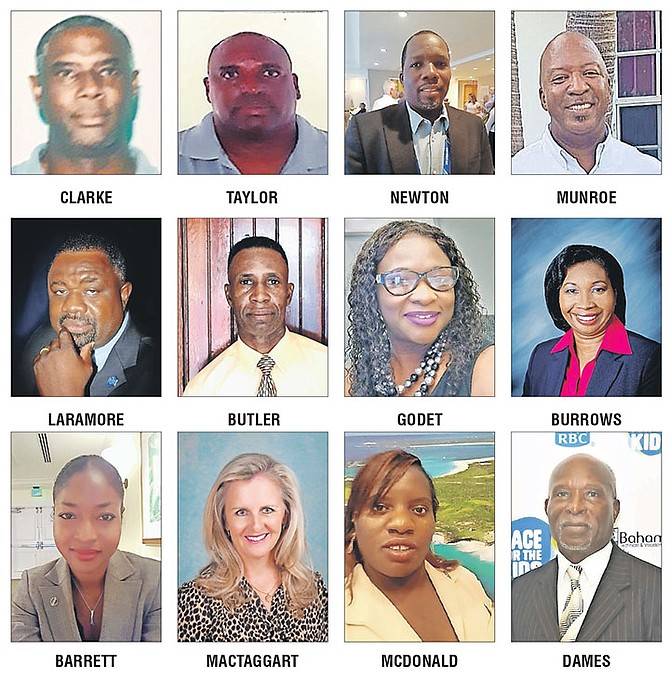 As of Wednesday, June 17, 2020
#By BRENT STUBBS
#Senior Sports Reporter
#bstubbs@tribunemedia.net
#AMIDST the spread of the coronavirus pandemic, the Bahamas Lawn Tennis Association is planning to host its election of officers on Saturday, July 4, at the Bahamas Lawn Tennis Association.
#The election is scheduled to take place between the hours of 3-6 pm.
#While current president Darnett Weir is not planning on seeking another two-year term in office, council member Perry Newton is the first candidate to throw his name in the hat to take over.
#"I was just waiting on the date to be released before I announced my intention to run," said Newton, who is also now a certified coach in the association.
#"Over the last several years working in the association, I saw a lot of potential and I've seen what has been done and I've seen the opportunities that we can continue to grow."
#Newton said he was inspired to offer himself for service because of his involvement in the junior development programme where he saw all the new kids that took advantage of the free lessons and their enthusiasm and eagerness and excitement of the sport.
#"This encouraged me to want to ensure that tennis is available for all," he stated. "This is not just a sport but a pathway for so many young people and young at heart."
#While there has not been any others coming forth to run, Newton has compiled a team called "Bahamas Tennis Stability," which will focus on the growth and development of tennis throughout the islands of the Bahamas.
#Joining Newton on the team are Natishkah Barrett as the candidate for first vice president, Chilean Burrows as candidate for the second vice president, John Laramore as candidate for general secretary, Michael Butler as candidate for assistant secretary; Timothy Dames as candidate for treasurer; Yvette Godet as candidate for assistant treasurer and Cameel McDonald, Bernard Clarke, Tara Mactaggart, Everette Munroe and Stephen Taylor as candidates for council members.
#"The team is a very dynamic team, a very diverse team," Newton said.
#"Everyone has a lot of enthusiasm and we share one common goal for the development of tennis in the Bahamas.
#"This team is inclusive of the Bahamas. I was trying to get a representation from across the Bahamas. On this team, I have the president from the Grand Bahama Tennis Association, the president from the Abaco Tennis Association and the president of a local tennis club. These are individuals who have tennis at heart. They are proven workers and they want to continue the growth of the sport."
#In their manifest, the team states that they hope to create a sustainable environment means ensuring that they attract new junior and senior athletes to the sport of tennis, design programs that further assist with the development of existing athletes, develop impactful relationships with new sponsors as well as training new coaches and officials which will all aid in strengthening the future of tennis in the Bahamas.
#Their team's vision is to "create and maintain an environment which fosters and encourages the growth and sustainability of the sport of tennis throughout the Bahamas."
#And their mission is to "create programs and opportunities while removing barriers thereby making tennis accessible throughout the entire Bahamas."
#Here's a synopsis of the candidates:
#Newton has held various posts in the tennis arena including Public Relations Officer, Treasurer and Council Member of the BLTA, Director and Treasurer of the National Tennis Centre (NTC).
#He has a Bachelor of Science Degree in Business with a concentration in management and a minor in computer science. He is in the final stages of completing a Masters of Business Administration.
#Newton has also completed the Play Tennis Certification and Coaching Beginner and Intermediate Players (Level 1) Certification, which was offered by the ITF/BLTA. He enjoys playing his bass guitar and playing tennis with his lovely wife Esther Newton.
#Barrett began playing tennis at the age of 22 years old and was in love with the sport ever since. In the last 10 years, she became more acquainted with the local and national tennis community which first began by, from time to time, organizing tennis functions in Grand Bahama followed by being elected, in 2015, the President of the Grand Bahama Tennis Association (GBTA).
#Barrett objectives include introducing as many persons as possible to tennis, retaining players, creating friendly and competitive opportunities for persons to come together and improve their tennis skills, promoting and organizing educational opportunities as well as cultivating unity among the tennis professionals in Grand Bahama and by extension, the Bahamas.
#By profession, she is a practicing accountant in Grand Bahama. She has two children.
#Burrows is a consummate professional, having joined the Public Service in March 1992. In August 2003 she joined the staff of the Ministry of Education, Scholarship & Educational Loan Division as an Educational Loan and Scholarship Officer and was subsequently promoted to the position of Senior Educational Loan and Scholarship Officer in January 2006.
#Burrows was later promoted to the post of First Assistant Secretary, and along with that promotion came the responsibility of the head of the Scholarship & Educational Loan Division. She holds a Bachelor's Degree, as well as a Master's Degree in Public Administration, graduating (magna cum laude) from Florida International University.
#She is married to Mr Anthony Burrows Sr. and is the proud mother of one son Anthony Jr, a tennis player.
#Laramore is an Apple Certified Consultant at Mac Consultants Limited in Nassau, Bahamas. He received his training at Apple, Inc. Certified Centers in San Juan, Puerto Rico; Boston, Massachusetts; San Francisco, California; Richmond, Virginia; and Miami, Florida.
#Laramore is also a proud member of the Bahamas Chamber of Commerce and Employers' Confederation, Civil Society Bahamas, an umbrella organization that represents the interests of all the non-profit and non-governmental organizations in the Commonwealth of the Bahamas, and the honor society of the National Society of Leadership and Success.
#He currently resides in New Providence with his wife Marcia and son John-Thomas.
#Butler was born the seventh son to Eugene and Lottie Butler. He attended and graduated from Government High School, Nassau Bahamas and Highland Park College, Michigan. He is a former semi professional baseball player and also a former member of the Bahamas national baseball and softball teams, a career investment banker and financial regulator.
#He is the current president of Southwest Tennis Club and coordinator of its after-school Play n Stay program and has completed the Play Tennis Certification and Coaching Beginner and Intermediate Players (Level 1) Certification offered by the ITF/BLTA as well as obtaining his Level 1 Mental Coaching Certification offered by the BOC in conjunction with Carroll Consultancy Group.
#Butler is also a former president of the Bahamas Bankers Athletic Association.
#Dames is the last of 10-siblings of Victoria Katura Dames. He is married to Ethel Mae Moss and has two daughters, Dr. Caron Finlay and Carol Dames.
#He attended St Bede's Catholic School, Eastern Senior School and Nassau Technical School. After employment at Standard Plumbing in 1968 as an apprentice in their air conditioning department, and working as a technician at John S. George from early 1970 to July 1973 Dames ventured out into his own business, Tim's Refrigeration, which he is still operating to this date. ​
#Dames has proudly served as a member of the parish council, president of the men's ministry and the parish building committee. He is also a charter member and a past president of the Rotary Club Of New Providence. His hobbies are fishing and lawn tennis. ​
#Godet is a 1991 graduate of Aquinas College. She has extensive experience in the Financial Services Industry. Her career began at the Accounting Firm of Ernst & Young as a Staff Accountant. She then joined Butterfield Trust Bahamas Limited, a private Bank and Trust Company.
#Godet is currently employed with a leading offshore bank as a Fiduciary Officer. She holds an Associate's degree in Accounting Management, Bachelor's Degree in Administration, Banking Certificate and is a member of the Society of Trust & ​Estates Practitioners. ​
#She is married and has two children. She, along with her daughter, are members of the BLTA. Her hobbies include Traveling & Event Planning.
#McDonald is the president of the Abaco Tennis Association (ATA). She was introduced to the game of tennis in 2015 and took on the responsibility of forming an association with the hopes of getting communities, schools, churches, club resorts and families involved.
#She was born in Jamaica, but moved to the Island of Abaco in 2004. She has earned a bachelor's degree in Business Administration with an emphasis in Accounting and is currently the Executive Assistant Manager at a Private Resort called the Abaco Sporting Club.
#Clarke is a 1983 graduate of Government High School and a 1988 graduate of Prairie View A&M with a Bachelor of Science in Biology with a minor in Chemistry. He is a Senior Food Technologist at the Ministry of Agriculture.
#Clarke is a 10-year member of the BLTA and a founding member of TPAC (Tennis Parent Action Committee). He is also a member of Southwest Tennis Club and is the father of top junior female tennis players, Sydney, who is ranked at 261 by the ITF and toured the English-speaking Caribbean and Florida junior ITF Circuit with her.
#Mactaggart is an enthusiastic supporter of tennis at all levels. As the mother of competitive juniors Jackson and Patrick, Mactaggart is familiar with the junior tennis circuits in the Bahamas and internationally. She is an active member of the International Tennis Club (IC) of the Bahamas.
#On the court, Mactaggart is a competitive club player. She has won Bahamas Senior Nationals titles in ladies and mixed doubles. She holds a Bachelor of Arts degree from the University of British Columbia, a Bachelor of Laws from Queen's University, and a Master of Laws from the London School of Economics (London, UK).
#A lawyer by profession, Mactaggart worked in private law practice in Canada and banking and financial services in the Bahamas. She believes strongly in the awesome power of sport to inspire and unite people and communities.
#Munroe is an avid fan of tennis and has been for many years. He has also been intimately involved with Tennis as both a player and a roving umpire for the past 14 years.
#Munroe's dream and hopes are to see as many young players become involved with tennis as players and beyond, even to the level of Grand Slam Champions.
#Taylor has been an educator for the past thirty six years (36). He began his career in August 1984 at Saint Cecilia's Primary School after receiving an Associate Degree in Education from North West Community College, Powell, Wyoming.
#He taught grades three (3) and five (5) until 1987 when he requested academic leave to further his studies. After completing a bachelor's degree in Elementary Education at Duquesne University, Pittsburgh, PA.
#In 1989, Taylor was assigned to teach fourth grade at Saint Thomas More Primary School. He taught at Saint Thomas More until June 1998 when he was appointed Administrative Assistant at Saint Cecilia's Primary School. During his tenure at Saint Thomas More, Taylor continued to upgrade and educate himself by pursuing a master's degree in Elementary School Administration during the summer vacation periods. In July 1998 he completed the program.
#Taylor's hobbies include playing tennis, reading novels, watching professional sports such as tennis, basketball, football and track and field. He continually updates his educational knowledge by attending educational conferences and workshops. He is married and is a proud father of one son, Johnathan.