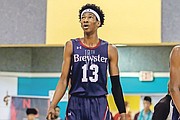 Kai Jones
#By RENALDO DORSETT
#Tribune Sports Reporter
#rdorsett@tribunemedia.net
#DESPITE a freshman season where he received inconsistent playing time from the Texas Longhorns coaching staff, Kai Jones has been listed as a highly coveted prospect for the 2021 NBA Draft by Sports Illustrated.
#The publication listed Jones, the 19-year-old, 6'11" 215 pound Longhorns forward, at No.30 among the top prospects for next year's draft.
#"Admittedly, Jones is still pretty much a wild card, but NBA teams are well aware of what he brings to the table athletically, and he showed signs of figuring things out toward the end of this season. He should figure more prominently into the rotation as a sophomore, but will still have to compete for minutes with a host of other bigs," SI's Jeremy Woo said. "Jones has to add strength, but he's wiry and explosive and has shown flashes of skill development from a face-up standpoint that hints at some future versatility. But he's yet to take the next step and, until he does, he'll remain more of an idea in the eyes of the NBA."
#Jones concluded the season with a career high night in the regular season finale when he scored a career-high 20 points in Texas' 81-59 loss to the Oklahoma State Cowboys.
#Jones converted a career-best 8-12 field goals, including 2-5 on three-pointers. He also added seven rebounds (one shy of his career high) and two steals in 32 minutes.
#The Longhorns ended the season 19-12 (9-9 in the Big 12).
#At the Big 12 men's basketball tournament in March, Jones and the Longhorns were going through pre-game warmups with the Texas Tech Red Raiders when news broke that the Power Five conferences all cancelled their basketball tournaments due to the threats of further spread of the coronavirus.
#For the season, Jones averaged 3.6 points and 3.2 rebounds per game.
#The season finale was his second career high outing against the Cowboys on the year after he posted a team-leading five blocked shots in just 16 minutes of the Longhorns' 76-64 win in January.
#Earlier in the season, Texas head coach Shaka Smart lauded Jones' effort following a win over the Central Michigan Chippewas.
#"One thing about Kai, he has the best work ethic of any 6'11 player I have ever coached. That really is going to serve him well moving forward. A lot of guys 6'0, 6'2" they get in the gym and work on their game, but he really works," Smart said. "He works like a guard, most bigs don't work great at that age. They're still learning to work. All those guys that we've had at that position developed so much better work ethic during their time here and beyond. But Kai came in with a work ethic and drive to get better and he has big goals, so that says a lot about him."
#Jones entered Texas as one of the top 50 Prep Basketball recruits in America. He was listed at No. 49 in the final ranking of the ESPN Top 100 for the Class of 2019 following his standout season at Brewster Prep Academy in Wolfeboro, New Hampshire.
#A consensus four-star recruit, Jones earned a scout grade of 88 overall and was ranked No.13 among all centres, No.12 in his region and No.1 in the state of New Hampshire.