As of Wednesday, March 15, 2023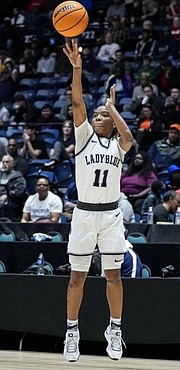 VERONAYE 'Tweedy' Charlton
#By BRENT STUBBS
#Senior Sports Reporter
#bstubbs@tribunemedia.net
#VERONAYE 'Tweedy' Charlton put up a gallant effort, but it wasn't enough to lead her Norcross Blue Devils past the Brookwood Broncos in the Georgia Girls State 7A Basketball Championship game.
#In the finale on Saturday, the Broncos, who finished with a 31-1 win-loss record, pulled off a 43-39 win over the Blue Devils, who were 29-3.
#It wasn't the outcome she anticipated, but Charlton said she was still pleased with the performance of her team, coached by Ashley Clanton, although they fell short of defending the title they won last year.
#"I think we played hard all the way to the end even though some calls didn't go in our favour," Charlton said. "We still stuck together and fought until the last buzzer."
#In completing her senior year, Charlton ended up with 17 points and eight rebounds. It was her only season with the Blue Devils after transferring from Talilah Falls to Norcross this season.
#"I am proud of myself for keep pushing and encouraging my team-mates," said Charlton, the diminutive 5-foot, 3-inch floor general.
#Having left Jordan Prince Williams High in the ninth grade to continue her basketball prowess in the United States, Charlton said the past three years have been a learning experience for her.
#"It showed me that you just have to continue to work hard and just stay positive and find some people who can help you through the process," she reflected. "I felt very amazing about my team.
#"I'm just happy that I came here for my last year. They were all very sad that it ended the way it did, but they were also very happy that I came. They were very supportive of me."
#Charlton completed the season averaging 13.4 points per game, 2.7 assists, 4.7 rebounds and 3.3 steals.
#With her high school career over and done with, Charlton is now concentrating on her future in college.
#She indicated that she's expected to make an official announcement on where she will go to play her college ball by the end of the month.
#"I'm looking forward to going to the next level," Charlton said.
#"When I see where I've come from in high school, I'm excited to see where I will go in college ball."
#And with that next step ahead of her, Charlton said she will definitely have to continue to work on her shooting and attacking the ball.
#"I'm going to continue to train and focus on my school to finish the year off strong," said Charlton, who is preparing for graduation on May 28.
#Charlton is the daughter of Christen and Vernon Charlton and she has four sisters.
http://www.tribune242.com/news/2023/mar/15/tweedy-and-blue-devils-fall-broncos-title-game/?news