As of Tuesday, September 6, 2022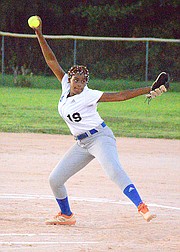 UB Mingoes pitcher Solana Brown in NPSA action against The Sunshine Auto Wildcats at The Bankers' softball field on September 4. The Mingoes won 10-9. Photos: UB ATHLETICS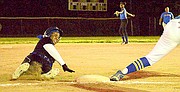 UB Mingoes infielder Cyntese Cooper slides into third base against The Operators on September 2 at The Bankers' softball field. The Mingoes lost 16-9.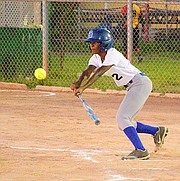 UB Mingoes outfielder Nabria Hamilton lays down a bunt against the Wildcats.
#THE University of The Bahamas Mingoes women's softball team defeated the defending New Providence Softball champions Sunshine Auto Wildcats 10-9 on the last play of the game on Sunday at The Bankers' softball field.
#The two teams exchanged leads early in the game but heading into the fifth and final inning The Wildcats held a 9-7 lead.
#The Mingoes' defence held The Wildcats scoreless in the top of the fifth. Syazha Kelly got on base thanks to an error and scored on a single from Cyntese Cooper.
#The Mingoes, with two outs and Cooper and Nabria Hamilton on second and first, sent infield Adonya Rolle to the plate. With a full count on her, she connected for what could have been a routine out to second base.
#The throw was bobbled and that allowed Cooper and Hamilton to score to end the game at 10-9. Rolle still made a victory run to home but her run did not score.
#"I was very nervous," Rolle said.
#"But I said I couldn't be nervous and I just need to hit the ball and try to get on base or at least bring someone home. My teammates were telling me not to be nervous but that made me more nervous. I powered through it and got the win."
#Head coach Shane Albury said it was a good win for the team.
#"Our starting pitcher was doing a good job but our defence was just letting us down," he said.
#"I have been preaching that for the past few games with the team. We have been right in games and errors and mistakes cost us runs that we shouldn't."
#Albury added the win was the first time UB has not only defeated The Wildcats but also the first time to beat a number one seeded team.
#"I believe we can do that on a consistent basis," he said. "We have quite a number of young ladies on the team so it's just a matter of everyone buying in and believing that we can win. Once we minimise the amount of errors that we have been committing we will see more games in the victory column."
#The Mingoes also lost on Friday against the Operators 16-9. The Mingoes now have a record of 3-8 on the season.
http://www.tribune242.com/news/2022/sep/06/ub-mingoes-upset-npsa-defending-champions-sunshine/?news