As of Monday, September 4, 2023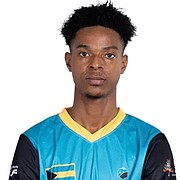 JOHNATHON Lucius
#AFTER advancing to the first round of the playoffs, gamer Johnathon Lucius fell to Peru to end his journey in the International Esports Federation's (IESF) World Championships this past weekend.
#The Tekken 7 player squared off against Peru's Sergie Mazter on Friday following his wins against Norway and Iraq one weekend prior.
#Despite a tough loss, Lucius improved on last year's performance by advancing to this level at the championships.
#Additionally, he helped The Bahamas to be ranked 33rd out of 91 countries for Tekken 7. Although his stint in the competition has now ended, the 25-year-old gamer was grateful for the experience in Iasi, Romania.
#"My overall experience for the World Esports Championships this year has been a learning and exciting experience. I got to compete and socialise with other countries and to be able to share ideas and perspectives with them was the best thing about the event because it's like a big happy family," Lucius said.
#The Bahamas placed fourth in their bracket after the Bahamian gamer dropped 0-2 to Peru.
#The latter was represented by Mazter, who finished second in the 2022 Tekken World Tour in the South America Regionals.
#Peru's gamer also won the 2021 Evolution Championship Series (Online).
#Lucius credited his opponent for his prowess in the tournament and said Mazter threw a game-changing curveball at him during their match.
#"When it came time for the match, I was preparing to go against his best character until he chose an alternative pick that had me change my overall approach to the match," the gamer said.
#He added that the game plan forced him to make a character swap in the match but ultimately it was not enough to get the job done.
#Despite not advancing further in the World Esports Championships, the Tekken 7 player remained optimistic about his gaming journey.
#"This is not the end for me or The Bahamas in terms of showcasing our skills in Esports to the world. If I can I will show the world that The Bahamas is just as great as any other country," he said.
#With the 2023 World Esports Championship now in the books for Lucius, he will now prepare for the release of Tekken 8 next year.
#The game is expected to be released January 26 on Playstation 5, Xbox Series X|S, and PC.
#Lucius said the release of the new Tekken game will lead to more opportunities and chances so he wants to simply prepare and see what the future holds.