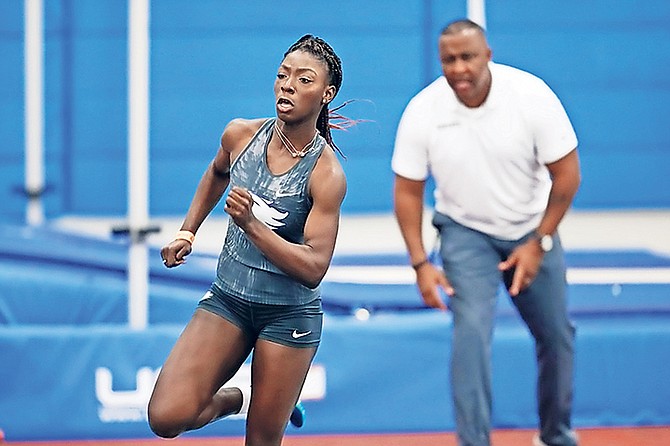 Megan Moss in action as coach Rolando 'Lonnie' Greene cheers her on.
As of Monday, January 27, 2020
#By BRENT STUBBS
#Senior Sports Reporter
#bstubbs@tribunemedia.net
#IT was a phenomenal day on the track for quarter-miler Megan Moss and hurdler Devynne Charlton at the Rod McCravy Memorial in Lexington, Kentucky.
#Moss, in her freshman year at the host University of Kentucky, picked up a fourth-place finish in the women's 400 metres in a personal best of 52.85 seconds to trail her Wildcats' team-mate Alexis Holmes, who was second in 52.27.
#The significance of their times was that they turned out to be the fastest for Holmes and the fourth fastest in the NCAA this year. While Holmes leads the pack, Moss trails Texas' Kenndy Simon, who ran 52.81 at the Dr Martin Luther King Jr Collegiate Invitational this weekend as well, and Bahamian Doneisha Anderson from the University of Florida, who did 52.83 at the Gamecock Opener on January 17.
#Moss was also eighth in the 200m in 24.17 as her Kentucky teammates Abby Steiner and Dajour Miles got first and second in 23.06 and 23.39 respectively.
#Before they were done, Moss also ran the pop-off leg and Holmes anchored the Wildcats' 4 x 400m relay team that included Steiner and Miles as they clocked 3:31.29 for the second-fastest time in school history and the No. 1 time in the world currently.
#"It was just amazing," said Moss, who also surpassed the qualifying standard of 52.90 for the World Athletics' 2020 World Indoor Championships.
#"I definitely wanted to run fast, but I wasn't worried about the time.
#"So it was good to go out there and run as fast as I did.
#"I still can't believe that I ran that fast. I just wanted to set myself up for the break and get out as fast as possible and try to bring it home."
#Moss said her goal is to qualify for the Olympic Games in Tokyo, Japan, in August and hopefully she can also double up on the women's 4 x 400m relay team with fellow St Augustine's College graduates Olympic champion Shaunae Miller-Uibo and Doneisha Anderson as the two top prospects.
#Kentucky's head coach Rolando 'Lonnie' Greene said he wasn't surprised at Moss' performance at all.
#"I told Megan she was ready to run 52 seconds her first meet," said Greene, who is assisted by Bahamian "Golden Girl" Debbie Ferguson-McKenzie on the Wildcats' coaching staff.
#"It was her first indoor meet and (her father) Tito (Moss) was here to watch it.
#"I told her I needed her to come through in 25 flat in the first lap and 37-38 and she did exactly what I told her. This is just my humble opinion, but she should have won the race. I just think she gave the other two individuals too much room and then she closed down."
#Before the indoor season is completed in March, Greene said he anticipates that Moss will clock 51 seconds. Greene, however, said Moss will not be making the trek to the World Athletics' 2020 World Indoor Championships in Nanjing, China, because it will conflict with the Southeastern Championships, scheduled for February 28-29 at the Gilliam Indoor Stadium in College Station, Texas.
#Kentucky will now take next weekend off and will be back at it February 7-8 at the Doc Hale Elite Meet in Blacksburg, Virginia. The distance runners are scheduled to compete February 8 at the Camel City Invitational in Winston-Salem, North Carolina.
#Charlton picks up a victory
#As she makes her comeback and in her bid to regain her prominence on the international scene for the Bahamas, Devynne Charlton took the women's 60m hurdles in 8.12. Cortney Jones, a senior at Arizona State, was second in 8.22.
#Charlton, who was also 30th in the 200m in 25.03, said she was quite pleased with her performances as she gets set to compete in the World Indoor Championships, having done the standard of 8.16 for the fourth time this season.
#"It was a pretty good meet consistency wise. I think it was a pretty good meet because I'm right where I need to be," Charlton said. "I came down with the flu, so going into this meet, I wasn't sure if I would even compete, but I started to feel better and I decided to give it a try."
#Also at the meet, Warren Fraser, representing the Bahamas, got second in the final of the men's 60m in 6.68 behind Langston Jackson, a junior at Kentucky, who did 6.61.
#Fraser advanced with the second-fastest time of 6.69 behind Jackson's best of 6.61 in the semi-final.
#In the preliminaries, Langston posted the fastest time of 6.66 with Fraser second with 6.67 and Purdue's senior Samson Colebrooke third with 6.72.
#Colebrooke, however, didn't compete in the semi-final. Samson's team-mate Tamar Greene was 26th in 7.05.
#And in the men's 4 x 400m relay, Puma MVP International team of Martin Manley, Akeem Bloomfield, Bahamian Teray Smith and Nathon Allen came in second in 3:09.27 behind Kentucky in 3:09.06.