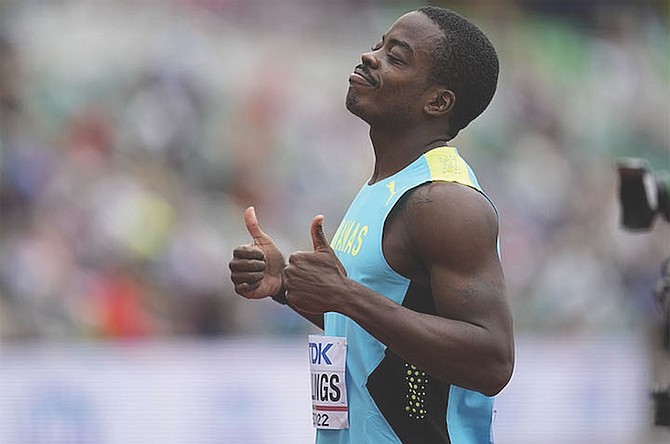 PERSONAL BESTS: Bahamian national decathlon record holder Ken Mullings.
As of Monday, January 30, 2023
#By BRENT STUBBS
#Senior Sports Reporter
#bstubbs@tribunemedia.net
#A move to Illinois on January 1 to continue his training has already paid off big dividends for Bahamian national decathlon record holder Ken Mullings.
#Competing over the weekend in his first indoor meet for the year at the Illini Challenge, Mullings accumulated a total of 5,933 points to shatter the Bahamian national indoor heptathlon record of 5,426 points that he established on February 2, 2019 at the Fred Will Open in West Lafayette, Indiana.
#The 25-year-old opened the competition by taking the 60m in 6.90 seconds for 918 points and followed that with a second place in the long jump with 7.24m for 871 points (1,789 total), second in the shot put with 13.71m for 711 points (2,500 total) and cleared 2.08m for the victory in the high jump for 878 points to close out day one on Friday with a 3,378 total.
#On Saturday, he came back and took the 60m hurdles in 7.93 for 999 points, pushing his total to 4,377. He also won the pole vault with 4.77m for 840 points (5,217 total) and completed the competition in the 1,000m in a time of 2:54.83 for fourth place with 716 points for his final tally.
#His nearest rival, Cade Amborn of Wisconsin, finished with 5,478 points.
#"I was planning to score that high because I just made a move to change with this coach and we were working on a few things to get better in the pole vault and the long jump," said Mullings, who is training with Petro Kyprianou.
#"I was stuck for a while in those events, so after getting in some training, we just decided to go for the heptathlon and I ended up coming out with a bunch of PRs (personal best) performances. I wasn't really expecting it, but I scored really high in the meet."
#Mullings, who is still training locally with Ednal Rolle, said he was shocked from his PR in the 60m as he improved on his previous best of 7.13. But he said the biggest shocker for him came in the pole vault because he didn't have the poles to extend his performance over the higher heights.
#"We went into this meet for a workout and I ended up coming out with at least five PRs, so that was a shocker," Mullings said.
#"I really didn't know what to expect, but I knew based on my training, I would be performing very well."
#Mullings, however, said he would only be competing in some individual events, but he won't do another heptathlon indoors.
#He said his focus will now be placed on the decathlon where he will attempt to qualify for the various international meets this summer, including his second World Championships in Budapest, Hungary, August 19-27.
#"I want to get stronger and more explosive as I get ready for Worlds," he said. "This is just a taste of what to expect as I continue to get any type of coaching outside of the Bahamas."
#Mullings, whose national decathlon record is 7,866m that he set at the World Championships in Eugene, Oregon, July 23-24, also thanked strongwoman Aymara Albury for her assistance in his training prior to heading off to Illinois.
http://www.tribune242.com/news/2023/jan/30/mullings-shatters-his-national-record/?news