As of Wednesday, December 28, 2022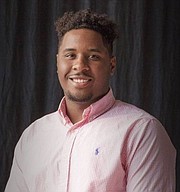 CAMERON RILEY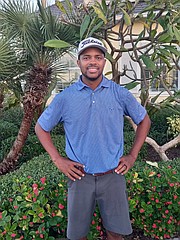 DEVAUGHN ROBINSON
#By BRENT STUBBS
#Senior Sports Reporter
#bstubbs@tribunemedia.net
#IN his second appearance on the Bahamas Professional Golf Association fresh from his initial season on the professional circuit, Grand Bahamian Cameron Riley emerged as the champion of the Korn Kerry qualifier for the Great Abaco Classic.
#Riley won the rights to represent the Bahamas in the Classic at the Abaco Club January 22-29 after he beat out Devaughn Robinson in a playoff during the trials that was held at the Royal Blue Club at Baha Mar on December 20.
#After the duo completed the one-day trial with a one-under-par 143, Riley clinched the title on the fourth hole after they started the sudden death showdown on the first hole.
#It was an improvement for Riley, who finished third as Robinson captured the qualifier in November at the Ocean Club on Paradise Island.
#BPGA president Raquel Riley said it was a good competition between Riley and Robinson, who won the first trials and earned the rights to participate in the Exuma Classic that will be played a week earlier.
#"They played two rounds of stroke play and Devaughn and Cameron were tied after regulation and went into a sudden death playoff," she said. "We used number one as the playoff hole. They played it even three times and on the fourth and final playoff, Devaughn bogied the fourth hole and Cameron birdied to win the qualifier."
#Three other players completed the trials with Keathan Stuart coming in third with 158 (77-81), Marcus Pratt was fourth with (81-82) 163 and Matthew Cox was fifth with (79-86) 165.
#Fresh out of college at Florida A&M University where he graduated in 2021 with his degree in mechanical engineering, the 23-year-old Riley said it was a fitting tribute for him to top the field for his first representation for the Bahamas at the professional level.
#"I just feel overjoyed about competing in the trials and being able to battle it out with my fellow Bahamian professional players," Riley said.
#"Being able to display the grit and determination to win makes it so much sweeter.
#"To win my first professional win at home, it was just very fulfilling for me. I do think that as a kid I would be in the position that I would be in, so I'm truly blessed to be in this position."
#In pulling off the victory, Riley said he was certainly on his game and his grit, determination and grind enabled him to persevere when it counted the most, considering that he fell short in his initial bid against Robinson.
#Now that he has secured his berth for the Great Abaco Classic, Riley said there's some fine tuning he needs to do to get ready for January. He will continue to train at his home base in Orlando, Florida where he currently resides with his parents over the past three years.
#"I definitely need to clean up my short game and also my iron game," he said. "I need to get that a little sharper to get ready to compete with everybody out there," he said. "I have the distance to hit the ball off the tee. I have a very sharp mental game.
#"I just need to get a little sharper on certain things to make sure that I give myself an opportunity to go out there and win it. That's the goal. "I just want to go out there to show the world that the Bahamas has some good golf talent, and we have what it takes to play at the next level."
#In preparation for the Classic, Riley will continue to compete on the Advocates Pro Golf Association (APGA) Tour, a minority-based tour that travels all through the United States at venues from California to New York to Florida, ensuring that all of America is covered.
#After winning the initial trials for Exuma, scheduled for January 15-19, Robinson was hoping for an encore, but he congratulated Riley for pulling through for Abaco.
#"To be honest, I expected to win. I didn't perform the way I had hoped, especially in the first round and I knew that if I wasn't, Cameron would have been tough to beat," Robinson pointed out.
#"He's a good young player that has improved every time I see him. I'm happy for him and excited to see how far he can take this opportunity."
#Although he fell short in the trials, Robinson said not being at his best , he still managed to post some decent scores and it gives him a ton of confidence for January. "It cements the point that I don't need my best in order to compete," he summed up.
#Both Robinson and Riley, however, contend that for them to be able to compete against the world when they come to the pair of classics, they will have to produce their A-game in order to be in contention for the respective titles.
http://www.tribune242.com/news/2022/dec/28/cameron-riley-qualifies-great-abaco-classic/?news