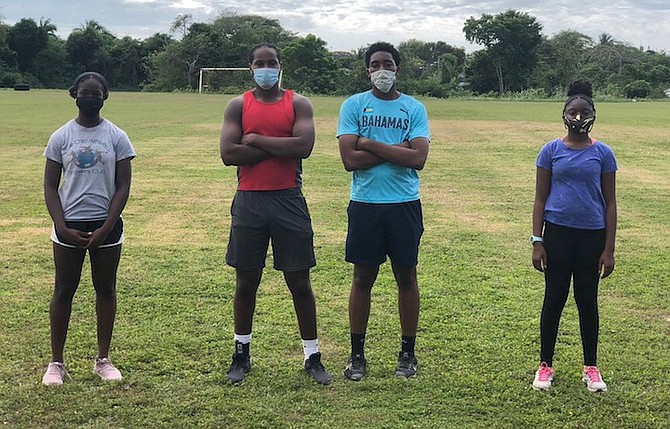 SHOWN (l-r) are Calea Jackson, Tarajh Hudson, Keyshawn Strachan and Kamera Strachan.
#By BRENT STUBBS
#Senior Sports Reporter
#bstubbs@tribunemedia.net
#SEVEN athletes attained the qualifying standards for the CARIFTA Games at the Blue Chip Athletics Throwers Meet on Saturday as competitive track and field returned at the Thomas A Robinson Track and Field Stadium amidst the coronavirus pandemic.
#It was the first meet held since sports came to a halt in March during day one of the Ministry of Youth, Sports and Culture's National Track and Field Championships at the adjacent TAR National Stadium.
#The throwers meet preceded the Bahamas Association of Athletic Associations' Odd Distance Track Meet, dubbed "Track is Back," at the TAR National Stadium on Saturday as well.
#In the discus, Calea Jackson, who is in boarding school in the United States, threw 37.34 metres or 122-feet, 6-inches to surpass the under-17 girls' standard of 36.88 (121-0). She was joined by Tarajh Hudson in the under-20 boys' division as his winning toss of 53.66m (176-0) went above the standard of 52.13m (171-0).
#The other five qualifying performances came in the javelin. Collegian Rhema Otabor, home from her first semester as a freshman at Florida International, won the under-20 girls event with a heave of 47.15m (154-8), well over the standard of 38.39m (125- 11). Camitra Mackey also did the standard in the under-20 girls division with her second place mark of 38.53m (126-5).
#Kamera Strachan threw 34.47m (113-1) to go over the Under-17 girls' standard of 34.39m (112-10), but she is too young to be eligible to compete at the games.
#Kaden Cartwright did 51.38m (168-7) for the under-17 boys' standard of 50.65m (166-2) and Keyshawn Strachan, competing in the under-20 boys division, won with 64.45m (211-5) to surpass the standard of 60.94m (199-11).
#Blue Chip coach and meet director Corrington Maycock said there was a lot of excitement and a very impressive performance with seven qualifiers from the throwers in one meet.
#He called it highly successful.
#"We still had them practicing, although we had to obey the COVID-19 rules and laws," Maycock said. "We were able to do so much with the kids. We worked a lot on their techniques and it paid off."
#As of today, Maycock said his athletes will begin their weightlifting training in the gym so that they can get stronger as they prepare for 2021.
#"I expect better performances as we look forward to next year," Maycock said. "For those athletes who haven't qualified as yet, we hope that by February or March, they will have done the standards."
#Maycock, however, said there is a possibility because of COVID-19 that the CARIFTA Games could be pushed back from the Easter holiday weekend in Bermuda to probably July. If it does, Maycock said the throwers will have more time to qualify, but the problem will be ensuring that they get into the various meets in order to achieve their goal.
#As for Saturday's meet, Maycock said they did the necessary temperature checks and ensured that the throwers did their hand sanitising and social distance.
#"It worked out pretty well," he said.
#"Everybody wore their masks, including the throwers. They only took it off when they threw. Once they finished, they put them on. "I think the BAAA did a good job adhering to the safety measures (put in place by the Ministry of Health and the Competent Authority).
#"It went pretty well and pretty smooth. We didn't have any hiccups."