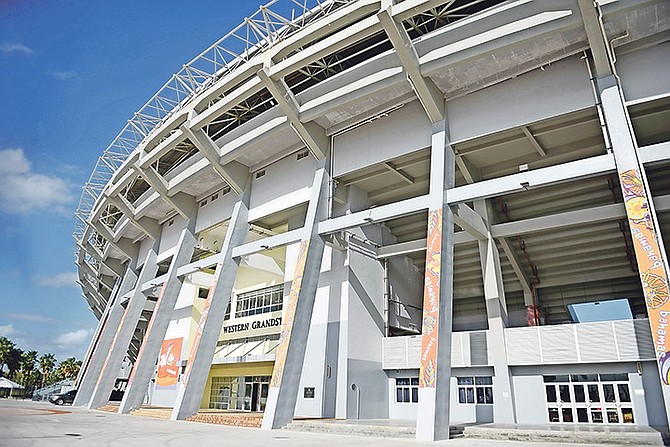 The Thomas A Robinson National Stadium. Photo: Shawn Hanna/Tribune Staff
As of Tuesday, February 28, 2023
#By Tenajh Sweeting
#THE Bahamas Association of Independent Secondary Schools is set to host the annual track and field meet at the Thomas A Robinson Stadium this week Wednesday through Friday.
#The Saint Augustine's College Big Red Machine won the last BAISS, but the competition did not include their long-time rivals, the Queen's College Comets.
#Head coach of the Big Red Machine Jason Edwards talked about the defending champions' expectations for this year's track meet.
#"It is simply the expectations we have every year we go in there with the mindset of winning and achieving the goal," Edwards said.
#Coach Edwards discussed the preparation for this year's track meet as the school seeks to win its 28th track and field championship. "The process has been one of hard work, strategising [and] strategically putting the right people in the right places on the field," Edwards said.
#Despite the difficult process of preparing for the inter-school competition, the head coach acknowledges the joys of the journey.
#"We find a joy during the process and that's when you get to know kids and get to see what they're made of and how much they want to excel in certain areas," Edwards added.
#As the QC Comets prepare to rejoin the annual meet, the defending champions are not worried about the competition. The Comets won the meet in 2017 and 2018 but the Big Red Machine won the last.
#"Queen's College Comets will be trying to contend for the title as always in the past three years they have been contending for the title, so I expect no less from them and I expect them to make it a good track meet," Edwards said.
#The BAISS Track and Field Championships are scheduled to start at 9am on Wednesday.
http://www.tribune242.com/news/2023/feb/28/baiss-annual-track-field-meet-starts-wednesday-nat/?news