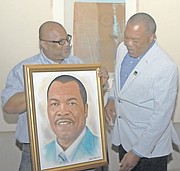 BOC President Romell Knowles presents immediate past president Wellington Miller with a self portrait. Photo: Kevin Major Sr
#By BRENT STUBBS
#Senior Sports Reporter
#bstubbs@tribunemedia.net
#AFTER spending the past three years as the immediate past president of the Bahamas Olympic Committee, Wellington Miller will take a sabbatical to enjoy some private family time.
#The retired Bahamas Customs Officer was honoured on Wednesday night at the Island House, Lyford Cay, for his tenure in office on the board of the highest sporting body in the country.
#After being elected in 2002 as a vice president, the former president of the Bahamas Amateur Boxing Federation was elected as the BOC president in 2008, serving for two consecutive four-year terms.
#Due to the constitution, Miller was unable to contest for a third term in office as Romell Knowles emerged as the new president in 2017.
#Miller said it has been a smooth transition and he was pleased with his tenure in office. "In this life, especially when you are alive, people don't honour you. They wait until your life has passed to honour you with some substance," Miller said. "But the Bahamas Olympic Committee did it with class for me and I hope it's a standard that other sporting associations would follow, if they feel that particular president did a great job."
#Miller, who was accompanied by his wife, Elizabeth, said it was a pity that the coronavirus pandemic didn't allow the people to join in the celebration.
#While the event was limited to just their executive members, Knowles said as soon as the COVID- 19 restrictions have been released, the BOC will hold a banquet to honour the contributions of Miller.
#"His contribution to sports in the Bahamas, the region and the world is renowned," Knowles said.
#"He single-handedly assured that the Bahamas won the bid to host the single largest event in our country's history, that being the Commonwealth Youth Games. From those games, 100 athletes from around the Bahamas were able to represent their country. It's the largest number of athletes ever assembled in our sporting history. The Bahamas went on to win a record 15 medals, again, the largest medal haul in international competition."
#Knowles said Miller had a passion for developing small sporting bodies and that all Olympic sporting bodies, big or small, got their share due in the Bahamas.
#"He was also known for his passion and commitment to gender equality within the movement," Knowles said.
#"He was passionate about the Women in Sports Commission and he dedicated his life work to gender equality and women in sports got their fair and just rewards."
#In thanking Miller for his contribution, Knowles called him an "ambassador extraordinaire" as he carried out his duties at meetings around the world.
#"He was a man not that many words, but one full of passion for his country and the development of sports," said Knowles, who will assume full responsibility for the role Miller played in his absence.
#"So while he's on this sabbatical, we wish him well and we look forward to his continued advice and wise counsel and his representation locally and abroad when he returns."
#As he takes a break from the day to day operation of the organisation, Miller said he intends to spend more time in North Andros where he hopes to focus on developing the Carl Oliver Track and the adjacent multiple purpose auditorium.
#"I haven't had a private moment in my life for a long time because I was so committed to sports," Miller said. "Oh, Andros. Here I come. I will be in my hometown where I hope to do reactive sports down there."
#Miller thanked Knowles for allowing him to function on a daily basis in the office and affording him the opportunity to sit in all of their meetings, if he so desired.
#He noted that the officers all assured him that he can hold onto the key to his office as he's welcome to come back and function in his capacity whenever he's ready to do so.
#"I will always cherish those moments from the celebrations because so many good things were said about my leadership from the members," Miller summed up.