As of Wednesday, June 17, 2020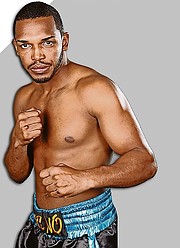 Tureano 'Reno' Johnson
#By BRENT STUBBS
#Senior Sports Reporter
#bstubbs@tribunemedia.net
#AFTER all of the problems he has experienced training here at home with the Bahamas Boxing Federation, Tureano 'Reno' Johnson said he's glad that professional boxing is back and he can't wait for the international borders to open so he can return either to Cuba or the United States to continue to prepare for a possible world title shot.
#Johnson, the reigning 36-year-old WBC-NABF middleweight champion, was scheduled to fight on April 4 in Moscow, Russia against Magomed Madiev, but that was called off due to COVID-19, which put a damper on sports around the world.
#Having returned home, Johnson was hoping to stay physically fit and in shape as his promoters from the Golden Boy DAZN continue to negotiate for the mandatory fight for a shot at the World Boxing Association (WBA) world middleweight title.
#"We have decided that since Russia is still on a lock down, we will go another route, but we are still waiting on word from the WBA if it is okay for us to still go to Russia or can we take another fight now and wait until we can take that fight in Russia," Johnson said. "We are looking for another world champion Jamie Munguia, who is also a part of Golden Boys Promotions. Both of us are in the same club, so that fight should be easily made. Right now we are in deep talks to make that fight happen."
#Madiev, a 25-year-old orthodox fighter, has a 14-0-1 win-loss-draw record, while Munguia, a 25-year-old Mexican, is 35-0-0 with 28 knockouts. Johnson, 36, is 21-2-1 with 15 knockouts.
#After months with the sport all but completely on pause because of the global coronavirus pandemic, boxing returned in Las Vegas last week with a show promoted by Top Rank on ESPN without any fans in the stands.
#That was good news to Johnson, who knew that the sport would eventually return.
#"We knew that the virus has hampered us for a while, but like Bahamians, boxers are resilient and so we knew it was just a matter of time that it would return," Johnson said.
#However, Johnson said he was concerned about boxing here in the Bahamas before the pandemic hit in March. He said what transpired from then to now is evident of his claim.
#"The leadership in boxing has been one of the poorest and boxing is now at an all-time low," Johnson said. "After the Prime Minister gave us the okay to train in the gym, I've had some difficulties using the national gymnasium. But after having to go through the National Sports Authority after the president Vincent Strachan put up so many restrictions on the use of the gym and the equipment, I have been granted permission."
#When he's not training at the National Boxing Gym, Johnson said he uses the facilities at the Thomas A Robinson National Stadium where he can train in the gym and utilise the track.
#"I can't make any excuses. I have to worry about getting the results," Johnson stated. "I'm training as hard as I can. I have to find a way to train, but it's uncomfortable under the conditions that I have to train in. It could have been better, but I'm not complaining. I see the results and so I'm going to press on each and every day that I go out there to train."
#In a recent press release, Strachan levied some charges that indicated that because the facility and the equipment at the National Boxing Gym were not properly secured, a letter was posted that no professional boxers will be allowed to use the equipment without permission of the BBA and its president.
#Strachan said there is one punching bag in the gym that was donated by the NSA that Johnson is allowed to use, but he wants to protect the equipment they have on hand for the amateurs when they are allowed to train.
#He said after he was elected two years ago, he met the gym in a deplorable state with a leaky roof and very little equipment for the boxers to train with.
#After getting promises from the Ministry of Youth, Sports and Culture to repair the facilities, Strachan said nothing has been done. He's asking for the ministry to define the role of the BBF regarding the management and use of the stadium, which was turned over to them by former Minister, the late Charles Maynard.
#While there are too many issues to deal with over the use of the faculty, Johnson said he's eager to catch the first flight out of town so that he can continue his training either in Cuba or the United States.
#"My next fight is a very good one because either I'm going to fight my opponent in his backyard in Russia or I have to take on another opponent in his backyard in Mexico," Johnson pointed out.
#"So it's not going to be easy. I'm training as hard as I could. I want to become the next Bahamian world champion and so I'm in dire need of getting in the best shape that I can without any interruptions."
#On March 5, 2010, Johnson made a successful pro debut on March 5, 2010 against Cleoney Fuqua with a technical knockout after he enjoyed a long illustrious amateur career that ended with a trip to the 2008 Olympic Games in Beijing, China where he lost in the third round of the welterweight division to Kanat Islam of Kazakhstan.
#While he has yet to win any of the four major world titles (WBC, WBO, IBF or WBA, Johnson has won three minor titles.
#His first came on July 11, 2004 when he pulled off a 10 round unanimous decision over Mike Gavronski for the vacant WBC Continental of Americas middleweight crown at the Little Creek Casino Resort in Shelton, Washington.
#He went on to claim the WBC Silver and WBA international middleweight title in Madison Square Gardens, New York City, New York over Alex Theran on January 9, 2015.
#And in his last fight on July 18, 2019, Johnson earned the WBC-NABF middleweight title with a ninth round decision over Jason Quingley at the Fantasy Springs Casino in Indio, California.