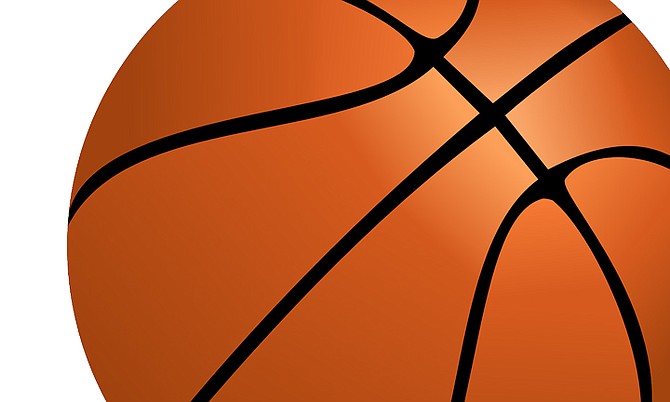 As of Monday, February 27, 2023
#By BRENT STUBBS
#Senior Sports Reporter
#bstubbs@tribunemedia.net
#Five more teams made their exit as the 38th edition of the prestigious Hugh Campbell Basketball Classic continued on Friday at the Kendal Isaacs Gymnasium.
#Eliminated after losing their second games in the double elimination format are Bishop Michael Eldon, Kingsway Academy, RM Bailey, Louise McDonald High and Government High.
#In games played on day five of the week-long tournament, Gateway Christian Academy def. Government High 60-33; CV Bethel def. Louise McDonald High 46-37; Charles W Saunders def. RM Bailey 56-31; Sir Jack Hayward def. Kingsway Academy 45-43; Doris Johnson def. Bishop Michael Eldon 50-28; St George's def. Anatol Rodgers 42-32; Tabernacle Baptist def. CC Sweeting 52-31 and CI Gibson def. Jordan Prince Williams 53-49.
#Rattlers 53, Falcons 49: On a steal and pass from Prince Wheatley, James Delia scored a lap-up with 11 seconds as CI Gibson held on for the win and pushed their record to 2-0. Delia ended up with 13 points and eight rebounds with two steals. Jude Vil had nine points, seven assists, four rebounds and four steals.
#It was just the first loss for Jordan Prince William, who came into the marquee game of the day at 2-0. Trevon Clarke had 14 points, six rebounds, four steals and three assists and Jakayo Kemp added 12 points, five rebounds and three assists.
#Falcons 52, Cobras 31: The Grand Bahama Secondary Schools Athletic Association's champions Tabernacle Baptist Academy coasted to their third straight win with 17 points, five rebounds, three block shots and two assists from Noah Bain; 14 points and four rebounds from Alex Minus and 10 points and two rebounds from Aiden Miller.
#CC Sweeting got nine points and nine rebounds from Jamerolston Vil and eight points from Emmanuel Adams as they suffered their first loss after winning their first two games to stay alive.
#Jaguars 42, Timberwolves 32: Kevaro Russell came through with 17 points, three rebounds and two steals to lead the way for St George's to their second straight victory to remain in contention. Shamar Davis added 10 points and five rebounds.
#In the loss for Anatol Rodgers, who dropped to 2-1 to stay alive, Jefferson Bethel had 14 points and six rebounds and Kirkwood Rolle added 10 points.
#Stingers 59, Knights 40: St George's got three players in double figures as they got the job done in their second straight win to remain a contender.
#Donell Basden led the attack with 13 points, three block shots, three steals and a pair of rebounds; De'Nage Kelly had 11 points, four rebounds and three assists and Gianno Murray chipped in with 10 points, seven rebounds and a pair of steals.
#In a losing effort for CR Walker, who are still alive at 1-1, Jumeo Miller had 21 points and five rebounds. Carlton Johnson added seven points with 10 rebounds.
#Mystic Marlins 50, Warriors 28: Doris Johnson got a 1-2 punch from Torrien Marshall with 15 points, eight rebounds, five assists and four steals and Bredon Williams ended up with 11 points with two rebounds as they stayed alive at 1-1.
#Bishop Michael Eldon were led by Lavon Cooper with six points, five rebounds and a pair of steals and Aaron Forbes also had six points, but it wasn't enough as they were eliminated at 1-2.
#Wildcats 45, Saints 43: Sir Jack Hayward escaped with a nail biter as Keon Cooper converted a pair of free throws with nine seconds left to seal the deal as they improved their record to 2-1. Cooper finished with six points, but Desmond Hall had a game high 18 points with three steals and two rebounds and Marvin Culmer had a double-double with 14 points and rebounds, a pair of assists and steals and a block shot.
#Evan Cartwright had 16 points and three rebounds and Rayjin Smith added 13 points, eight steals, six rebounds and two assists in the loss for Kingsway Academy as they were ousted with a 1-2 record.
#Cougars 56, Pacers 31: Bahamas Association of Independent Secondary Schools Sports Association's champions Charles W Saunders stayed alive with their second straight win after losing their opener, thanks to the game high 20 points and three rebounds from DeQuan Strachan and 11 points with five steals and four assists from Treymon Wright.
#RM Bailey didn't have a player in double figures and they were sent home with a 1-2 record as Joshua Benjamin led their limited attack with just eight points and three rebounds.
#Stingrays 46, LMH 37: Derrick Edgecombe was CV Bethel's only player in double figures, but his game high 19 points with six rebounds and two steals was enough to keep them alive in the tournament at 2-1. Prescott Stubbs was their next best performer with eight points and nine rebounds.
#Both Javardo Toote and Jasmen Rock had nine points with Toote adding 15 points in a losing effort for Louise McDonald High, who also made their exit at 1-2.
#Marlins 60, Magicmen 33: Paulson Stuart exploded for a game high 29 points with three rebounds and a pair of assists and steals, while Sherrick Ellis had 16 points and a pair of rebounds, assists and steals as Gateway Christian Academy stayed alive with a 2-1 record.
#Rasheed Brennen was the bright spot for Government High with 12 points, four assists and three rebounds and steals for Government High, who dropped their second straight loss to get eliminated.
#The tournament will continue on Saturday, starting at 9 am and with the final game of the day set for 9 pm. That will determine who will move onto the semi-finals on Sunday at 6 and 7 pm before the final is set for Monday at 8 pm.
http://www.tribune242.com/news/2023/feb/24/five-teams-exit-hugh-campbell/?news