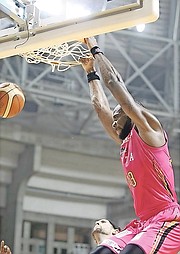 Kadeem Coleby
#By RENALDO DORSETT
#Tribune Sports Reporter
#rdorsett@tribunemedia.net
#KADEEM Coleby will return to the Akita Northern Happinets for his fourth consecutive season of pro basketball in Japan.
#The club announced that it re-signed the veteran forward and extended his tenure with the team in the Japanese B-League following a COVID-19 shortened season.
#Through 34 games this season, Coleby averaged 10.6 points per game on 54 per cent shooting from the field. He also averaged 6.9 rebounds and 2.0 blocks in just over 26 minutes per game.
#Amid the pandemic, the B-League suspended play in February and attempted to return in March.
#Arenas were filled with players, essential personnel and television crews only, however, it was a brief return to action as the season was eventually cancelled in late March.
#Following the month-long layoff, Coleby finished with 12 points (6-7 from the field) and eight rebounds to lead the Happinets to an 87-83 win.
#In game two, he posted a double double with 14 points, 11 rebounds and two blocks in an 84-79 loss. The league returned to confusion and mixed reactions from players and coaches, according to the Japan Times. The matchup between Coleby's Happinets and the Sunrockers was one of few B-League games without incident as the league returned, according to "The Times."
#Several players or referees from other games were diagnosed with fevers.
#Akita finished 19-22 on the season, fifth in the league standings.
#Last season, Coleby took home the trophy for the league lead in blocked shots (2.4 per game) in his second season with the Happinets.
#In 52 games, he averaged 12.8 points and 8.4 rebounds and his aforementioned league lead in blocks in 30 minutes per game. He shot 54 per cent from the field and also added 1.4 assists and 1.1 steals per game. Coleby completed his second season with the club after they were promoted from the B2 League last year.
#In 2017, his first campaign with the club, he posted averages of 11.9 points, 6.9 rebounds per game on 58 per cent shooting from the field and 1.6 blocks per game.