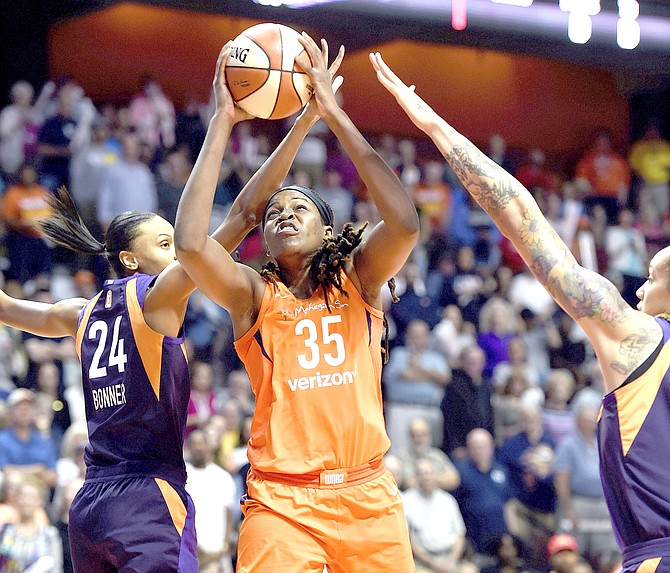 Jonquel Jones in action.
#By RENALDO DORSETT
#Tribune Sports Reporter
#rdorsett@tribunemedia.net
#JONQUEL Jones and her Connecticut Sun could return to action soon as the WNBA has a tentative proposal in place for its delayed 2020 season due to the fallout of the COVID-19 pandemic.
#According to ESPN's Mechelle Voepel, the league has proposed a 22-game regular season, hosted at the IMG Academy in Bradenton, Florida. Opening day is set for July 24 and the playoffs would conclude in October. Players have yet to approve the proposal and playoff details have yet to be revealed.
#IMG Academy's basketball complex has four state-of-the-art courts, according to the facility's website. The WNBA has 12 teams with a maximum roster size of 12 players each.
#The WNBA regularly hosts a 36-game regular season from May to September, with the playoffs concluding in October. This season, the league intended to introduce a midseason tournament, the Commissioner's Cup, however, the amended season halted those plans.
#Jones signed a multi-year contract with the Sun in February as the league's free agency period commenced.
#"We are pumped to have JJ sign a multi-year contract to stay in Connecticut," head coach and general manager Curt Miller said. "She has proven to be one of the most dominant and versatile players in the world. She continues to be one of the elite rebounders in the game and took a huge step on the defensive side of the ball in 2019. She is just scratching the surface and we look forward to her continued growth and leadership in 2020."
#The Sun fell one game short in their historic run toward a WNBA Championship last season, but the fourth-year forward has established herself as one of the premier players in the league with her standout season.
#Jones was named to the All-WNBA Second Team, the WNBA All-Defensive Team for the first time, finished third in Defensive Player of the Year voting, was a WNBA All-Star and was named Eastern Conference Player of the Week four times.
#She finished the regular season with starts in all 34 appearances, averaged 14.6 points and posted career highs in steals (1.5 per game) and minutes played (28.8 per game). She also won her second rebounding title in four seasons. Jones led the league in rebounds with 9.7 boards and blocked shots at a career high 2.0 per game. She also finished fourth in defensive rebounds with 6.4 per game. She grabbed 10 or more rebounds 16 times, including a season high 22 rebounds on May 31. In the offseason, Jones was a member of UMMC Ekaterinburg in the Russian Women's Basketball Premier League.