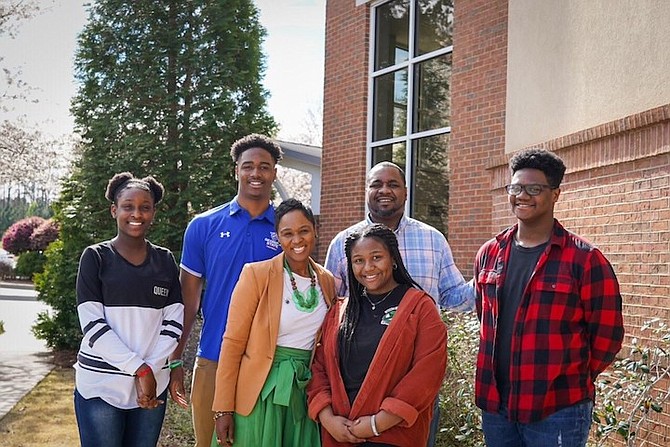 JORDAN STRACHAN, flanked by sister Amorie Strachan, mother Shuntay Strachan, sister Chelsea Strachan, father Sean Strachan and brother Christop.
#By BRENT STUBBS
#Senior Sports Reporter
#bstubbs@tribunemedia.net
#HIGHLY acclaimed linebacker Jordan Strachan took some time to relax in the Bahamas before he returned to Georgia State University for their big college bowl football game this weekend.
#Strachan, here for the funeral of his late uncle, Steven Strachan, on Friday, rejoined the Panthers as they prepare for their fourth game in six years when they take on Western Kentucky Hilltoppers in the LendingTree Bowl in Mobil, Alabama, on Saturday.
#Before he left town on Saturday, Strachan said he was happy to be in his second home with family, albeit not under the best circumstances, yet he is still grateful.
#He noted that it coincides with what has been a very productive year for him and the Panthers on the gridiron where they won three of their last four games to finish the regular season at 5-4 overall and 4-4 in the Sun Belt Conference. "It's been a pretty good season for us, having a winning record and getting to play in another bowl game and for me personally, it's been a real good season," Strachan said.
#He's currently leading the nation in forced fumbles and second in sacks, averaging 12.5 tackles for loss (TFL) and 9.0 total tackles (TOT) this season.
#"It's just been a great season for me personally," Strachan reflected.
#"Even though I had a good year and I did leave a lot of stuff out on the field, I think it will be a much better season net year."
#The 22-year-old red-shirt junior, who was injured during his first game of his sophomore season, is hoping that his numbers this year will help the Panthers tremendously as they are now going after their second bowl victory following their 27-17 triumph over Western Kentucky in the Autonation Bowl in 2017.
#Western Kentucky, representing Conference USA, played here in the inaugural Bahamas Bowl in 2014 when they pulled off an amazing 49-48 victory over the Mid-American Conference's Central Michigan Chippewas at the Thomas A Robinson National Stadium.
#"I know for me personally, after I got hurt last year with a torn ACL in my left knee, I was really devastated because I've never dealt with an injury like that," he pointed out.
#"I really had to figure out who Jordan was. It was a really tough process, but my family got me through it. I knew I had to come back even stronger, so that was really my motivation this year."
#One of the coolest memories of his uncle Steve was when he was 15, how he introduced him to that first Bahamas Bowl game played here.
#Strachan said ever since, he thought about what it would be like for his Panthers to be one of the participants.
#"To play football in the Bahamas in a bowl game would have been crazy. It would have been a blessing," said Strachan of the bowl game that has been postponed this year because of the coronavirus pandemic.
#In the COVID-19 environment, Strachan said their Panthers' football team has to get tested twice a week and when he returns to Georgia State University, he will have to be quarantined for a few days before he can practice for Saturday's game.
#"It's real difficult, so mentally and physically, you have to think about everybody," he said.
#"All season, I didn't go out, I didn't leave my room, we were isolated.
#"It was a big sacrifice we had to take. It was real difficult, but that was what we had to do. College football is so big in the United States that people would do whatever they have to do to be on the field."
#But off the field, Strachan said it's been very strange playing without the large fan support in the stands.
#"It made a huge difference, but I think that really showed who loves the game and who is ready to play," he said. "Even in practice when nobody is around, you have to motivate yourself.
#"For me, I'm not out there for all those people. I'm doing what I do for my family, so I don't get caught up with all of the hype. I just go out there and play for my family."
#With the new norm that COVID-19 has brought to the world, Strachan encourages Bahamians to simply follow the health rules and stay safe.
#"This is very serious, no joke about it," he stressed.
#Despite his credentials in football, Strachan has also done remarkably well in the classroom as an Athletic Director's Honour Roll student in the Fall 2018, Fall 2019 and Spring 2020. He is studying business economics as a major and entrepreneurship as a minor.
#"I've learned that you have to be just as good on the football field as you are in the classroom," Strachan said. "Just as religiously as you are in church, you have to have a relationship with God.
#"They all go hand in hand, or it won't work. That is what I want people in the Bahamas to understand. You may only see me on the outside as a football player, but I pray every morning. All those things made me who I am today."
#He, however, expressed his gratitude to his parents, Sean and Shuntay Strachan. He also wants to lead by example for his siblings Christopher, Chelsea and Amorie Strachan.
#Strachan, who could not have left town without enjoying his favourite dish of fried snapper, peas and rice, cole slaw, macaroni and cheese at his favourite spot at the Cricket Club, said his family and friends in the Bahamas will forever play a special part in his life.
#He said he will dedicate the rest of his season to uncle Steve as he cherishes their memories.