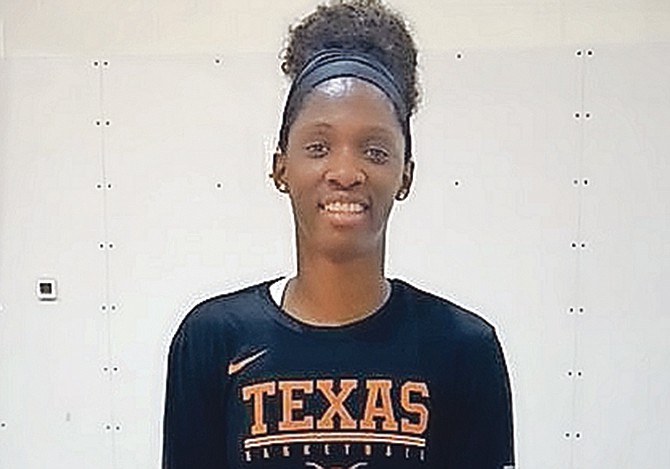 Lashann Higgs
As of Wednesday, June 10, 2020
#By BRENT STUBBS
#Senior Sports Reporter
#bstubbs@tribunemedia.net
#Although she didn't get to fulfill her dream of being the next Bahamian to become a member of the Women's National Basketball Association (WNBA) fraternity, Lashann Higgs is not letting the disappointment get the best of her professional basketball career.
#Higgs, a 5-foot, 9-inch guard from Harbour Island, Eleuthera, graduated from the University of Texas last year, but returned for her senior season with the Longhorns women's basketball team after coming back from a torn ACL in her left knee in November, 2018.
#She has signed a contract with Sports International Group, Inc. (SIG) to market her next move in Europe. No deal has been completed yet, but she is working vigorously between Austin and Houston, Texas with coach John Lucas and Mark Martinis in a group of professional and collegiate players.
#"I guess everyone's path is different, but I am still trying to achieve every part of my goals and aspirations," said Higgs, who is leaning more towards playing for a team in Spain. "I just have to take another path to get to the WNBA and see where it leads me.
#"If it's the WNBA then great, but if it's not, I still have to move on with my career. I just have to be appreciative of what I have. It could have been worse, but I'm still playing basketball."
#The education major said as a youngster growing up in Harbour Island, she only envisioned getting the opportunity to pursue a basketball career. She achieved her goal by playing in 137 games with 52 as a starter. She left the University of Texas ranked as the seventh all-time in the Longhorns' history for games played and 28th in career points scored with a total of 1,288.
#Higgs, who averaged 9.0 points, 3.5 rebounds and 1.3 assists per game, said since the NCAA was forced to shut down their season prior to the start of COVID-19 in March, she followed the guidelines for the state with curfews and social distancing.
#"They just opened up the state about two and-a-half weeks ago with limitations and so I've been going to more gyms to train," said Higgs, who also took advantage of training at home during the lockdowns.
#Now, the state is joining the rest of the country in mourning the death of George Floyd at the hands of the police, which has skyrocketed a nation-wide protest because of racism against blacks. Floyd was buried in Houston on Tuesday.
#The 24-year-old Higgs, who has seen some of the social unrest but has decided not to participate, said it's time for the nation to heal. "Blacks will continue to fight for what is right and try to educate people about what they are going through," she said. "I think we just need to show people that we are no different from any other people just by looking at the colour of our skin.
#"Being a black person, it does something to your soul, but we have to end this type of treatment of black people, regardless to where you are, in the Bahamas or in the United States. We just need to be more compassionate towards each other because it's only causing hatred and discord amongst each other."
#Coming off her red shirt senior year because of the injury, Higgs was in Kansas City, Missouri in the Big 12 Tournament when the Longhorns' season was halted. When they returned to Austin, they were preparing for the NCAA Tournament, but that was also called off due to COVID-19, ending her collegiate career.
#"It was disappointing, but you just have to move on and work with what you have," she said. I'm really grateful to be able to attend college and to live out my dream to play basketball," said Higgs.
#"I had a pretty successful career, but with everything in life, you have your ups and downs, but it's just what you do with it."
#As she went through her final season, Higgs started in 10 of their 30 games, averaging 20.8 minutes per game. She led the Longhorns in field-goal percentage with a 45.1 per cent (110-of-224) clip and she scored in double figures on 14 occasions during the season.
#Higgs, who attended Cedar Ridge High School after leaving the Bahamas, lost her mother Romilly Higgs in 2013 due to cervical cancer. She has been adopted by George Henderson, an assistant coach with the Longhorns and his wife, Jackie Washington, who played at Abilene Christian and was inducted into the ACU Sports Hall of Fame in 2012.
#As she moves forward, Higgs said she just wants to play as long as she can and along the way try to be a mentor or trainer to the younger basketball players in the Bahamas and in the US.
#To the Bahamian people, including her father Michael Higgs and family members who are still on Harbour Island and Grand Bahama, as we go through the COVID-19 experience, Higgs offered these few words of encouragement.
#"Continue to trust in God, continue to stay safe and continue to fight. It will all get better in a matter of time," Higgs said.