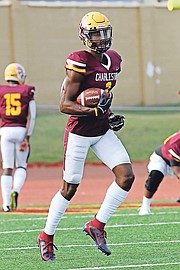 Mike Strachan
#By RENALDO DORSETT
#Tribune Sports Reporter
#rdorsett@tribunemedia.net
#MIKE Strachan has put up record setting numbers on the football field for the University of Charleston Golden Eagles through just seven games thus far this season.
#The redshirt junior wide receiver currently leads the Mountain East Conference in nearly every receiving category and is among the leaders in all of NCAA Division II.
#Strachan has at least one touchdown catch in six of the seven games this season, including three catches for 47 yards and one touchdown in a 42-7 loss to the Frostburg Bobcats to drop the Golden Eagles to 4-3.
#On the season, Strachan has totalled 58 receptions for 885 yards and 11 touchdowns – all career highs and conference leading numbers. He also averages 8.3 catches and 126.4 yards per game.
#He is also ranked second in all of Division II in receptions, yards and tied atop the leaders with his 11 touchdowns.
#He opened the season with nine receptions, 157 yards and two touchdowns against FAIR. He followed with a career high 13 receptions, 146 yards and a touchdown against Urbana. He caught eight passes for 180 yards and two touchdowns against WVWC and followed with his only game this season without a score – five catches and 61 yards against FBS Division I Valparaiso. He rebounded with a pair of record setting weeks.
#Strachan caught eight passes for 87 yards and a career high three touchdowns against Wheeling. Against Notre Dame College, he posted 12 receptions for a career high 207 yards and two touchdowns.Charleston has four games remaining on the regular season schedule beginning with Glenville State College, Saturday, October 26.
#Last season was a breakout year for the 6'5" 225 pound wideout.
#Strachan finished as the only player in the MEC to eclipse the 1,000 yard receiving mark.
#On the season, he totalled 48 receptions for 1,007 yards and eight touchdowns. He led the conference in receiving yards, was third in both average yards per catch at 21 and average yards per game at 91.5. His touchdown total finished fourth.
#Strachan had five games of over 100 yards receiving, including a season high 166 yards against Fairfield and season high eight receptions against Notre Dame College.
#He was a redshirt in his true freshman season and saw the first playing time of his collegiate career the following season when he finished with just one reception.
#Strachan continues to be a two-sport star for UC and is the defending conference champion in the 200m, 400m, and 4x400m relay.