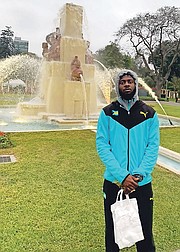 Cliff Resias has been hoping to get on the Ministry of Youth, Sports and Culture's subvention to elite athletes since graduating from Southeastern Louisiana last year.
#By BRENT STUBBS
#Senior Sports Reporter
#bstubbs@tribunemedia.net
#WITHOUT any success in securing any financial support from the Bahamas Government, sprinter Cliff Resias is forced to come home from the United States of America to redirect his career as he prepares for the 2020 Olympic Games.
#Since graduating from Southeastern Louisiana last year, Resias was hoping that he would have gotten on the Ministry of Youth, Sports and Culture's subvention to elite athletes.
#But with only the support from his parents, Tamika Evans and Cliff Resias Sr, along with his coach Bernard Newbold, Resias Jr said it's not sufficient to sustain him in the United States.
#Still in Louisiana, Resias had to put his training on hold because of the coronavirus pandemic and now he's waiting until July when the border opens to make the trek back home.
#"If I can get the financial support, I can go back to Arkansas and continue my training with coach Bernard," Resias said. "I was never on subvention. Before I graduated, I was trying to get on it. After I graduated, I continued and a whole year went without any word from the ministry."
#Despite not getting any financial support from the government, Resias said he intends to continue running track because he loves it.
#"I can only do what I can do. I can't do everything," he said. "I can only do so much with the help from my parents and with coach Bernard's help. He's been helping me out as best as he could."
#Since his graduation from SLU on May 19, 2019, Resias has been training and competing for the Bahamas. He made the team that competed at the Pan American Games in Lima, Peru in August where he failed to advance out of the preliminaries of the 200m, placing sixth in his heat in 21.74 seconds.
#Resias also led off the Bahamas men's 4 x 200m relay team that included Stephen Newbold, Anthony Adderley and Rico Moultrie at the Worth Athletics' fourth World Relays in Yokohama, Japan in February.
#The team, however, got disqualified. Resias, Newbold, Adderley and Shavez Hart advanced out of the preliminary rounds with the sixth fastest time after placing second in their heat.
#In his last season for SLU at the 2018 outdoor season, Resias captured the 200 in 21.23 at the Louisiana Classics and was on the second-place 4 x 100m relay that ran 41.32. He also helped their 4 x 200m relay set a school record with a second-place time of 1:26.78 at the McNeese Cowboy Relays and was also on the winning 4 x 100m relay team that ran 40.69 and 4 x 400 that did 3:18.57.
#During that indoor season, Resias was fourth in the 200 (21.79) and fifth in the 60 (6.85) at the Samford Open. He also got eighth in the 60 (6.96) at the KMS Invitational and broke a 17-year-old school record with a second-place time of 6.72 seconds in the 60 at the LSU Purple Tiger.
#He was training up until the coronavirus pandemic put a damper on sports throughout the United States in March, shutting down all sporting facilities and training sites. During that time, Resias said he's not been able to work out, which made his stay in Louisiana that more difficult.
#"My parents couldn't really send me any money because the banks were closed, so the only person I really had to rely on was coach Bernard," Resias said. "I really want to thank him for all of the assistance that he gave me because it was really hard for me."
#In addition to that, Resias said he didn't get his Optional Practical Training (OPT) card, which denied him the opportunity to secure a job while in the USA. He noted that with all of the social unrest and protests over the death of American George Floyd in Minneapolis, he's tried to stay away from everything and not get involved in it.
#Newbold, who had formed the RK Athletics Track Club in the US last January to help Resias, Maverick Bowleg, Andre Colebrooke and Ashley Riley to prepare for the 2019 World Championships, said he's done all he could to try and get Resias on the subvention programme, but nothing has happened and it has made it difficult for him to continue his training.
#"We've been trying since last year trying to get him on subvention. We followed all of the procedures like all of the other athletes," said Newbold, now in his second year of his masters degree programme at the University of Central Arkansas in College Student Personnel Administration.
#"We're thankful for the assistance that we got for him from Mr (Harrison) Petty to help him train and to travel to competition. But we sent in his resume and indicated that he was no longer a collegiate athlete and was now on the pro circuit. Then we found out in August that the ministry was not putting any new athletes on subvention because the BAAA didn't submit their list in time for consideration."
#Once again in February, Newbold said he resubmitted Resias' information to the BAAA so that he could be considered in this year's subvention list, but now they are told that the current athletes on the list are going to be cut by at least 20 percent.
#"It's just a tough one," Newbold said. "He was in Arkansas with me training earlier this year, but after the Covid-19 outbreak and the state began shutting down, he went back to Louisiana. We were hoping it was only temporary, but it's still going on, so it's tough.
#"He couldn't train because all public spaces were locked down and then we found out that there were no more meets, so we called it a season. We just have to see how we can get him some funding so he can be relocated here in Arkansas and see how best that can work and to pursue the legal challenges to get him on the job force, if that is possible."
#The 23-year-old Resias, who came into SLU after attending Iowa Western Community College where he was an All-American and regional champion on the 4 x 100m team, was a Carfita, BAISS and GSSSA 100 champion while competing for CV Bethel up until 2014 when he graduated.
#Having posted personal best times of 6.82 in the 60m, 10.20 in the 100, a wind-aided 21.58 in the 200m and 50.89 in the 400m, Resias said he's not yet ready to give up on his dream of being a professional athlete and competing for the Bahamas in the Olympic Games.
#With the Olympics delayed from July 24 to August 9, 2020 to July 23 to August 8, 2021 in Tokyo, Japan, Resias said he's more committed to getting ready to compete in the 100m and possibly on the men's 4 x 100m relay team, if they qualify.
#"If it works out, it works out, but if it doesn't work out, then I would have to move on and find something to do in the job market," he said. "Even though I may not be on subvention, I still want to try and achieve that goal of competing at the Olympics.
#"I know that I am close, so I'm not about to give up right now. If I wasn't that close to qualifying, I would give up. I could use the subvention, but I don't want to let that discourage me from trying to qualify for the Olympics. Hopefully everything will work out in my favor."