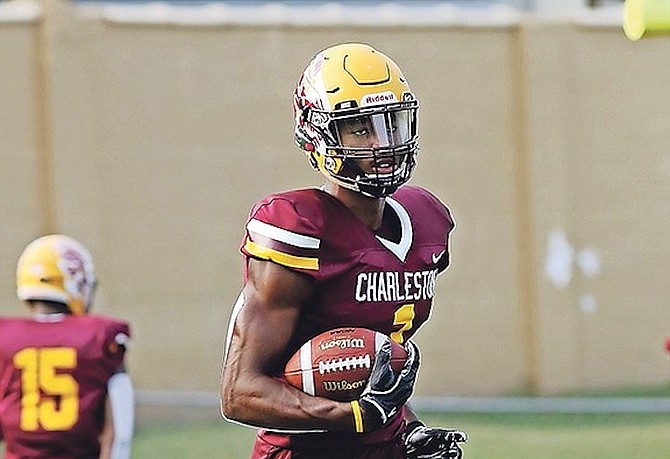 Mike Strachan
#By RENALDO DORSETT
#Tribune Sports Reporter
#rdorsett@tribunemedia.net
#Mike Strachan has officially declared for the 2021 National Football League draft.
#The Grand Bahama native and University of Charleston Cougars wide receiver will forego his final year of eligibility and work toward becoming a selection in the 86th edition of the draft, April 29 to May 1, 2021.
#Strachan made the official announcement via Twitter yesterday.
#"First and foremost I would like to start by thanking my coaches and support staff at the University of Charleston who have supported me from day one. I appreciate each and every one of you who have made this experience feel like home during the last few years.
#"Words cannot describe the great honour while playing for the University of Charleston. You all played a part in shaping me over the course of my career here. I poured my heart and soul into playing Charleston football every time I set foot onto that field. I am forever grateful and honoured to be a Golden Eagle," he said.
#"I would like to thank all of my teammates. You have made all my last few years beyond memorable and I will never forget the hard work we have all put in together. Though I was a long way from Freeport, Bahamas, you all were there when I needed you the most."
#Strachan signed with DEC Management in November.
#DEC Management currently represents 32 players currently active on NFL rosters highlighted by Dallas Cowboys defensive end Demarcus Lawrence and Cleveland Browns defensive end Olivier Vernon. They also represent 12 current free agents.
#"To the Golden Eagles fans, you all made my gameday special everytime we set foot out there to play. The support is something I will take with me the rest of my life," Strachan said.
#"Lastly, the journey is not over. I am now chasing my dreams to play at the next level. I may not wear the same colours, but I will be working hard everyday to represent my family, my Eagles brothers and my country, The Bahamas. This for now, is just the next chapter, so stay tuned."
#The 6'5", 225-pound two sport star (athletics), was recently listed among Yahoo! Sports' top "small school" prospects for the 2021 NFL draft and a preseason All-American.
#In his junior season, Strachan rewrote the record books and boosted his stock for pro scouts. He was named an NCAA Division II Second Team All-American by the American Football Coaches Association and to the 2019 Don Hansen NCAA Division II All- America team.
#He finished with 78 receptions for 1,319 yards and 19 touchdowns in his final season with the Golden Eagles. He finished his career with a share of the all-time Charleston touchdown record of 27.
#He set new school records, led the Mountain East Conference in each category and was second in all of DII in both receiving yards and touchdowns. He currently holds school records in receiving yards, breaking his own previous record of 1,007 set in 2018. His 19 receiving touchdowns broke the 70-year record of 13 held by Charlie Hubbard in 1950. His 78 receptions broke the record of 60 set by Terrance Spencer in 2006.
#His breakout season achieved Division II Top-10 marks for the 2019 season in receiving touchdowns (second), receiving yards (sixth), receptions (ninth), and receiving yards per game (fifth).
#Strachan caught touchdown passes in 10 of 11 games last season, including six multi-touchdown games.
#In addition to single-season records, Strachan broke the single-game records of: Receptions (13) – Set against Urbana on September 12 and also holds the second place spot of 12 receptions set a month later against Notre Dame College and receiving yards (207) also set on October 12 against Notre Dame College, breaking the previous record of 186 set in 2010 by Andre Higgins.
#He was a redshirt in his true freshman season and saw the first playing time of his collegiate career the following season when he finished with just one reception.
#As a sophomore, he had a breakout season when he finished as the only player in the MEC to eclipse the 1,000 yard receiving mark.
#On the season, he totalled 48 receptions for 1,007 yards and eight touchdowns. He led the conference in receiving yards, was third in both average yards per catch at 21 and average yards per game at 91.5. His touchdown total finished fourth.
#With the NCAA Division II 2020 Fall Championships cancelled, the MEC Presidents' Council looked to Spring 2021 to host their football seasons.
#Strachan elected to forego his senior season on the field this spring.