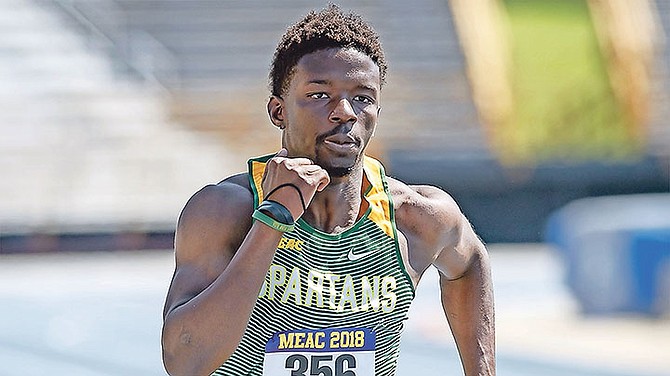 Justin Pinder
#By BRENT STUBBS
#Senior Sports Reporter
#bstubbs@tribunemedia.net
#In the midst of the coronavirus pandemic and now the protest for the late George Floyd in the United States, former St Augustine's College Big Red Machine and CARIFTA champion Justin Pinder has been taking it all in stride in Richmond, Virginia.
#The 22-year-old son of George and Jillian Pinder was hoping to graduate in May, but he said he was advised that the actual ceremony has been pushed back to the end of the year when it will be combined with those graduating in December.
#"I like it because even though it's right after graduation, you still get the ceremony where you can go on stage in front of your family and friends," said Pinder, who will graduate with his degree in business management. "I'm glad that they are doing it then, rather than not doing it at all."
#Still in Norfolk where he was working at Vision Works – a company that sells prescription eyeglasses – while completing his studies, Pinder was also training for the 2020 Olympic Games, which has now been postponed from July 24 to August 9, 2020 in Tokyo, Japan until July 23 to August 8, 2021.
#Although his athletic eligibility for the Spartans ended last year, Pinder was still able to train at NSU under head coach Kenneth Giles.
#"I didn't get to finish my classes on campus, so I had to do them online," said Pinder about how he managed to deal with the coronavirus. "So far, it affected my job because they closed our store and I'm still waiting on when they will reopen again.
#"I was training at Norfolk with my college coach to get ready for the Olympics, now I have to switch up my whole plans. But my plan is to still train to qualify for the Olympics."
#With Virginia being one of the areas known for its racism in the United States, Pinder said he's situated in the south in Norfolk, where the conditions are not as bad as it is in Richmond, which is about an hour away from him where all of the protests for Floyd are taking place.
#"I think it's the right thing they are doing," said Pinder about the protests being dubbed 'Black Lives Matter.' "Everything people are doing is a reaction. Everything happened because of the murder of George Floyd. But I stand with them in what they are doing. It's long overdue."
#Last year, Pinder experienced his final season at NSU, running a leg on the Spartans' winning 4 x 400m relay team at the VMI Keydet Invitational and the third-place team at the Virginia Tech Invitational.
#He also clocked a season-best 400m time of 49.42 in a fourth-place finish at the JDL DMR Invitational; was ninth in the 400m at the MEAC Indoor Championships and ran on NSU's third-place 4 x 400m and DMR (distance medley relay) teams at the conference indoor meet.
#During the outdoor season, Pinder also ran on NSU's winning sprint medley relay and fourth-place 4 x 400 relay team at the Colonial Relays; placed eighth in the 400m and ninth in the 200m (PR, 21.62) at the Virginia Grand Prix (48.32); finished 10th in the 400m at the MEAC Outdoor Championships in a season-best time of 47.50 and also ran legs on the 4 x 100m (sixth place) and 4 x 400m (fourth place) at the conference outdoor meet.
#Pinder also performed for the Spartans during the 2017-18, 20-16-17 and 2015-16 indoor and outdoor seasons where he established a name for himself at NSU.
#During his tenure, Pinder produced lifetime achievements of 49.27 seconds in the 400m and 1:59.83 in the 800m indoors. Outdoors, he established personal best times of 22.36 in the 200m and 47.28 in the 400m to go along with 1:52 he ran in the 800m before he entered college.
#"When I came here, I was about 17 going on 18. I was so young," Pinder said. "The adjustment here was pretty rough because that first year, the school had just come off a suspension by the NCAA and so everything was new, especially for those of us coming in.
#"I don't think it was until my junior year that things finally started to click for me. I was able to make the adjustment. There were some injuries, but that comes with sports. I was able to survive and get through it year by year."
#As for his academic pursuits, Pinder admitted that it was just as hard because there were some courses that were easy, compared to what he experienced at SAC and vice versa, there were some courses that were harder at NSU.
#"I had to realise that it was college," he noted. "I had to really become more responsible. It wasn't a problem. Once I got to know my professors and the American style of teaching, everything worked out for me. It was so much easier."
#Prior to going to college, Pinder won the Bahamas Association of Independent Secondary Schools championships in the 400, 800, 1,500 and both the 4 x 100m and 4 x 400m relay teams in his senior year for the Big Red Machine.
#That same year, while representing the Bahamas at the 2015 CARIFTA Games in Basseterre, St Kitts and Nevis, Pinder captured the silver medal in the under-20 boys' 800m.
#The year before, Pinder won the BAISS title in the 800 and 4 x 400m relay; was the national champion in the 400 and 800 and ran as a member of the under-18 boys' silver medal 4 x 400m relay team that included Kinard Rolle, Samson Colebrook and Henry Delauze at CARIFTA in Fort-de-France, Martinique.
#Now that he's done with college, Pinder said his aim is to make his first senior national team and although the Olympics is the biggest stage of all, he's confident that with the right training in Norfolk, he can achieve that goal. "Everything was going good with my college coach before everything shut down," Pinder said. "We're just waiting for everything to start back up again so that we can resume our training."
#And like he did at CARIFTA, the top junior regional competition, Pinder hopes that he can carry the Bahamian colours in the 400m and as a member of the men's 4 x 400 relay team. He admits there will be a lot of pressure competing against world champion Steven Gardiner for a spot on the team. "I feel like it's wide open on the track. Outside of Stevie and Shaunae (Miller-Uibo on the women's side), who are the most recognisable names, there's a lot of room for a lot of our athletes who haven't reached that pinnacle yet to get to that spotlight level that they're on," Pinder said.
#When it's all said and done, Pinder is hoping that his name will be one of the next ones called.