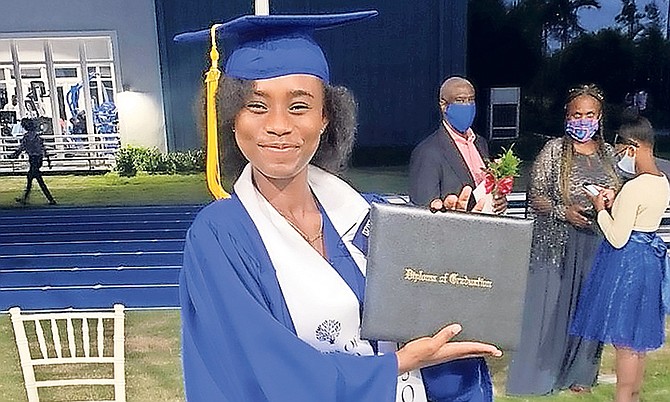 Sydney Clarke
#By BRENT STUBBS
#Senior Sports Reporter
#bstubbs@tribunemedia.net
#With most students here and abroad not able to have the graduation they expected from high school or college because of the COVID-19 pandemic, top junior female player Sydney Clarke is basking in the fact that she accomplished the feat at Windsor School.
#Clarke, along with 24 of her classmates, enjoyed the ceremony on Saturday under a big tent on the school's grounds, surrounded by close family members as they endured the social distancing.
#"It's exciting. I finally graduated from high school, so that is a big accomplishment," said Clarke, who spent the past three years after transferring from CR Walker Secondary High School.
#"It's only motivation moving forward as I go on to UAB (University of Alabama Birmingham) so that I can do the same when I get there."
#The 18-year-old shared the special moment with her parents Bernard and Shayvon Clarke and younger sister, Sarai, whom she has inspired to play tennis as well. Also sharing in the occasion was her Windsor coach Richele LeSaldo and BLTA coach Michael Butler.
#"I feel very lucky because many people either had to cancel their graduation, or do it virtually or do drive through graduation," Clarke said. "But I feel very lucky and grateful that we were able to have our family there at the ceremony instead of doing it virtually."
#In a short, but exciting ceremony, Clarke said she was proud to walk in and listen to a few speeches before they were presented with their awards. She earned the top honours for achieving outstanding performance.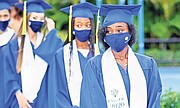 Sydney Clarke (front) wearing a mask during her graduation ceremony. Photo: Montez Kerr
#With the Bahamas Government expected to open the border for international travel on July 1, Clarke is eager to get ready to travel to Birmingham, Alabama to begin her freshman year on an athletic scholarship to play.
#"I'm really excited to get to UAB and begin my courses," said Clarke, who intends to pursue a degree in business. "So I'm just really excited to build a path to graduate and become an alumni of UAB. "Tennis wise, due to COVID-19 with the tournaments on hold, we will just be training, trying to stay in shape. I'm told that the season will be cut short, so when I get there, I just have to be ready to get to work because I won't have much time."
#And with the close-knit family she has, Clarke said she knows that she will miss being around everybody, including Windsor School and the Bahamas Lawn Tennis Association and the National Tennis Centre.
#"When I was at Windsor, I was glad that on the weekends, I could go home to see my parents and play some tennis at the National Tennis Centre," Clarke said. "So it's gonna be a challenge getting used to everything in my new environment, but I feel I can handle it.
#"I know that I will be even more excited whenever I get a chance to come home and spend some time with everybody. But I'm looking forward to moving on from high school to college."
#Before graduating, Clarke completed her junior year as the top female tennis player in the country last year.
#In December, she earned her second spot on the team to represent the Bahamas at the Fed Cup tournament.
#But with the Fed Cup on hold because of COVID-19, there's no telling if Clarke will be able to come home from school to participate, if the event is not held before she heads to Alabama.