Runners Get Ready For Race Weekend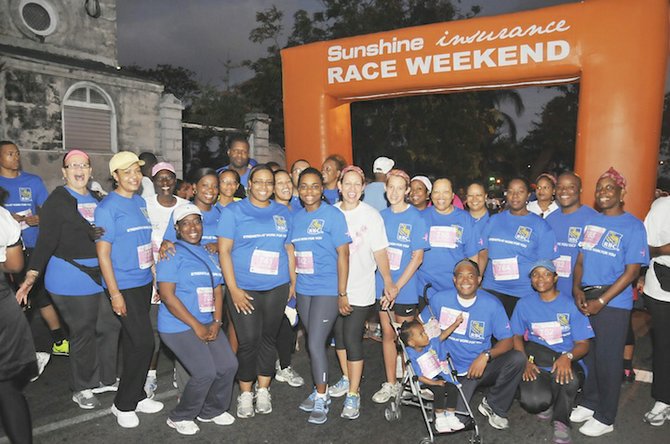 As of Friday, January 17, 2014
#MORE than 1,150 runners will pound the pavement at the 2014 Sunshine Insurance Race Weekend beginning on January 18.
#RBC Royal Bank has renewed its support of the event for the 4th consecutive year.
#Marathon Bahamas, as it is affectionately known by running enthusiasts around the world, includes events for persons of varying abilities and fitness levels.
#In addition to the marathon and half marathon, Marathon Bahamas includes a 4-person relay with distances ranging from 5.7 miles to 7.5 miles and the Susan G Komen Bahamas Race for the Cure 5K.
#The Sunshine Insurance Race Weekend has become an increasingly popular event for both local and international runners.
#Marathon Bahamas hosts close to 500 international runners, has contributed $260,000 to the fight against cancer and continues to draw both participants and spectators from every walk of life.
#Joining in the race this year will be more than 100 RBC employees. Nathaniel Beneby, RBC managing director, expressed pleasure that so many RBC employees are taking advantage of the opportunity to participate, with the cost fully subsidised by the bank.
#"RBC is delighted that so many of our employees have accepted the Marathon Bahamas challenge. RBC is proud to once again support the Sunshine Insurance Race Weekend. The event is a wonderful opportunity to get fit, have fun and support a worthwhile cause."
#RBC is committed to raising awareness about breast cancer and to supporting cancer research and education not only through supporting external initiatives such as Marathon Bahamas, but also through the RBC/RBTT Caribbean Children's Cancer Fund.
#The fund was established five years ago to assist young persons throughout the Caribbean who have been diagnosed with cancer.
#The Sunshine Insurance Race Weekend kicks off the morning of January 18 with the 5K Susan G Komen Race for the Cure.
#Race for the Cure raises awareness about the fight against breast cancer, honours those who have lost their battle to breast cancer and celebrates breast cancer survivors.
#The race begins at Montagu Beach and ends at Paradise Island.
#The Bahamas Marathon, the feature event, is scheduled for Sunday, January 19, 2014. The full marathon begins at 6am at Junkanoo Beach.
#Proceeds from all Marathon Bahamas events will benefit the Cancer Society of the Bahamas, the Princess Margaret Hospital Foundation, Sister Sister Breast Cancer Support Group, the Bahamas Breast Cancer Initiative and the Cancer Association of Grand Bahama.
#• See Sports for more.