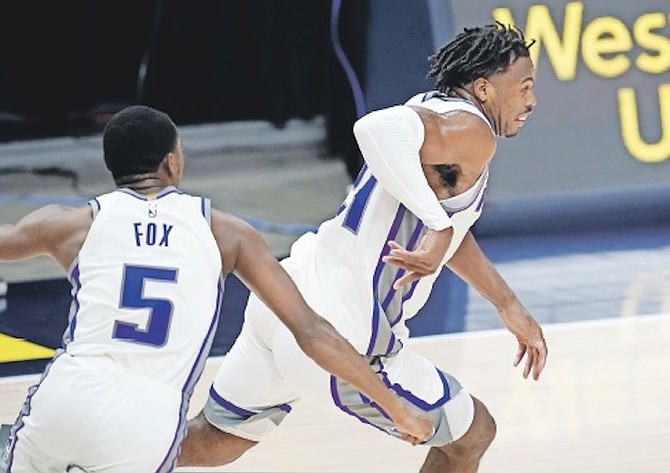 SACRAMENTO Kings guard Buddy Hield, right, reacts after putting in the winning basket in overtime against the Denver Nuggets last night in Denver. Sacramento guard De'Aaron Fox is at left. (AP Photo/David Zalubowski)
As of Thursday, December 24, 2020
#By RENALDO DORSETT
#Tribune Sports Reporter
#rdorsett@tribunemedia.net
#Chavano "Buddy" Hield's late-game heroics helped the Sacramento Kings open the 2020-21 campaign with a thrilling win in the first overtime game of the season.
#Hield scored a team high 22 points and tipped in the game winner as time expired to give the Kings a 124-122 win over the Denver Nuggets last night at the Pepsi Center in Denver, Colorado.
#He scored 19 of his 22 in the second half, none bigger than the final field goal in overtime. Harrison Barnes deflected the Nug-gets' inbound pass and had an opportunity to score the go ahead basket but his dunk attempt was blocked by the Nuggets' Will Barton. Hield was trailing on the fastbreak and was perfectly positioned for the tip in as time expired.
#Hield shot 7-15 from the field including 5-11 from three-point range. He also added four rebounds and three assists in 41 minutes.
#Hield scored just three in the first half on 1-6 shoot-ing, 1-4 on three pointers and the Kings trailed 60-53. Out of the break, Hield made his second three of the game, was fouled on another attempt and fol-lowed with three free throws as part of a run that saw the Kings take a 72-70 lead.
#He scored nine points in the third quarter as the Kings outscored the Nug-gets by 12 in the period and took an 89-84 lead into the fourth.
#Tied at 112 late in regula-tion, Hield lost the handle on the final possession and the game went into overtime.
#At the conclusion of the preseason, Hield refer-enced the unselfish nature of the Kings' approach to the game. On 47 made field goals last night, 27 came off assists. "Once you make the right play the ball will always find you in this offence. We just have to go out there, make the ball move and make teams play to our strengths," Hield said.
#"It's basketball. Each team needs to play rhythm, especially when we're talk-ing about schemes, but I feel like we're all grown men, once we put our minds to making things happen, giving up ourselves for each other, making the right play, understanding the game, which play we can make, which shot is a good shot, which shot is a bad shot, I think we should be fine."
#Hield was the team's leading scorer in 2018-19 and its second leading scorer in 2019-20, but started just 44 of 72 games before he was relegated to a reserve role off the bench in favour of Bogdan Bogdanovic.
#With Bogdanovic gone in free agency, Hield was second only to Harrison Barnes (42) on the Kings in minutes played.
#Hield also referenced his conditioning to be able to accept a greater load this season.
#"Once you're stronger and guys can feel you and you can stay active. It helps with durability on offence and defence," he said. "I'm a guy that likes to run, I'm conditioned well for this. I'm just trying to keep my guy in front of me and use my strength against them."