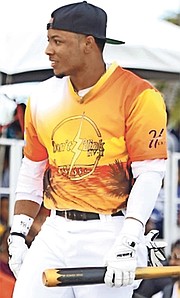 Todd Isaacs Jr
#By RENALDO DORSETT
#Tribune Sports Reporter
#rdorsett@tribunemedia.net
#WITH the latest call-ups, a total of seven Bahamian minor league prospects have now participated in spring training with their respective Major League Baseball organisations.
#Reshard Munroe of the Cincinnati Reds and Todd Isaacs Jr of the Cleveland Indians were the latest of the group to join the main roster for their franchises in preseason play.
#They joined Lucius Fox (Tampa Bay Rays), Jazz Chisholm (Arizona Diamondbacks) and Chavez Young (Toronto Blue Jays) Anfernee Seymour (Miami Marlins) and Trent Deveaux (Los Angeles Angels) who received their invitations earlier this offseason.
#Munroe concluded his 2018 season with the Dayton Dragons in the Class A – Midwest League. Through 32 games he hit .192 with a .296 OBP, an OPS of .649, slugging .354 with 19 hits, three doubles, three home runs, 35 total bases, 10 RBI and nine stolen bases.
#Munroe advanced out of the Pioneer League where he was assigned from the Billings Mustangs.
#He led the Billings in home runs, triples and was among the team's top three in nearly every statistical category.
#Through 28 games, the 22-year-old outfielder hit .313 with a .387 OBP, an OPS of .842, slugging .455 with 31 hits, five doubles, three home runs, 45 total bases, 12 RBI and seven stolen bases.
#Isaacs made his spring training debut Wednesday night in a 4-2 loss to the Los Angeles Angels.
#Last season, he completed another stint with the Lake County Captains, also in the Class A – Midwest League.
#In 106 games of his second season with the Captains, Isaacs hit .232 with 90 hits, 30 stolen bases, an OPS of .608, 31 RBI, 128 total bases, 20 doubles, and four home runs.
#In 82 games in 2017, his first with the club, Isaacs hit .224 with, 18 stolen bases, slugging .376, an on-base percentage of .260, an OPS of .636, 33 RBI and nine home runs.