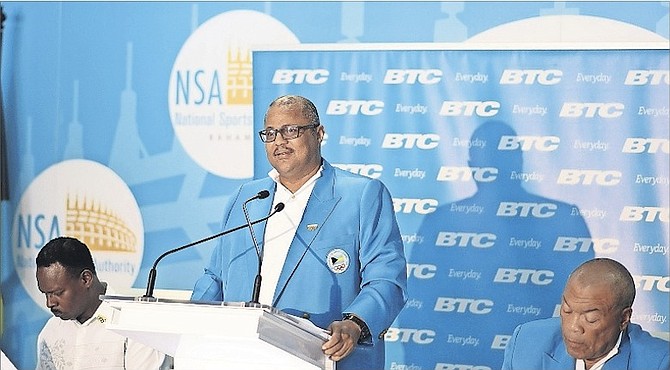 BAHAMAS Olympic Committee secretary general Romel Knowles (centre) releases the names of the 28 athletes who will represent the Bahamas at the Rio Olympics August 5-21. BOC President Wellington Miller (far right) and Minister of Youth, Sports & Culture Dr Daniel Johnson (left) look on during the press conference yesterday. Photo by Shawn Hanna/Tribune Staff
#By BRENT STUBBS
#Senior Sports Reporter
#bstubbs@tribunemedia.net
#Against the backdrop of a $125,000 sponsorship from BTC, the Bahamas Olympic Committee announced a 28-member team to represent the Bahamas at the 2016 Olympic Games in Rio de Janeiro, Brazil.
#The BTC Bahamas Olympic team, scheduled to compete August 5-21, will comprise of 11 females and 17 males, excluding the list of the women's 4 x 400 metre relay team until the completion of the court hearing for the Russian Olympic team.
#BOC secretary general Romel Knowles released the team during a pomp and pageantry press conference at the new Thomas A Robinson National Stadium where there was a cultural dance and a junkanoo rush out.
#As expected, all of the athletes from track and field who qualified were named to the team, including former women's co-national 100m hurdles record holder Devynne Charlton, who has suffered an injury and had to shut down the rest of her season.
#"As I speak to you, I will not be able to announce some young ladies on this team because of an indictment that is happening in track and field," Knowles said. "Some of you know the story of a federation being suspended.
#"Our ladies' team is sitting in 17th place, just one behind a team, I won't be the judge, who should or should not qualify for the Olympics."
#Depending on the outcome of the international ruling, Knowles said they have advised the Bahamas Association of Athletic Associations that they would include the team of Lanece Clarke, Shaquania Dorsett, Christine Armertil and Carmeisha Cox to the team.
#Knowles said it's so unfortunate, like a case where he had to present Pauline Davis-Thompson her Olympic medal at Government House after an athlete was tested positive for drugs, that the BOC finds itself in another predicament in not being able to name the women's relay team for the Bahamas.
#Should Russia eventually be banned from competing at the games, the women's team will be added to the men's 4 x 400 team, giving the Bahamas two of the four relay teams a lane in the games.
#As anticipated, track and field will have a bulk of the competitors on the team, led by triple qualifier Shaunae Miller in the women's 100, 200 and 400m, along with three male high jumpers for the first time in Donald Thomas, Trevor Barry and Jamal Wilson.
#In addition to athletics, Team Bahamas will carry three swimmers, headed by two-time Olympian Arianna Vanderpool-Wallace, along with rising star Joanna Evans, who both have also qualified for three events.
#The only other discipline named to the BTC Bahamas Olympic team is rowing with Emily Morley making history as the first Bahamian to compete in the non-traditional water sport.
#After the announcement of the team, the BOC presented a $5,000 cheque to the Bahamas Lawn Tennis Association to help cover the expenses incurred from the men's Davis Cup team that travelled to Bolivia.
#The team of veteran player/captain Marvin Rolle, rookie brothers Spencer and Baker Newman and four-time team member Kevin Major Jr returned home after going through the week long tournament undefeated to advance out of Zone III and back into Zone II for 2017.
#In turn, BTC's Chief Executive Officer Leon Williams and Vice President, Marketing, Brand & Communications, Eldri Ferguson-Mackey, presented the BOC with a cheque for $125,000 for their second consecutive sponsorship of the Olympic team.
#Ferguson-Mackey said the cheque is to assist the BOC in their expenses for the games and she complimented their brand ambassadors, Demetrius Pinder, Arianna Vanderpool-Wallace and Shaunae Miller, who all made the team, indicating that they are expecting some gold from them.
#In response, BOC's president Wellington Miller said the cheque would go a long way in taking care of their expenses for the games, which Romel Knowles echoed that the BOC will be spending on airfare tickets and the per diam for the athletes.
#Williams, who made the presentation just 24 hours after they gave $30,000 to the National Sports Authority to assist in hosting the Haitian versus Jamaican soccer game next Friday at the stadium, said BTC is excited about not only sponsoring Team Bahamas, but to also be in position to allow Bahamians to watch the games live from Rio.
#"We are looking for some medals, preferrably gold," Williams said. "For the first time, BTC will be bringing you live the Olympic coverage through our FLOW competition.
#"We're launched in Bimini and Inagua and we have Beta testing in Long Island, Andros and Cat Island and for the first time in history, they will be able to watch Bahamian athletes compete. BTC and FLOW TV have the broadcast rights to the Olympics."
#Through this partnership, Williams said Bahamians won't have to worry about the broadcast of the Bahamas during the march pass being interrupted by the commercials played by the American, Canadian and British channels during their airing of the opening ceremonies.
#"This time around, we hope that it will be different because it will be on our Caribbean network FLOW," he said. "Wherever there is a Caribbean network, you will get to watch it brought to you by FLOW."
#For those persons who don't have the 260 channels offered by BTC, they can access their webpage www.btcbahamas.com/btctv and watch the live coverage or on your cellphones where they can watch FLOW TV as well.
#Also addressing the audience were Minister of Youth, Sports and Culture, Dr Daniel Johnson, who wished the team every success; Roy Colebrooke on the role that he ply as the chef de mission; Ralf McKinney as the team manager and Cora Hepburn, a vice president of the BOC, who will serve as the chaperon attache for the team in Rio.
#Here's a look at the athletes selected to represent the Bahamas on the BTC Bahamas Olympic Games:
#Athletics
#Men – Trevor Barry (high jump); Shavez Hart (100/200m); Demetrius Pinder (200/4x400m relay); Chris 'Fireman' Brown (400m/4x400m relay); Michael Mathieu (4x400m relay); Jamal Wilson (high jump); Donald Thomas (high jump); Leevan 'Superman' Sands (triple jump); Stephen Newbold (4x400m relay); Jeffery Gibson (400m hurdles); Adrian Griffith (100/200m); Jamial Rolle (100m); Latario Collie-Minns (triple jump); Alonzo Russell (400m/4x400m relay); Steven Gardiner (400m/4x400m relay) and Teray Smith (200m).
#Women – TyNia Gaither (100/200m); Anthonique Strachan (200m); Sheniqua 'Q' Ferguson (200m); Shaunae Miller (100/200/400m); Bianca Stuart (long jump); Devynne Charlton (100m hurdles); Adanaca Brown (100m hurdles) and Pedrya Seymour (100m hurdles).
#Rowling
#Emily Morley (Women's single sculls).
#Swimming
#Women – Arianna Vanderpool-Wallace (100m butterfly and 50/100m freestyle) and Joanna Evans (200, 400 and 800m freestyles).
#Men
#Dustin Tynes (100m breaststroke).
#Management team
#Chef de mission – Roy Colebrooke.
#BOC Assistants – Derron Donaldson and Darcy Rahming Sr.
#Manager – Ralf McKinney.
#Chaperone attache – Cora Hepburn.
#Swimming coaches – Lionel Moreau and Andrew Loveitt.
#Swimming team manager – Kathy Dillette.
#Swimming delegate – Algernon Cargill (president).
#Rowing coaches – Beth Robinson and Becky Greene.
#Athletics coaches – George Cleare (head coach), Debbie Ferguson-McKenzie, Rudy Ferguson, James Rolle, Tyrone Burrows and Shaun Miller.
#Athletics delegates – Rosamunde Carey (president), Iram Lewis, Clarence Rolle and Robert Butler.
#Medical – Dr Rickey Davis (head doctor); Jenn Davis (chiropractor), Cottrice Robinson (physio), Dwight Marshall, Dr Claussen and Kareen Sherwood-Wallace.