Despite Virus, Jonquel Jones Continues To Play In Russian Basketball Premier League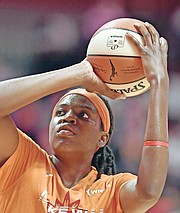 Jonquel Jones
#MOST major sporting leagues around the globe have suspended play due to the coronavirus outbreak but play continues for Jonquel Jones in the Russian Women's Basketball Premier League.
#Jones and her UMMC Ekaterinburg club remained undefeated and improved to 20-0 in league play with a 102-68 win over Enisey Krasnoyarsk yesterday in Yekaterinburg, Russia.
#Jones has appeared in nine games this season averaging 18.9 points and 9.9 rebounds per game in Russian League play.
#FIBA has suspended play at all levels, so the club is unable to participate in Euroleague play, but the Russian Premier League has persisted despite growing concerns.
#Ekaterinburg is 13-1 in Euroleague play and Jones has averaged 10.2 points and 7.6 rebounds per game.
#Up to press time last night, there were 63 cases of coronavirus infections reported in Russia so far, according to the Moscow Times.
#A stacked UMMC Ekaterinburg roster also includes several WNBA stars – Finals MVP Emma Meesseman of the Washington Mystics, Brittney Griner of the Phoenix Mercury, Allie Quigley and Courtney Vandersloot, both of the Chicago Sky.
#Last season, Jones' first with the club, Ekaterinburg captured their second consecutive and fifth EuroLeague title with a 91-67 win over Dynamo Kursk in Sopron, Hungary. She appeared in eight games averaging 19.6 points and 7.6 rebounds per game. She looks to continue her offseason success which has spanned both Europe and Asia.
#In 2017, Jones became one of the Women's Chinese Basketball Association's most dominant players and led her Shanxi Xing Rui Flames to a runners-up finish in the final. The star forward averaged a team-high 29.3 points, 18.8 rebounds and 2.9 assists over 31 games for Shanxi Xing Rui.
#In the 2016 offseason, Jones was selected No. 5 overall by Woori Bank in the Korean Basketball League and led the team to a championship title. On the season she averaged 15.8 points, 14.3 rebounds and 2.8 blocks – all team leads – in 24 minutes per game for Woori Bank in 38 games. At the league's award ceremony, Jones earned the Foreign Most Valuable Player Award, Defensive Player of the Year award and was named "Best Five" in the league.
#Her offseason success has translated to the WNBA in recent years.
#Jones was the first member of this current star studded WNBA free agent class to sign and will remain with the Connecticut Sun for the foreseeable future.
#Jones signed a multi-year contract with the Sun in February as the league's free agency period commenced. As per team policy, terms of the deal were not disclosed.
#The free agency period began January 28 but players could not officially sign until February 10.
#"We are pumped to have JJ sign a multi-year contract to stay in Connecticut," head coach and general manager Curt Miller said.
#"She has proven to be one of the most dominant and versatile players in the world. She continues to be one of the elite rebounders in the game and took a huge step on the defensive side of the ball in 2019. She is just scratching the surface and we look forward to her continued growth and leadership in 2020."
#Jones was named to the All-WNBA Second Team, the WNBA All-Defensive Team for the first time, finished third in Defensive Player of the Year voting, was a WNBA All-Star and was named Eastern Conference Player of the Week four times.