Inaugural 'Uncle Lou' Adderley Charity Golf Tourney On Par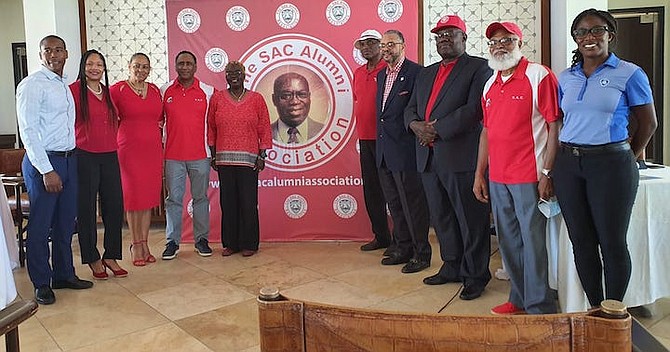 ORGANISERS of the Unca Lou Adderley Golf Tournament.
#THE life and legacy of the late Leviticus Adderley will live on as the Alumni Association of St Augustine's College hosts the inaugural 'Unca Lou' Adderley Charity Golf Tournament.
#The two-man scramble event is scheduled for Saturday, June 11 at the Royal Blue Golf Course at the Baha Mar resort on Cable Beach with proceeds going towards the completion of the sporting facilities at SAC.
#Robert Sands, a graduate of SAC's class of 1970, when he was approached to host the event at their facilities, he didn't hesitate to assist the committee.
#"There are very few people in my life that I can point to as being mentors or role models, other than immediate family members or acquaintances," Sands said. "One such person was Lou Adderley.
#"He tended to gravitate to those who were not the best but strived to be the best. He gravitated to those individuals who he saw had the potential of achieving more and he encouraged them. He was not a judgmental individual. He created an environment for you to feel wholesome, real, ambitious and could achieve anything."
#Sands said SAC needs the funds to complete its project and Baha Mar, which has employed so many individuals from SAC, is prepared to do its part and they are looking forward to the success of the tournament.
#While SAC got established in 1945 by the Benedictine Monks of St John's Abbey in Collegeville, Minnesota, Adderley emerged as its top graduating student in 1950.
#Adderley then enrolled at St John's University where he excelled as a student and top athlete. He attained a BA in Mathematics, while athletically, he set NCAA and school records in Greco Roman wrestling and tennis.
#After completing his studies, Adderley returned home to his alma mater as a teacher and coach. He later became the first Bahamian born principal and was dearly loved by the student population.
#Michael Rolle, the chairman of the Golf Tournament committee, also talked about his involvement with Adderley, who was considered a father figure, a mentor, a teacher, a coach, and a confidante.
#Rolle said Adderley was the glue to SAC's achievement as the Big Red Machine in the high school sporting arena and he was responsible for developing the SAC pride in its students.
#"Uncle Lou was very stern, but also a very humble man," said Rolle, who was at SAC during the 1960s.
#"He taught me mathematics and he was also my coach. "I trained with Martin Lundy and Sharon 'the General' Storr and we called him Mr Fundamentals. Whatever sport he taught you, he could also play. If you didn't know how to play basketball, he taught you how to dribble
#the ball and protect it. Softball, he taught you how to catch."
#Through his coaching, Rolle said Adderley developed several outstanding athletes, who went on to represent the Bahamas on the international scene.
#Rolle said the Alumni Association is using the golf tournament to raise funds to complete the softball fields and to help start the creation of the indoor gymnasium that Adderley so much desired to see established before his demise.
#Glenn Archer, former president of the Bahamas Golf Federation, said he too benefitted from Adderley, who provided him with the opportunity to begin his teaching profession at SAC after he graduated.
#"Between those two experiences, I think they are some of the most rewarding experiences that I have ever been associated with in my life," Archer said.
#Georgette Rolle, the head pro at the Royal Blue Golf Course, said she remembers Adderley as a coach when she participated on the girls' basketball team.
#She noted that the two-man scramble will combine the handicaps of both players to make the tournament equitable for everyone to win.
#Among the prizes being offered is a hole-in-one on hole number three for a brand-new BMW or Toyota Highlander, longest hole drive for males and females straightest drive; two closest to the pin and most honest golfer.
#She encouraged as many persons as possible to come out and participate in the tournament.
#Cherelle Cartwright, the chairman of the Alumni Association, advised persons interested in participating to contact their office located on Buen Retiro Road and Shirley Street. Or call the office at 397-1744 or the tournament cell number 820-5568 for more details.
#She noted that while the Alumni Association is seeking to secure a million-plus dollars to complete the entire sporting arena at SAC, including the refurbishment of the track surface, she encouraged graduates to make a contribution of at least $50, $100 or $200 per year to help secure their goal.
#Persons can also make their donation through the Alumni Association's bank account at CIBC Sandy port Branch, The SAC Alumni Association, bank account# 201705627, transit 07046.
#Cartwright thanked God for allowing everyone to lend their support of the wisdom of a man who gave so unselflessly of himself for the vision of the school.
#She also thanked Adderley's wife, Floridell Adderley, a former educator, and his daughter Daria, who followed in her father's footsteps as a graduate and physical education teacher at SAC.